Tory health minister deliberately blocks law to give NHS cheap drugs when patents expire
Alistair Burt denied accusations that the parliamentary manoeuvre was 'disgraceful'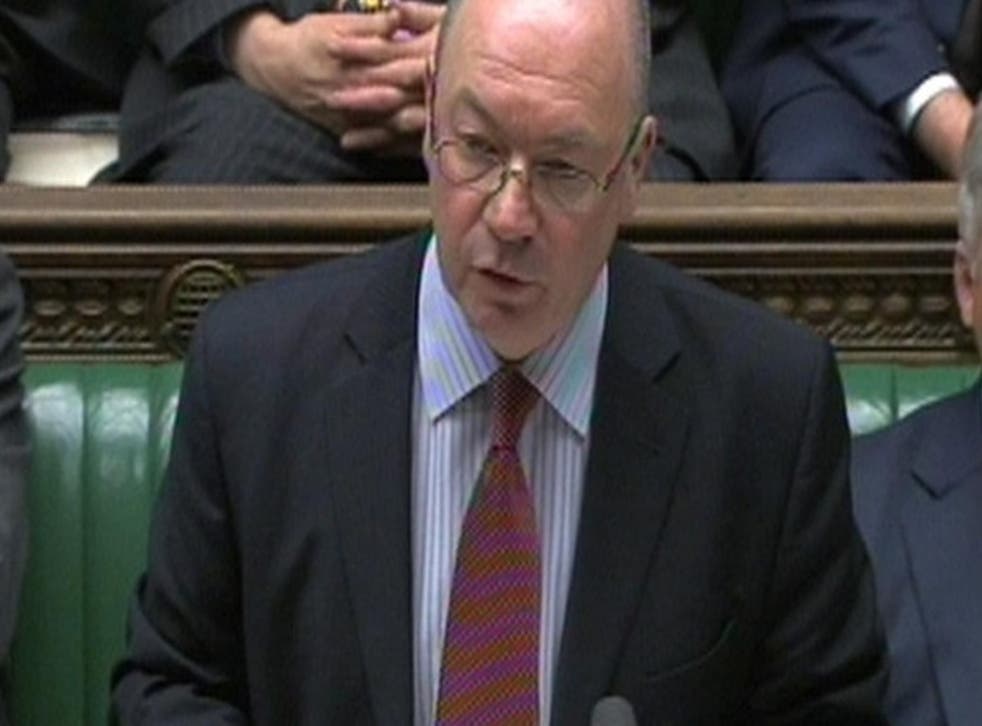 A Conservative health minister has deliberately blocked a new law to provide cheap and effective drugs for the NHS by championing medicines whose patents have expired.
Alistair Burt spoke for nearly half an hour to "filibuster" the proposed Off-Patent Drugs Bill, a plan that had cross-party support from backbenchers.
Because the proposed law is not supported by the Government it only has a limited amount of time to be debated in Parliament, or has to be shelved.
Mr Burt deliberately used up the bill's time by speaking at length for 27 minutes, despite heckles and jeering from Labour, SNP, and Conservative benches.
The proposed law would have compelled the Government to seek new licences for medicines that were not covered by patents but which could benefit patients.
Currently, such medicines tend to go un-licensed because there is no profit incentive for pharmaceutical companies to bring forward an application for a licence.
Proponents, including charities, say the bill would open up a range of treatments for diseases such as breast cancer, multiple sclerosis and Parkinson's – and save the NHS millions of pounds.
But the Government said it did not support the bill because "there is another pathway".
"I will talk until half past two and I make that very clear," Mr Burt told MPs at the beginning of his speech – indicating that he would force parliament to reject the law.
At one point the minister accused MPs who supported the bill of "shroud waving" – exploiting a death for political gain.
He later apologised after he was told by a colleague that the comment was "at the very least inappropriate" in the context of a bill that could save lives.
The increasing strain on NHS resources

Show all 4
The law was brought forward by newly elected Labour MP Nick Thomas-Symonds, and had previously been proposed in the previous Parliament by Jonathan Evans.
Mr Thomas-Symonds wrote in the Independent in July: "Having the chance to introduce legislation this early in my political career is a real honour.
"I wanted to bring forward a Bill that would have the greatest impact on the lives of my constituents and I believe that the Off-patent Drugs Bill will do just that.
"I also know this first-hand, having lost my grandmother to breast cancer. She inspired me to go into politics and then to become a breast cancer ambassador, and passing this Bill would be a wonderful tribute to her."
But the Minister said, to heckles: "The government doesn't support the Bill, still doesn't support the Bill. And I will defend that position.
"No sensible government would seek to resist people's access to drugs in any way and the reason for resisting is the government believes there is another pathway.
"It is not always the case that something brought forward by a charity and advocated passionately by colleagues is always the answer. It's not disgraceful - it's the right answer."
Michelle Mitchell, chief executive of the MS Society, said: "The Government needs to stop dragging its heels on this crucial issue and start taking action – it has missed two opportunities to pave the way for cheap, promising drugs that could make such a difference to the lives of so many people with MS.
"But the Government has pledged to work with organisations such as the MS Society to find a solution. We will continue to campaign to ensure that it lives up to that promise."
The incident follows outrage over Conservative MP Philip Davies filibustering a bill to scrap hospital car parking charges for carers.
Corbyn attacks Cameron on NHS
Join our new commenting forum
Join thought-provoking conversations, follow other Independent readers and see their replies