Tory MP criticises Jeremy Hunt for 'misquoting evidence' during junior doctors' row
'Ministers are undermining their case and inflaming tensions by misquoting evidence'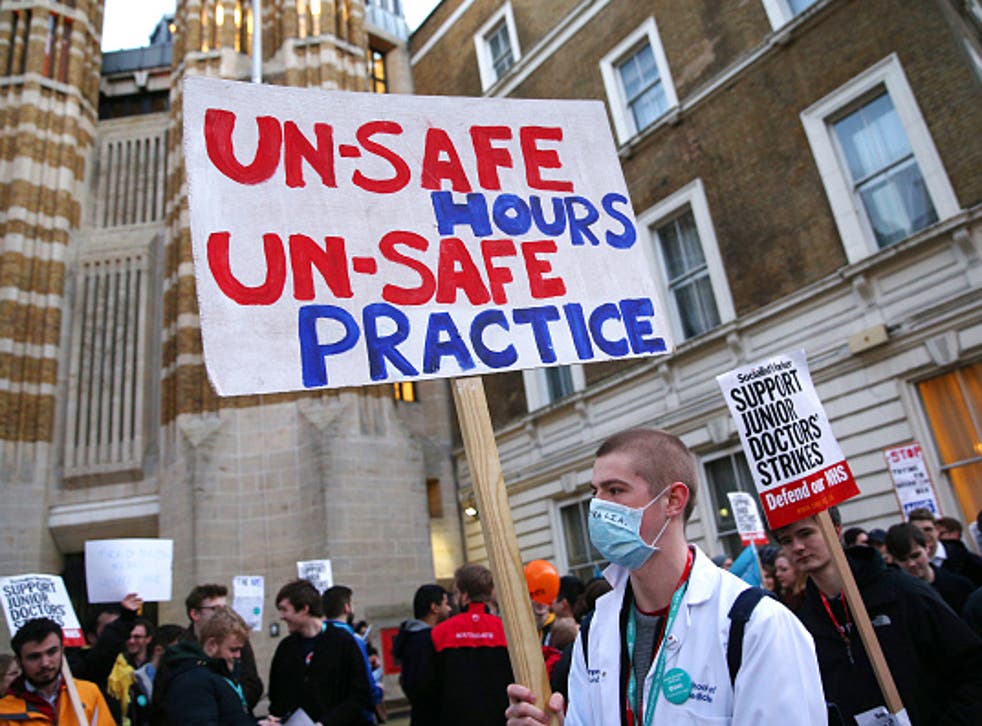 A Conservative MP has criticised Jeremy Hunt for "misquoting evidence" while arguing for the imposition of a new junior doctor's contract.
Dr Sarah Wollaston, the chair of the Commons' Health Select Committee, said the health secretary used an "entirely unreasonable" strategy to garner support for an "unachievable" seven-day NHS.
Writing in the Guardian, Ms Wollaston said, "Ministers are undermining their case and inflaming tensions by misquoting evidence", adding Mr Hunt risks an "exodus" of young medics from the NHS.
Her claim follows repeated accusations that Mr Hunt misrepresented research into death rates among patients admitted over the weekend.
The author of a study into patient deaths cited by the health secretary, and used as part of his justification for imposing the new contract on junior doctors, said his use of figures was "inaccurate", after Mr Hunt claimed in July around 6,000 patients a year died because of the level of NHS staffing at weekends.
At PMQs in February, Jeremy Corbyn asked David Cameron whether he agreed Mr Hunt had been misleading when he cited the figure.
Ms Wollaston, who was a GP for 25 years before becoming an MP in 2010, also debunked Mr Hunt's claim that more doctors were needed at weekends to improve death rates among patients.
Instead, she claims, the Government should focus on ensuring more senior directors and nurses are available at weekends and better access to diagnostic services is provided.
"It is perfectly reasonable for the government to try and tackle the higher mortality at 30 days [after admission] for those admitted to hospital at weekends but entirely unreasonable to blunder on asserting that the new contract is the answer," she said.
In pictures: Junior doctors protests in UK

Show all 10
In her addition to her attacks on Mr Hunt, Ms Wollaston, whose daughter is a junior doctor, also criticised the British Medical Association for not accepting the government's final offer in February to resolve the dispute.
She also described junior doctor's plans for a full strike on 26 and 27 April, during which doctors will not provide emergency surgery for the first time, as "disastrous".
The BMA, told the Guardian, Ms Wollaston's claims "show a complete disregard for the views of junior doctors".
The government announced plans to unilaterally impose the new contract on all junior doctors in England in February, after talks with the doctors' union, the British Medical Association, broke down.
The main sticking point of the new contract is changes to pay for working Saturdays and unsociable hours.
Recent criticisms of Mr Hunt's imposed contract focus upon an equality analysis which appears to condone the new contract having an "indirect adverse impact on women".
Join our new commenting forum
Join thought-provoking conversations, follow other Independent readers and see their replies