Tory MP says pro-GM Environment Secretary Owen Paterson is 'industry puppet'
Richmond Park MP accused fellow party member of 'nonsensical' claims about GM benefits of GM technology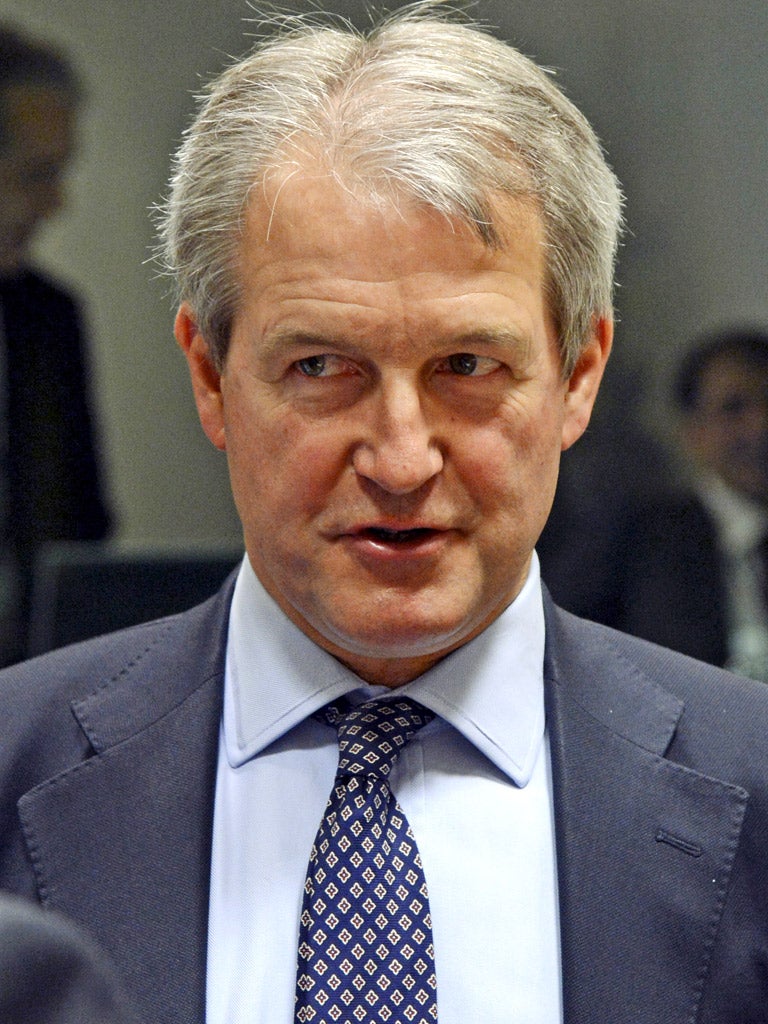 Tory MP Zac Goldsmith has made a vociferous attack on Owen Paterson, the Environment Secretary, over his campaign to bring genetically modified (GM) crops to Britain.
The Richmond Park MP accused his fellow party member of making "nonsensical" claims about the benefits of GM technology, claiming that Mr Paterson is a puppet of the industry and does not understand the dangers genetically modified crops pose to the ecosystem.
Speaking to The Independent, Mr Goldsmith said the environment secretary's recent speech to formally launch his campaign to grow GM crops in Britain was "nonsense".
"Any half-way decent GM enthusiast with a scientific background would have blushed during much of the speech Owen Paterson made. You have to wonder about the government's gung-ho attitude to GM - you can't stuff pollen back into a tin," he said.
Mr Goldsmith is particularly concerned by a section of Mr Paterson's speech in which he implied that 7 million children in the developing world have died or gone blind in the past 15 years due to a lack of vitamin A that could have been avoided if attempts to develop "golden rice" - a grain modified to boost Vitamin A - had not been consistently been "thwarted".
Mr Paterson also used his speech to criticise Europe's prevailing opposition to GM - where restrictions are so tight it amounts to a ban - arguing that this attitude is deterring developing countries who could benefit from the technology because they wrongly interpret Europe's resistance as a sign that it's dangerous.
"Owen Paterson's comments about golden rice and children going blind were nonsense. No serious GM campaigner would ever make those claims for which there is no factual basis at all. It undermines his credibility on this issue and makes the government look very silly. If you want to solve vitamin deficiency there are many cheaper ways to do it…it doesn't add up on any grounds, it's just nonsense" Mr Goldsmith said.
The multi-millionaire MP, who sits on the government's Environment Audit Committee, also questioned Mr Paterson's suitability for his role as environment secretary.
"I think he's falling into a trap over GM and I don't think he understands the issue. He's swallowed the industry line hook, line and sinker without talking to anyone with a different view. When designing policy that's a dangerous thing and I'm concerned big business is framing the debate for the government."
"The story so far suggests that GM is predominantly about the industry getting greater control over the food chain, rather than alleviating poverty or environmental concerns," he added.
Mr Paterson wants the European Union to relax restrictions on growing GM plants and to make Britain an industry leader. GM crops are created by taking genes with beneficial qualities from other organisms and injecting them into the plant. But the technology is highly controversial with little scientific consensus about its dangers or effectiveness. Advocates argue that engineered crops have the potential to grow faster, increase yields, survive harsher weather conditions, cut costs, make Britain less reliant on imports and boost health by producing extra nutrients. Opponents are concerned that adopting GM crops could foster stronger pests, diseases and weeds that evolve to adapt to engineered plants and that the injected "rogue" genes could cause problems by spreading to other plants.
Responding to Mr Goldsmith's accusations, Mr Paterson said: "The problems we face in feeding ourselves in 40 years' time are very real and something we need to prepare for right now…We have a scientifically proven, safe technology which could help them, and we shouldn't ignore it."
"There are different opinions on GM. I know and respect that. It's why I wanted to launch a national discussion about the issue, so that people can examine the benefits and talk about GM in an informed way," he added.
Mr Paterson also disputes that business concerns are taking precedence over poverty and the environment and says there is much evidence to show that GM crops have improved yields.
Mr Goldsmith is not the first person to criticise Mr Paterson's assertion in his speech that: "Over the last 15 years…every attempt to deploy golden rice has been thwarted. In that time 7 million children have gone blind or died. Young people will wake up this morning able to see and they will go to bed blind for life. Some of them will die today".
Critics say he is wrong to link the lack of golden rice - which has yet to receive final approval from regulators despite years of tests - with blindness and deaths. This is because it's impossible to know what would have happened if the golden rice had been consumed. Furthermore, the problem is a lack of vitamin A - not of golden rice - and this can be accessed more cheaply through other natural foods such as green vegetables and supplement tablets.
Mr Paterson said: "Put simply, we will not be able to feed tomorrow's population with yesterday's agriculture. We have to use every tool at our disposal, including GM. It can combat the damaging effects of unpredictable weather and disease on crops. It has the potential to reduce fertiliser and chemical use, improve the efficiency of agricultural production and reduce post-harvest losses. That's good for farmers, good for consumers and for the environment."
PROFILE: OWEN PATERSON
Owen Paterson is a key member of the Conservative right, an influential grouping that also includes chancellor George Osborne, education secretary Michael Gove, William Hague, the foreign secretary and Iain Duncan Smith, of the work and pensions department.
Mr Paterson, who cut his professional teeth in the family leather firm and spent about two decades in the industry, has been an MP for Northern Shropshire since 1997. He was the Northern Ireland secretary before being appointed to his current job in September last year.
Likened to an "abrasive colonel" by the Conservative Home grass roots supporters website, Mr Paterson is known for speaking his mind. In a recent interview, he accused Tony Blair and Gordon Brown of "utter cretinous incompetence", while their replacements, Ed Balls and Ed Milliband didn't fare much better.
"The gang of four should be out in the paddy fields going for re-education for a very long time", he told Conservative Home. Mr Paterson is against gay marriage, deeply sceptical about Europe and has yet to clarify whether he believes in man-made global warming.
In April he unsuccessfully fought a Europe-wide ban on nerve-agent pesticides, known as neonicotinoids, which many scientists believe are accelerating the decline in bee populations, arguing that there was insufficient evidence.
Join our commenting forum
Join thought-provoking conversations, follow other Independent readers and see their replies