Tory rebels explain why they defied the Government: 'We had to make clear hard Brexiteers are not running the country'
The 11 MPs decided to vote for an amendment which would ensure Parliament got a proper say on the final deal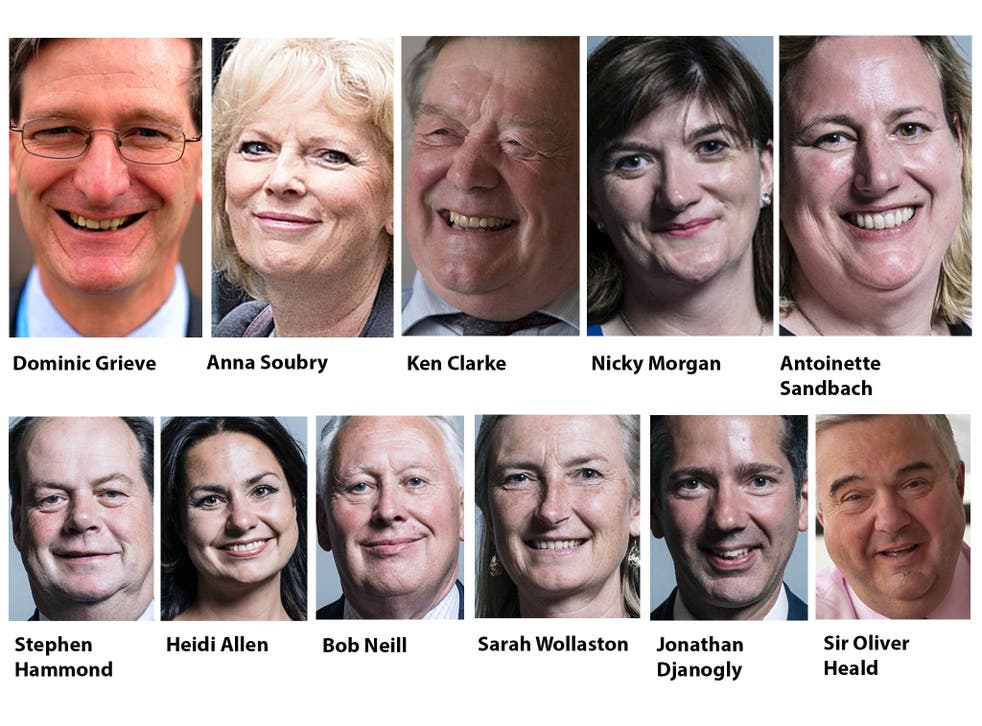 Eleven Conservative MPs took the tough decision to vote against their own party on Wednesday, even though many have the kind of loyal voting record a chief whip would pay good money for.
They did so knowing it would mean vitriol, abuse and accusations that they are conniving to block Brexit, but claim ministers left them with little choice.
Now the rebels are setting out their real reasons – ranging from helping Theresa May to get Brexit right, fixing what they say was a badly worded and unnecessary part of the Prime Minister's legislation and ensuring Parliament has its proper say.
Former minister Stephen Hammond told The Independent: "There are people who are saying this is all about scuppering Brexit. Obviously I voted Remain, but this is not about that.
"I understand that we are going to leave – everyone does. This is about making sure the process under which we do it is the right one.
"I find it very odd that people are extrapolating so much out of it."
As it stood before last night, Ms May had promised Parliament a say of sorts over the final deal she agrees in Brussels.
But it would have been a "take it or leave it" vote, with ministers retaining so-called "Henry VIII" powers to enact any deal without first gaining Parliament's permission – something set out in Clause 9 of the EU (Withdrawal) Bill.
Now, Parliament's decision to adopt the rebel amendment seven to the bill means the terms of any Brexit deal must first be approved with a full Act of Parliament – effectively allowing MPs to rewrite parts of the deal before any of it is implemented by Ms May.
Another of the rebels, Jonathan Djanogly MP, said: "I think we did the right thing, absolutely, yes."
He agreed that the vote against his own leader's plans was not about defeating the Government, undermining the Prime Minister's negotiations or stopping or hindering Brexit.
Tory rebellion leads to defeat of Government over Brexit amendment
He said: "What this was about was saying that in some cases parliamentary sovereignty must be respected, that when we look at these Henry VIII powers – which give huge power to Government to basically do whatever it wants – that before those are used, there must be a vote in the House of Commons on a bill that will look at the terms on which we leave.
"This is the biggest decision we have taken since the war. Parliament should look at these issues."
Mr Djanogly highlighted, as did others, a failure of government ministers and whips to properly engage with people raising concerns over a period lasting weeks in the run-up to the vote.
He told BBC's Daily Politics: "I think collectively voices were ignored.
"One very telling thing was that the rebel votes yesterday were not indicative of the upset in the party.
"If you actually run through the debate, you will find people who are Remainers, you will find people who are extreme Brexiteers, attacking Clause 9 and these Henry VIII powers and saying in some cases that it should be scrapped altogether at report stage."
He pointed out that the Government's promise to bring forward another piece of legislation, the Withdrawal Agreement and Implementation Bill, now negated the need for Clause 9.
Dominic Grieve, the former Attorney General behind amendment seven, explained that with the new bill would come the specific powers allowing the Government to do everything it needed – without the broader sweeping powers that the rebels effectively vetoed last night.
The Beaconsfield MP told The Independent: "Instead of engaging sensibly, the Government's behaviour through the debate was really rather odd.
"There we were, I have been doing three weeks of engagement, gradually improving the bill. And here at the end of it, they brought down a complete wall.
"They hadn't spoken to me since Monday, when they fobbed us off with a written ministerial statement, and they were simply not engaging on the key issue. I don't know why that is the case."
Ministers had claimed that they could not let go of Clause 9 Henry VIII powers to start implementing Brexit, because they may need those powers to start doing so before the newer bill – which rebels say negate the need for the powers – was passed.
But Mr Grieve and others did not accept the argument. Broxtowe MP Anna Soubry has a theory about why the Government would not back down.
"The real problem is they couldn't be seen to be giving in to me, Dominic Grieve, Nicky Morgan, Ken Clarke and so on, because they always have to keep sweet the hard Brexiteers," she told The Independent.
Brexit bonhomie as May finally seals agreement with EU leaders

Show all 10
"Now the hard Brexiteers may number 15 or 20, and what Theresa has to do is make it clear that they are not running our country – that's what this is all about.
"That's why it could and should have been avoided, all they had to do is accept amendment seven, it's good in law and it's great politics and they couldn't do it, because they haven't the courage to see off these people and so it had to be put to the vote and astonishingly we won."
Many of last night's rebels, and other MPs who did not vote against the Government, have signalled they may rebel over the Government's plans to put the date of Brexit on the face of the EU (Withdrawal) Bill.
They called on ministers and whips to adopt a more engaging approach and properly listen and take account of their concerns.
But on Thursday, less than 24 hours after the bruising defeat, Brexit Secretary David Davis sidestepped calls to ensure the Government does not undermine Parliament's decision to ensure MPs have greater role in Brexit.
Mr Davis told the Commons that Wednesday's vote would lead to a "very compressed timetable" for ministers, adding that the Government "will have to think about how we respond to it".
He added: "Now those who want to see a smooth and orderly exit from the European Union hopefully will want to see a working statute book.
"So we will have to think about how we respond to it, but as always we take the House of Commons' view seriously and will continue to do so."
Register for free to continue reading
Registration is a free and easy way to support our truly independent journalism
By registering, you will also enjoy limited access to Premium articles, exclusive newsletters, commenting, and virtual events with our leading journalists
Already have an account? sign in
Join our new commenting forum
Join thought-provoking conversations, follow other Independent readers and see their replies