Trade Union Bill: Peers set to pass amendment to Bill that threatens Labour funding
The Bill will impose a minimum threshold vote for industrial action, which critics argue will make it difficult to call strikes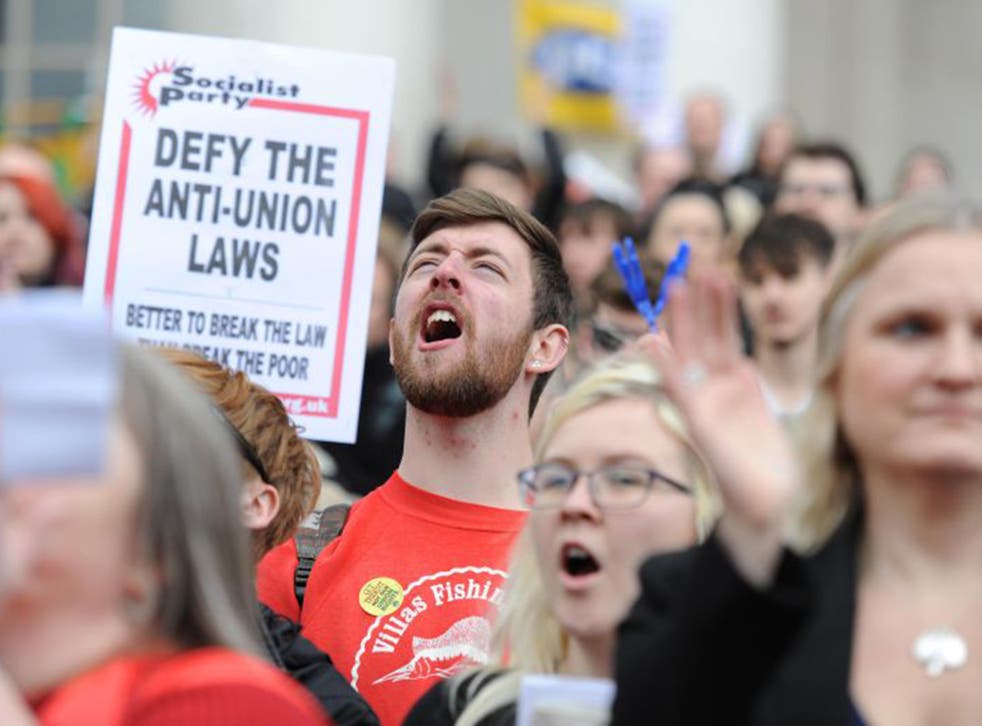 The Government is set for another embarrassing defeat this week, with peers expected to pass an amendment to a Bill that will overhaul the way trade unions operate.
The Trade Union Bill will impose a minimum threshold vote needed for industrial action, which many opponents argue will make it difficult to call strikes legally.
But the Bill also threatens the Labour Party's funding. Members of Labour-affiliated unions will have to agree to opt in to paying a levy to the party. Currently, trade union members automatically pay this levy, but can opt out. This is an important psychological factor that Labour thinks will cost it up to £35m in an electoral cycle, securing the Conservatives' financial dominance.
A select committee of peers came up with a compromise which would see the changes take place over a year rather than three months, while applying the opt-in rule only to new union members.
The Government has largely ignored the committee's proposals, but its chairman, the crossbencher Lord Burns, has tabled an amendment to enforce the compromise.
This is expected to be passed in a Lords' vote this week, with the Conservative former shadow business spokesman Lord Cormack among those rebelling against the Government. This comes after the Government's Commons' defeat last week over plans to relax Sunday trading laws.
Labour's Baroness Drake said: "If reform of political funding is to be sustainable, it needs to increase public confidence and be fair in its financial impact on different parties. As it stands, this Bill is going to undermine the role of opposition parties in holding the Government to account and in turn damage the functioning of our democracy."
A spokeswoman for the Department for Business, Innovation and Skills said: "The aim of the Trade Union Bill is to modernise the industrial relations framework and introduce a greater level of transparency and accountability. It ensures that all members have information about the union's political fund and make an active decision to contribute."
Join our new commenting forum
Join thought-provoking conversations, follow other Independent readers and see their replies