TTIP: Activists triumph as contentious US free trade deal clause suspended
The most controversial element has been taken off the negotiating table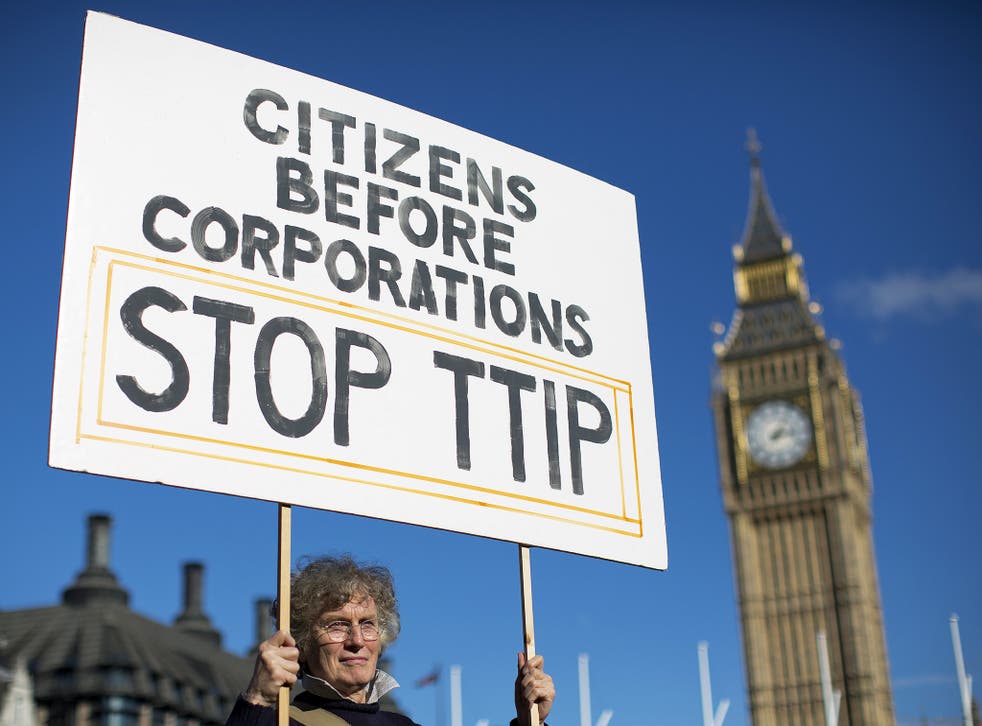 A proposed free trade deal between the European Union and the United States has suffered a huge setback after the most controversial element was taken off the negotiating table in the face of huge public opposition in Britain and other parts of Europe.
Plans to protect foreign investors from decisions by national governments have been set aside by negotiators after an unprecedented 150,000 objections in an EU-wide consultation exercise. Some 52,000 came from Britain, even though David Cameron is one of the EU leaders keenest on what would the biggest trade deal ever. It is now unlikely that a deal will be struck by the end of this year.
Campaigners fear the Transatlantic Trade and Investment Partnership (TTIP) would allow US multinationals to override laws protecting the environment, consumer rights and food standards by allowing them to sue EU governments. Critics also warn that the National Health Service could be undermined by US health giants bidding for NHS contracts for private firms. They fear that companies which lost NHS work could sue the Government. The EU insists the NHS would be exempt from the trade deal.
When the US-EU talks resume next month, they will not cover the proposed investor-to-state dispute settlement (ISDS). That part of the agreement is now "suspended" after the public revolt while the European Commission decides by this summer whether to abandon ISDS altogether. There is also strong public hostility in Germany, where opponents fear US companies could bypass national courts by going to international arbitrators.
"The consultation clearly shows that there is a huge scepticism about the ISDS instrument," Cecilia Malmstrom, the EU Trade Commissioner, admitted yesterday. "We need to have an open and frank discussion about investment protection and ISDS in TTIP with EU governments, the European Parliament and civil society before launching any policy recommendations."
Ms Malmstrom insisted that TTIP would be "good for growth and jobs" in Europe, saying the Commission would never limit the right of governments to regulate. Brussels estimates a deal would be worth £93bn to the EU and £74bn to the US annually.
Fears the investor protection measures would be exploited by big business were fuelled by the US cigarette firm Philip Morris, which is using existing ISDS agreements to try to prevent Australia, Uruguay and other governments taking measures to persuade people not to smoke.
Commission officials insist that, under the EU-US investment protection plans, companies would not be able to sue governments for loss of profits. They would have only four grounds for legal action: discrimination; expropriation of foreign investments without compensation; denial of justice in domestic courts and "abusive or arbitrary treatment."
John Hilary, executive director of War on Want, said: "The TTIP negotiations should be abandoned. The UK government has a case to answer, in that it has led the group of 14 EU governments demanding to keep these new anti-democratic powers in TTIP."
Register for free to continue reading
Registration is a free and easy way to support our truly independent journalism
By registering, you will also enjoy limited access to Premium articles, exclusive newsletters, commenting, and virtual events with our leading journalists
Already have an account? sign in
Register for free to continue reading
Registration is a free and easy way to support our truly independent journalism
By registering, you will also enjoy limited access to Premium articles, exclusive newsletters, commenting, and virtual events with our leading journalists
Already have an account? sign in
Join our new commenting forum
Join thought-provoking conversations, follow other Independent readers and see their replies