Two thirds of Britons do not support George Osborne's £30bn additional cuts
Mr Osborne aims to clear the deficit on day-to-day spending by 2018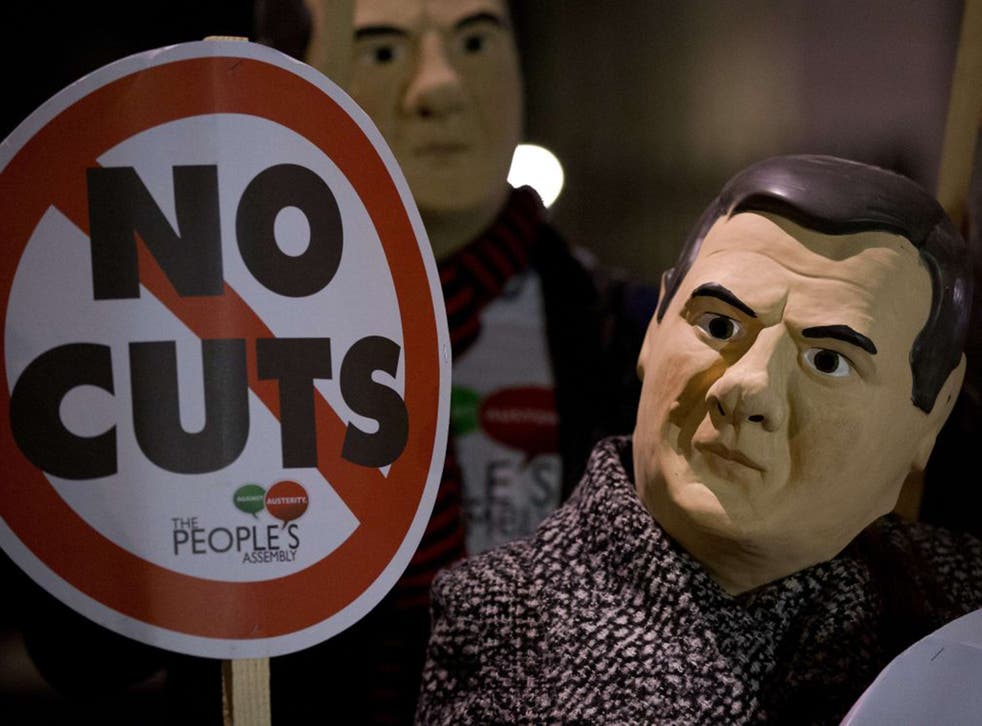 A majority of people do not support George Osborne's plan to carry on cutting after he has balanced the nation's books, according to a new poll for The Independent.
Some 30 per cent of people agree with the Chancellor's strategy to reduce Government spending faster until the deficit is cleared and the budget is in surplus, even if this means severe cuts to public services, but 66 per cent disagree with this approach.
Mr Osborne published his Charter for Budget Responsibility today, which aims to clear the deficit on day-to-day spending on services by 2017-18. This means that an extra £30bn of savings would be needed by then under Conservative plans.
ComRes has found that people reject this way of balancing the books by 59 per cent to 36 per cent. The finding will give Labour some hope that voters will reject what it calls the "extreme" approach of the Tories. Labour has accused them of wanting to shrink the state for "ideological reasons".
And by a margin more than two to one, people trust neither David Cameron nor Ed Miliband to cut public spending without harming key services like the NHS, as both promise to do. The two leaders have identical scores: 28 per cent trust them to achieve this, while 67 per cent do not. Half (52 per cent) of Labour supporters trust Ed Miliband to cut spending without harming key services but 44 per cent do not.
Labour maintains the three-point lead it enjoyed in the previous ComRes survey for The Independent. Labour is on 32 per cent (up one point), with the Conservatives on 29 per cent (up one point), Ukip on 16 per cent (down two points), the Liberal Democrats on 12 per cent (up three points), the Greens on five per cent (down two points), and others on six per cent (down one point).
Speaking in New York, Mr Osborne said the charter "commits us to finishing the job - and getting our national debt falling".
He added: "If after seven years of growth we don't start reducing our debt, round the world people will ask: 'if not now, then when?' Mañana is not a credible fiscal plan." Attacking Labour's approach, he said: "You can't build a better future on a mountain of debt."
The Tories hope the charter will highlight the divide between them and Labour. But Ed Balls, the shadow Chancellor, said Labour would vote in favour of the measure in the Commons in the new year. Labour will now come under pressure to say where it would find £30bn of savings.
Mr Balls accused Mr Osborne of making a "staggering U-turn" by downgrading his March Budget plan to clear the deficit on both day-to-day spending and on capital spending on building projects. Mr Balls claimed the Chancellor's "silly political stunt" had "totally backfired".
A Downing Street source denied any change but confirmed that the Conservatives wanted to go further to get the overall budget - both day-to-day and capital spending - into balance by 2018-19.
The charter was backed by the Liberal Democrats, but they would meet about 20 per cent of the £30bn needed through tax rises, while the Tories would find it from cuts and £5bn savings from tackling tax avoidance. The Lib Dems would not run a budget surplus like the Tories, who would put Britain an estimated £23bn in the black by 2020.
ComRes interviewed 1,002 GB adults by telephone between December 12-14. Data were weighted to be demographically representative of all GB adults. Data were also weighted by past vote recall. ComRes is a member of the British Polling Council and abides by its rules.
Join our new commenting forum
Join thought-provoking conversations, follow other Independent readers and see their replies