UK flooding: David Cameron heckled as he rejects claims he's neglected the North on visit to York
PM insists the Government has dedicated more money per head of the population to the north as he visits flood-hit York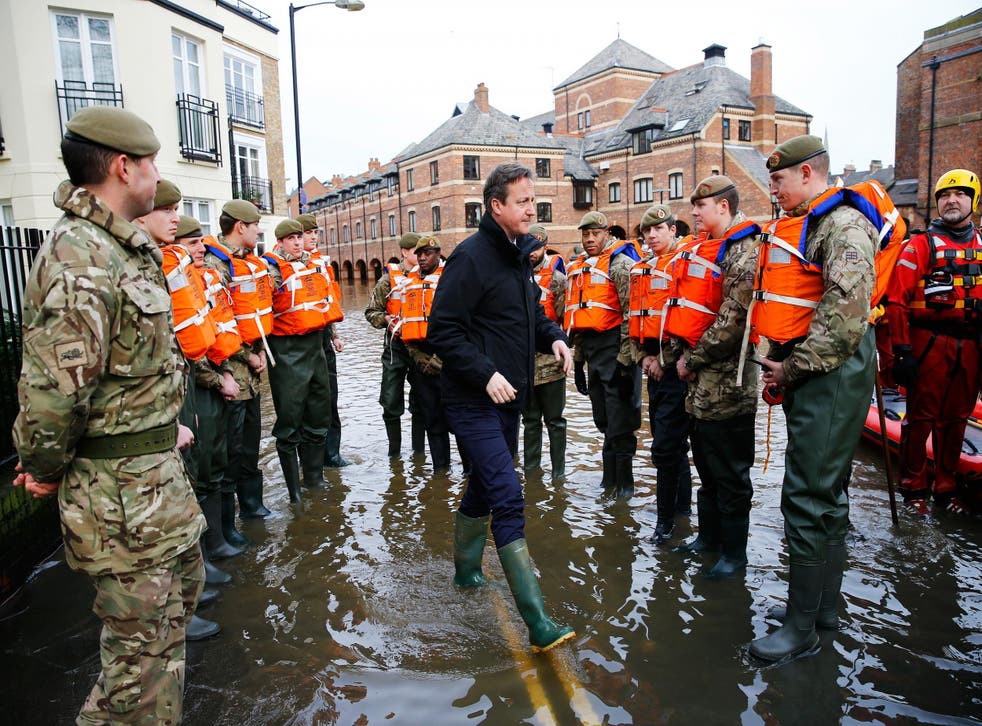 David Cameron has been heckled by victims of the devestating floods that hit parts of northern England over the Christmas weekend.
The Prime Minister, visiting members from the Scarborough mountain rescue team, was shouted at by a woman saying: "No more cuts to public services".
But he defended his record on flood defence spending and pledged to spend "even more" over the next five years.
Mr Cameron faced claims he has neglected the North compared to the South in terms of spending on flood defences, but speaking on a visit to flood-hit York earlier in the day, he insisted that the Government had dedicated more money per head of the population to the north.
He said it was clear that flood barriers do not "always do enough," as in the case in York where the River Foss's barrier was overwhelmed by rising water levels.
But he rejected claims that flood barrier funding had effectively been cut by 20 per cent due to reductions in local government spending announced in last month's spending review.
"That's not true," he told Sky News as he visited volunteers at an emergency sandbagging centre in York. "We've spent more in the last Parliament than in the previous parliament and we're going to spend even more in this Parliament.
"So it's a rising budget: £2.3bn on capital schemes that will make a real difference right up and down the country.
"As I say though, let's have a look and see whether more needs to be done and whether the flood defences need to be made even higher than they are already."
He added: "We actually spend more per head of the population on flood defences in the north than we do in the south.
"But the key thing is to spend the money where it's needed and if more money needs to be spent to help with the flood barriers – here in York, for instance, we've spent £100m since I became Prime Minister on flood defences, we plan to spend in this Parliament an extra £280m – so almost three times as much again.
"But let's look at where we're building it, where we're spending it and see if there's more that can be done."
In Pictures: Floods hit the UK

Show all 17
Explaining the situation in the city, he said: "In York, there are two sets of flood defences: the flood defences on the [River] Ouse which have worked and then the flood defences on the River Foss which weren't able to work and that's why there has been the flooding that there has been.
"But we spend a lot of money on flood defences; we're going to spend even more in the future and they have protected many thousands of houses from floods but they don't always do enough.
"But obviously after any one of these events it's right to sit down and look at what you've spent, what you've built and look at what you're planning to spend, look at what you're planning to build and work out: is it in the right places?
"Are we doing it in the right way? Do we need to do more? And we'll ask all those questions."
Join our new commenting forum
Join thought-provoking conversations, follow other Independent readers and see their replies