UK flooding: Economic cost of storms could hit £6bn, industry experts warn
Closed businesses, people unable to go shopping or travel, damaged infrastructure and loss of agricultural output could cost the UK economy up to £5.8bn in the long-term, with a fifth of the cost falling on those with insufficient insurance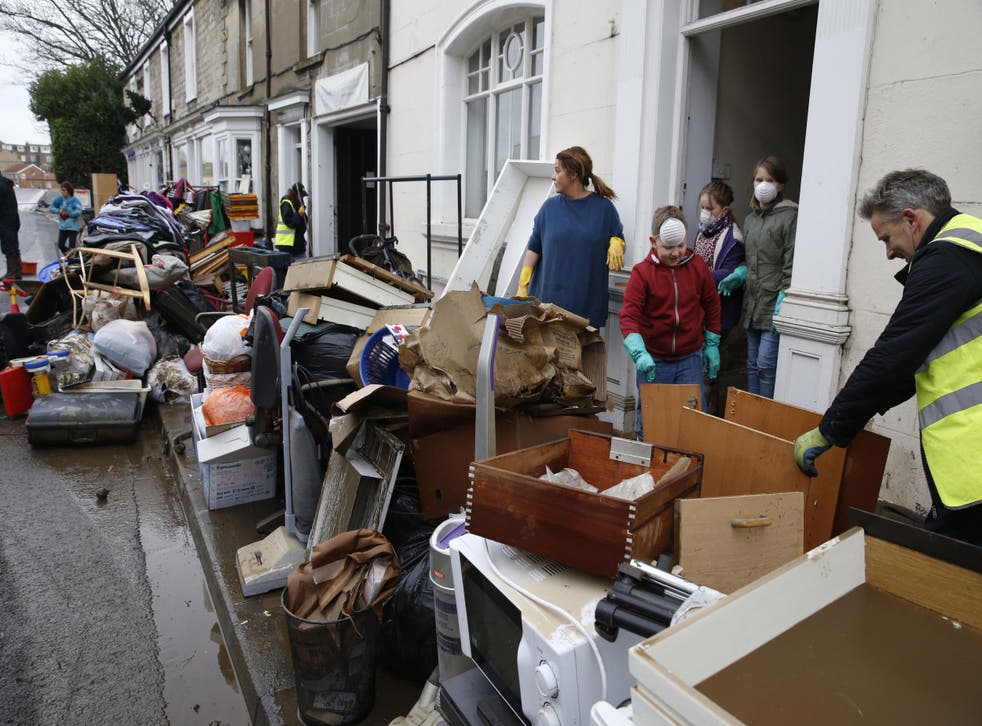 The economic cost of the flooding that has hit the UK over the Christmas period could reach nearly £6bn, according to industry experts.
Large parts of northern England have been devastated by rising water levels as heavy downpours have led to rivers bursting their banks in Cumbria, Yorkshire, Lancashire and Greater Manchester in recent days.
Accountancy firm KPMG has estimated that the total cost to the UK's insurance sector, businesses, individuals, communities and government will be between £5-5.8bn in the long-term.
As much as a fifth of the overall cost could fall on those with insufficient insurance, the accountancy firm warned.
The worrying report into the cost of the floods came as David Cameron was heckled by flood victims as he visited members of the Scarborough mountain rescue team.
The Prime Minister was shouted at by a woman saying: "No more cuts to public services".
But he defended his record on flood defence spending and pledged to spend "even more" over the next five years.
The calculations are based on previous floods, such as the £3.2bn cost of the 2007 summer floods that hit during Gordon Brown's first days as Prime Minister.
The estimate is much higher than initial forecasts made by rival accountancy firm PwC, which predicted losses of £1.3bn on Sunday.
Other economists have predicted that the recent flooding will hit Britain's GDP by 0.2 per cent due to businesses being forced to close, loss of agriculture output, and people not being able to go shopping and travel.
IHS Economics estimated that the real economic cost could be even greater.
Howard Archer, chief European and UK economist at the forecasting firm, told The Independent: "Damage to personal property does not affect GDP growth, although it is obviously a disaster for the poor people involved.
"And GDP measures do not capture the stress that the people/businesses affected incur."
Given the floods hit over Christmas, KPMG estimated a higher-than normal cost of contents in homes due to damaged presents and food.
An estimated £1bn worth of damage will not be covered by insurance policies, it was estimated.
Businesses have been warned that typical insurance policies do not cover "loss of attraction" and loss of market value. Industry experts urged the Government to step in to fund the gap to ensure communities are rebuilt.
Insurance company AXA told The Independent it has already paid out £1.1m in emergency or interim payments to customers affected by the floods in northern England and have placed 250 people in termporary accommodation.
In Pictures: Floods hit the UK

Show all 17
Justin Balcombe, head of KPMG's insurance consultancy branch, said: "The scale of the flooding over the last few weeks has seen communities across large sections of Northern England, Wales, Scotland and Ireland severely impacted.
"In 2007 when a similar pattern of flooding hit, total insured claims were £3.2bn, however, we consider that the actual financial impact far exceeded this.
"We are assessing this month's events through a number of economic lenses, resulting in an initial total cost estimate of £5-£5.8bn."
Join our new commenting forum
Join thought-provoking conversations, follow other Independent readers and see their replies