UK households wasted 7.3 million tonnes of food in 2015, new figures reveal
'Not only has the government failed to live up to its pledge to cut household waste, but its own policies are actively making things worse'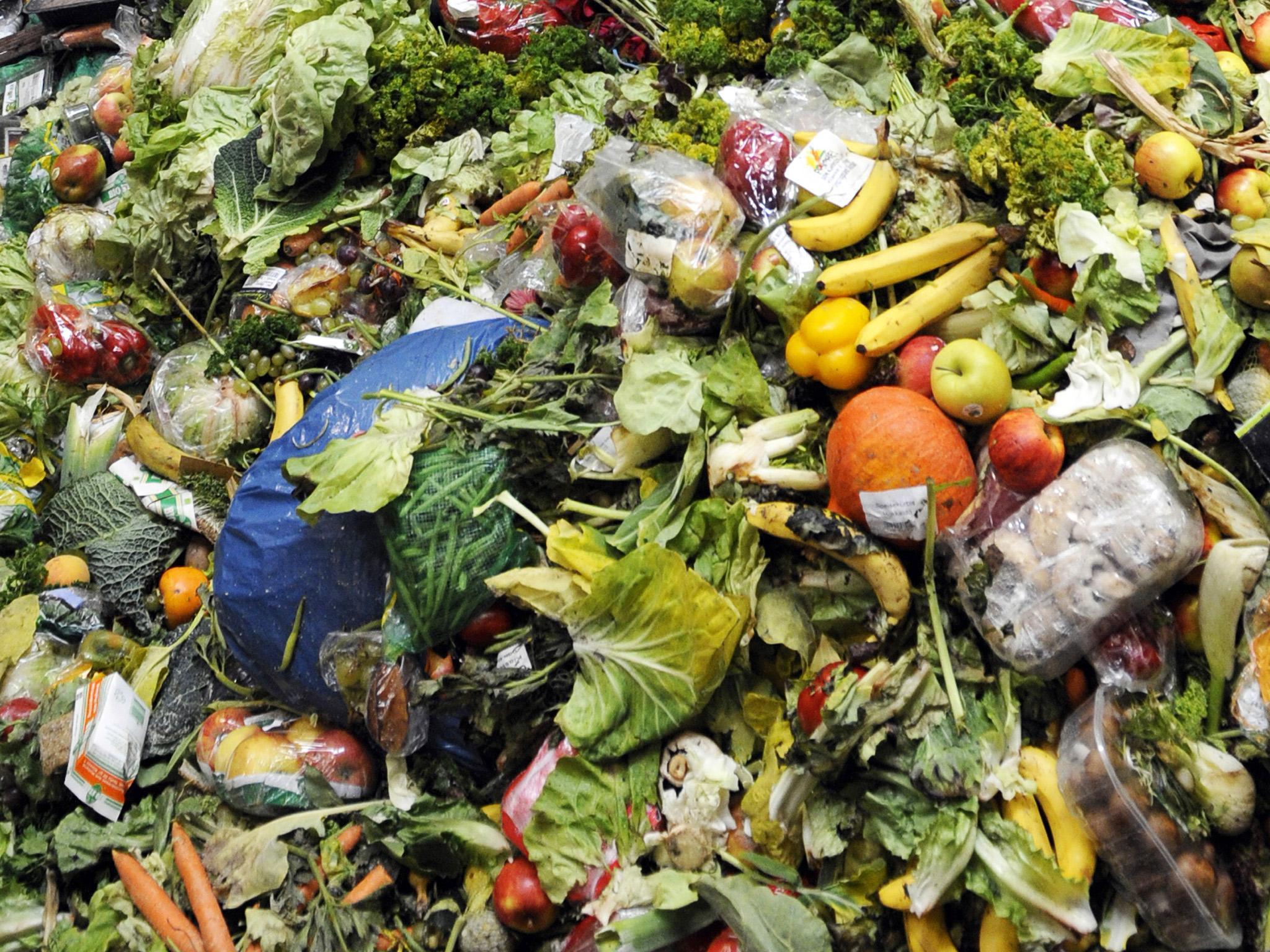 Household food waste increased to 7.3 million tonnes in 2015, new figures have revealed, leading to accusations the Government is failing in its ambition to bring down waste in Britain.
The latest statistics from the Waste and Resources Action Programme (Wrap) show that efforts to combat food waste in homes across UK have stalled in recent years, with 7.3 million tonnes thrown away in 2015 – an increase on the 7 million recorded in 2012.
This equates to £13bn being thrown away in edible food from homes each year, or £470 per household. Of the food thrown away, 4.4 million tonnes was "avoidable" waste that was edible at some point before it was put in the bin or food waste caddy, such as bread that goes mouldy, compared to 4.2 million tonnes in 2012.
The rest were scraps that cannot be eaten such as eggshells, tea bags and banana skin.
The organisation, which is part-funded by the Department for Environment, Food and Rural Affairs (Defra), adds that avoidable household food waste is associated with 19 million tonnes of greenhouse gas emission – or the equivalent to the emissions generated every year by around 30% of the cars on UK roads.
The Government currently looks to voluntary initiatives, such as Wrap, rather than a regulatory approach to deliver food waste reductions.
Rachael Maskell, the shadow Environment Secretary, told The Independent: "Despite the Tories' pledge to create a 'zero-waste economy', the reality is that the figures are going in exactly the wrong direction. Not only has the Government failed to live up to its pledge to cut household waste, but its own policies are actively making things worse.
"With sweeping cuts to local authority budgets and continued under-investment in recycling and new technologies, it is increasingly clear that the Government's fundamental lack of commitment is to blame."
Caroline Lucas, the Green MP who is also co-leader of the party, said it was "deeply disappointing" to see the UK going backwards when it comes to reducing food waste. "Clearly more needs to be done to cut down on food waste and the greenhouse gas emissions associated with it," she added.
"For starters that must mean challenging the supermarkets' so-called 'deals' that persuade people to buy more than they need. At the same time, we need increased funding for education programmes aimed at helping people cut down the amount of food they waste. It should also mean rolling out separate food waste collections across the UK – thus showing people more clearly just how much food they throw away. Britain should be leading the world when it comes to food waste and recycling but instead we are stalling.
"This report must serve as a wake-up call to the Government: urgent action is clearly needed to get us back on track."
Wrap, however, claims the increase in household waste is not "statistically significant" and points to increase in the UK population, food deflation and increases in earnings since 2014 that "will have reduced the incentive" for individuals to avoid wasting food.
"It's clear that campaign activities need to reach more people," they add.
Wrap's chief executive Marcus Gover said: "Citizens are wasting one million tonnes less food per year, which means over eight million tonnes less food waste than when we started tackling this issue in 2007.
"But it is incredibly challenging to reduce food waste, and the stalling of progress shows just how difficult it is. That's why I'm calling on all businesses, organisations, campaigners and NGOs who work in this area to unite together in the fight against food waste. By working together we can win this battle."
In response to the disappointing figures on household food waste in Britain, Wrap said it is uniting retailers, manufacturers and local authorities through a new initiative, which aims to reduce waste by 20 per cent on a per person basis by 2025.
Therese Coffey, the environment minister, said that strong progress had been made by the industry on tackling food waste. "But we all have a role to play and despite a million-tonne fall in domestic food waste since 2007, there is clearly more we need to do. That is why we will continue to work with Wrap to support their new strategy to raise awareness, increase education and change people's perceptions of food waste," she said.
Jim Fitzpatrick, the acting chair of the Efra Select Committee in Westminster added it was "disappointing" the level of household waste has not been reduced. "This is a complex issue. The Efra Committee is currently holding an inquiry on Food Waste in England, and we have received evidence on pack and portion size, expansion in separate food waste collection and the need for more effective communication. We will publish our report later in the year," he added.
Feedback, an environmental organisation that campaigns to end food waste, added: "Thirteen billion pounds of edible food lost is clearly a mountain of waste to climb. While we all understand implicitly that wasting food is a bad idea, each and everyone one of us needs to commit to throwing away less if we're to turn that mountain into a molehill.
"However it's not just individuals that need to act. Thanks to today's research we have the data we need to understand the scale of the problem at a household level and tackle it – now we need supermarkets and other retailers to commit to the same transparency by publishing data for their food waste, not just at store-level but across their supply chain. Consumers expect their retailers to lead by example, and with Tesco committing back in 2014 to transparency on their food waste figures, it's well overdue for the other supermarkets to follow suit."
Join our commenting forum
Join thought-provoking conversations, follow other Independent readers and see their replies