Nazanin Zaghari-Ratcliffe: UK should downgrade ties with Iran over jailing of British mother, says Peace Prize lawyer
Exclusive: Nobel laureate Dr Shirin Ebadi says government could take decisive action to ensure UK citizen's safe release, but Boris Johnson's handling of situation 'has not helped'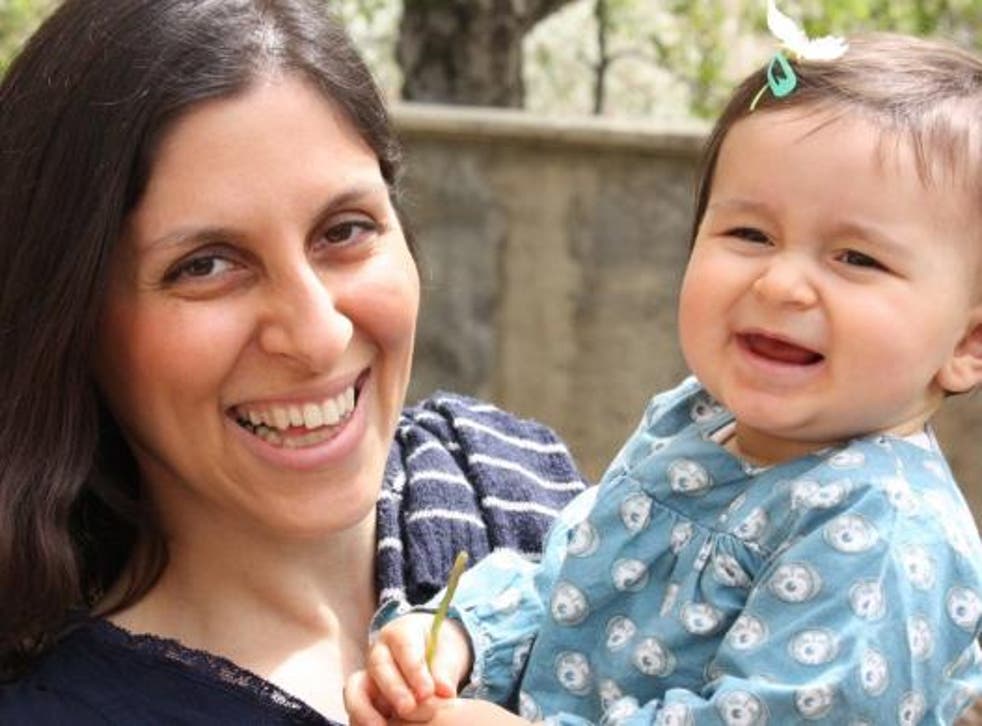 The UK should downgrade its diplomatic ties with Iran to secure the release of Nazanin Zaghari-Ratcliffe, a Nobel Peace Prize-winning Iranian human rights lawyer has told The Independent.
Dr Shirin Ebadi, Iran's only Nobel Laureate, said that Ms Zaghari-Ratcliffe was being held as a political "hostage" by Tehran and suggested the British Government may be expected to pay some form of ransom to ensure her safe release.
The 70-year-old human rights lawyer was also critical of Boris Johnson, who came under fire this week for incorrectly telling a Commons committee Ms Zaghari-Ratcliffe was "teaching journalists" in Iran. The Foreign Office has since accepted that the "sole purpose" of her visit was a holiday.
Dr Ebadi said the Foreign Secretary's comments "had not helped" and were "not in Nazanin's interests". And she said there were a number of options the British Government could now pursue to try and help in her case.
"The UK Government must say to Tehran, you must observe human rights, including the release of Nazanin. Otherwise the British Government must threaten to downgrade political relations from ambassadorial to a lower level in Iran," Dr Ebadi said.
Ms Zaghari-Ratcliffe, who has dual British-Iranian nationality, was detained on spying charges while on holiday with her daughter Gabriella 18 months ago. Gabriella, who is now three, has remained in Iran while Richard Ratcliffe, Ms Zaghari-Ratcliffe's husband, is in the UK.
Mr Ratcliffe has worked tirelessly to bring his wife home and has urged Mr Johnson to escort him to Iran so he can see his daughter. In an interview with The Independent last month, he said his wife's detention included almost nine months in solitary confinement and amounted to "psychological torture".
The charges against Ms Zaghari-Ratcliffe appear to stem from the fact she works for the Thomson Reuters Foundation, as a project manager for the media's charitable works. Her employer has repeated stated that Ms Zaghari-Ratcliffe does not train journalists, and the foundation does not operate in Iran.
The Iranian authorities insist that the proceedings against Ms Zaghari-Ratcliffe followed the country's judicial process. They also point out that Iran does not recognise dual nationality and thus she is regarded as an Iranian citizen. They point out that she sees her child every day and is in daily communication with her husband in the UK. British diplomatic sources say there has been no "ransom" demand from Tehran over Ms Zaghari-Ratcliffe and they were not expecting any. Efforts will continue, they say, to get her released.
After Mr Johnson made his comments to the Foreign Affairs Select Committee, Ms Zaghari-Ratcliffe was taken to an unscheduled court hearing and issued with new charges of spreading propaganda against Iran. She has been threatened with another five years in prison on top of her existing five years sentence. Mr Johnson has denied there is a link between his comments and these proceedings.
Dr Ebadi, a former judge in Iran, likened the situation to that of Jason Rezaian, an Iranian-American journalist who served as Tehran bureau chief for The Washington Post. He was arrested in Iran and convicted of espionage in a closed-door trial in 2015.
World news in pictures

Show all 50
Mr Rezaian, alongside three other US prisoners, was released in 2016 after the US government settled a 40-year debt with Iran, to the sum of $400m (£305m). Dr Ebadi said it may take a similar measure to ensure that Ms Zaghari-Ratcliffe is allowed to return home.
"Why have they imprisoned Nazanin? Because there is no justice, because the Iranian government engages in hostage taking," she told The Independent. "The whole reason behind her capture is because she worked for a very reputable organisation. Why did they arrest Jason Rezaian the Washington Post journalist? The same reason they took Nazanin.
"I have no doubt that if the UK government does what Barack Obama did, they will release Nazanin," she added.
Dr Ebadi has been a vocal critic of the Iranian government and was forced into exile in 2009 after significant threats to her life.
She was Iran's first female judge but was stripped of her position after the Islamic Revolution in 1979, when it was deemed women were not fit to be judges. She was demoted to magistrate's clerk in the court she once presided over.
After then reverting back to being a defence lawyer, she represented the most vulnerable citizens in her country against abuse and is credited with giving birth to the human rights movement in Iran in the 1990s.
She was awarded the Nobel Peace Prize in 2003 for her work on promoting women's and children's rights, becoming the first Iranian and the first female Muslim laureate.
Jailed in Iran: Richard Ratcliffe calls on the government to bring Nazanin home
Dr Ebadi spoke to The Independent during a visit to London in which she gave a guest lecture at the UK Bar Council, which represents all barristers in England and Wales, discussing the current legal situation in Iran.
Addressing an audience of more than 100 barristers, judges, solicitors and law students on the challenges faced by legal professionals in Iran, she argued the rule of law in the nation is under threat. She claimed lawyers in Iran face some of the most challenging circumstances in the world, routinely being banned from practising or arrested, detained and prosecuted as a result of not accepting instructions in sensitive cases.
Register for free to continue reading
Registration is a free and easy way to support our truly independent journalism
By registering, you will also enjoy limited access to Premium articles, exclusive newsletters, commenting, and virtual events with our leading journalists
Already have an account? sign in
Register for free to continue reading
Registration is a free and easy way to support our truly independent journalism
By registering, you will also enjoy limited access to Premium articles, exclusive newsletters, commenting, and virtual events with our leading journalists
Already have an account? sign in
Join our new commenting forum
Join thought-provoking conversations, follow other Independent readers and see their replies