Ukip by-election candidate Mark Reckless praises former Libyan dictator Muammar Gaddafi
Ex-Conservative claims Gaddafi  stopped boats of immigrants crossing into Italy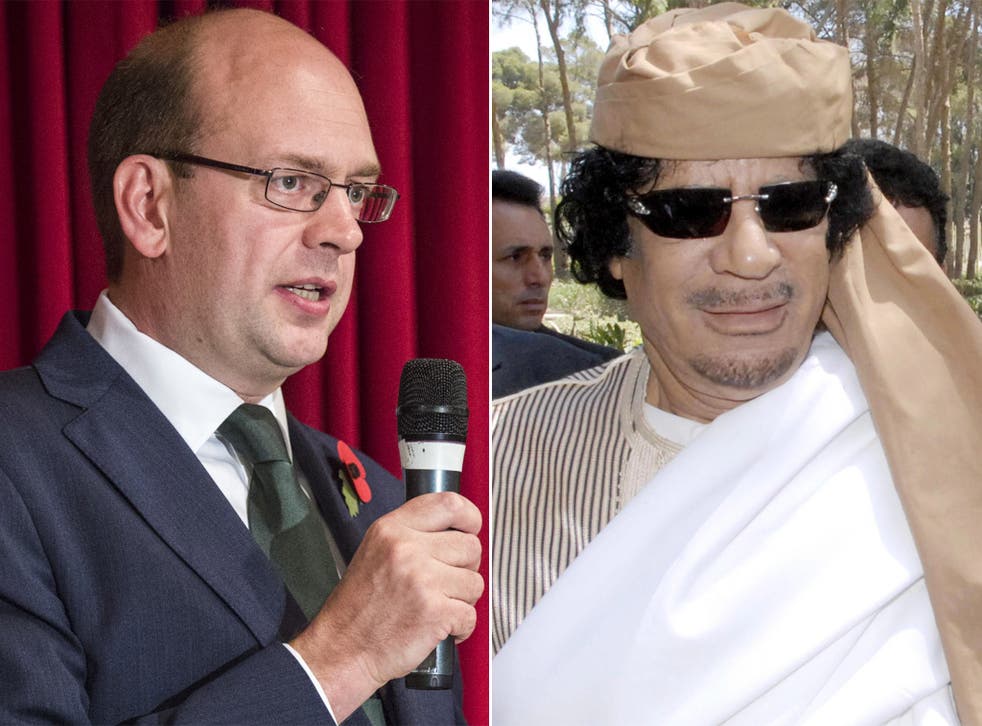 The former Libyan dictator Muammar Gaddafi has been praised by a senior Ukip figure for keeping a grip on illegal immigration to Europe.
Mark Reckless, its candidate in the Rochester and Strood by-election, courted controversy as he referred to the growing numbers of migrants trying to make the dangerous voyage across the Mediterranean Sea to Europe. Italian patrols that have rescued thousands of Africans from drowning have been scrapped.
Mr Reckless, a former Tory MP who defected to Ukip, said: "Whatever people say about Gaddafi, one thing is he didn't allow those boats to come across.
"He had an agreement with Italy that stopped it. Since he's gone we have no idea what's going on in Libya, it's too dangerous for anyone to go there."
He denounced David Cameron for allowing Britain to join the operation to topple Gaddafi as it had led to "bad guys" being replaced by "even worse guys" in Libya.
"We bombed them, that's what we did. That's how this Government helped Libya," Mr Reckless said.
"It got rid of somebody, albeit an Arab nationalist dictator, who actually gave a level of stability to the area."
Who's next? Conservative MPs who could defect to Ukip

Show all 8
Mr Reckless is favourite to win the Rochester contest on 20 November after polls put him ahead of his former party in the Kent constituency. The Conservatives have mounted a huge effort to avoid a second by-election defeat following last month's loss of Clacton to Ukip.
Meanwhile, Mr Cameron has refused to rule out a deal with Nigel Farage if he fails to secure an overall majority at next year's election.
Challenged over whether he could look to Ukip in a hung parliament, he dodged the question, simply replying that he would "do the right thing for Britain".
The Prime Minister said the next election was absolutely wide open and could easily result in a Conservative-only Government.
"That's what I'm campaigning for and nothing's going to distract me between now and then. Until that election is over, you won't get me speculating on what would happen if I fall short," he told BBC Radio Kent.
"At the last election, we didn't have an overall majority; we fell short, and I thought the right thing to do was to give Britain strong and stable Government to get the deficit down, turn the economy round, get the country back to work."
Mr Farage has previously suggested he would support a minority Conservative government on a "supply and confidence" basis in return for the Tories' promised referendum on EU membership being brought forward from 2017 to 2015.
And speaking at a Ukip hustings in Rochester, Mr Farage claimed Britain had become the "cheap labour economy of the European Union" as a result of "uncontrolled" levels of migration.
He said: "What we have got is a massive oversupply in the labour market which has driven down wages. We have literally made this country now the cheap labour economy of the European Union."
An international lawyer specialising in immigration said his comments carried "worrying" overtones.
Sarosh Zaiwalla said: "Although it's tempting to some to acquiesce to popular opinion and focus only on the negative aspects of international migration, we need to remember that some migrants have brought both financial and economic gain to the UK."
Join our new commenting forum
Join thought-provoking conversations, follow other Independent readers and see their replies