Ukip election policies: Slash foreign aid, bring back smoking in pubs, ditch Human Rights Act
'Britishness', the NHS and immigration is pushed to the top of the agenda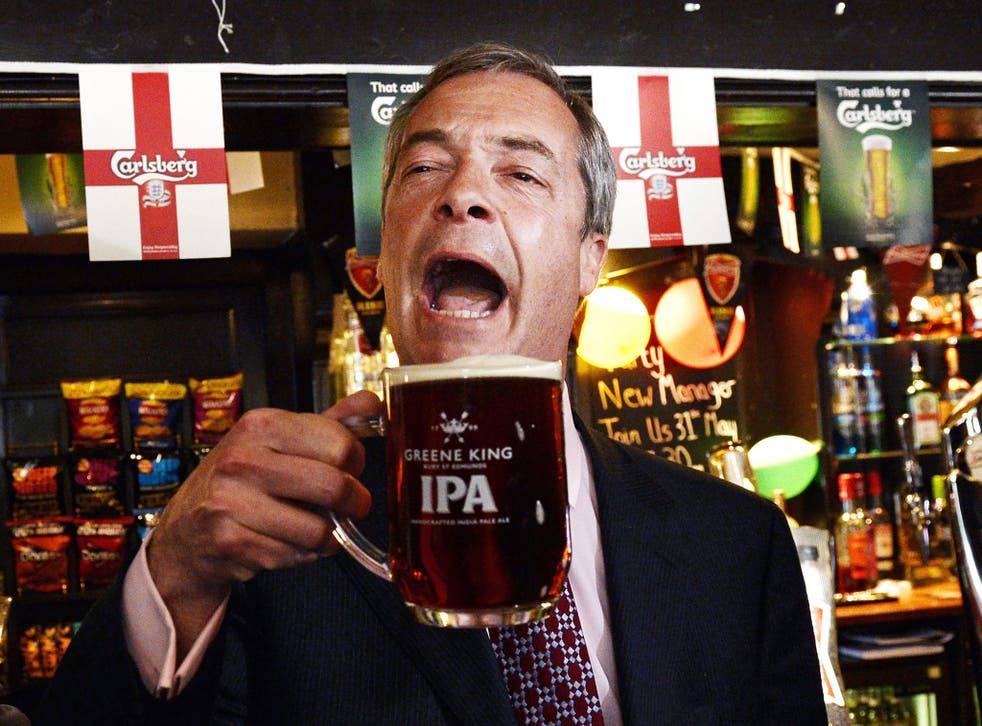 Slashing the foreign aid budget, bringing back smoking in pubs and abolishing the Human Rights Act are among Ukip's election policies.
Pulling out of the European Union naturally topped the party's list of 100 "great reasons to vote Ukip" released to mark 100 days until May's general election.
Much of the list is not a surprise, including Nigel Farage's frequently toted promises to bring in an Australian-style immigration system, boost funding for the NHS and stop Britain's "endless, foreign wars".
Foreign policy and spending bears the brunt of cuts, with a promised reduction of £9 billion in the foreign aid budget, which stood at £11.4 billion in 2013 – 0.7 per cent of the country's gross national income.
Ukip proposes to stop migrants from entering the country unless they have employment and accommodation confirmed, and then only take applications for permanent residency after a decade working in the UK.
Asylum seekers who arrive in the country illegally or those with fake passports would automatically be denied amnesty, although Ukip vows to protect "genuine refugees".
Mr Farage has joined the Prime Minister in vowing to replace the Human Rights Act with a British bill and also wants to withdraw from the European Court of Human Rights.
The idea of "Britishness" runs through the 100-point list, including the vague notion of "promoting a British identity, as opposed to failed multiculturalism" and "promoting patriotism and the importance of British values in our schools".
Sweeping education reforms are proposed, including allowing comprehensives to convert to grammar schools, making EU students pay full international fees but scrapping tuition charges for students studying degrees in science, technology, maths, engineering or medicine.
The NHS is a core focus, with Ukip listing plans to "end PFI privatisation", force GPs to open on evenings, protect whistleblowers, improve shift arrangements and ensure "a high standard of English speakers" among medical staff.
Overall the party vows to spend £3 billion more on the NHS annually because "it desperately needs it", without specifying where the funding would go.
The list says remarkably little on the economy and makes no mention of the deficit, promising only to cut "wasteful spending" in government departments and "rebalance Britain's economy".
Ukip's confusing policies

Show all 7
Inheritance tax would be abolished while large corporations were chased by a new Treasury Commission to cough up their taxes.
A 35p rate of income tax is also advocated for people earning between between £42,285 and £55,000, aiming to take many public sector workers out of top rate of tax.
Benefit claimants would be hit by a series of cuts, including limiting child benefit to the first two children born to families. Ukip vows to "streamline" the welfare system and enforce an undisclosed benefit cap.
While the "bedroom tax" would be scrapped, social housing would be prioritised for claimants "whose parents and grandparents were born locally", potentially affecting the majority of new local authority tenants in London and other large cities.
Despite the professed stance against involvement in foreign conflict, a significant chunk of Ukip's manifesto is devoted to veterans, guaranteeing anyone who has served for 12 years or over a job in the police, prison or border forces.
Social housing would also be prioritised for ex-servicemen and women, who would be overseen by a new "Veteran's Administration" and be awarded a National Service Medal.
There is no mention of terrorism, intelligence or security apart from a pledge not to cut frontline policing.
Perhaps influenced by its leader's habit, Ukip has included policies geared towards smokers including allowing "ventilated smoking rooms" inside and opposing a move to introduce plain cigarette packets.
The only environmental concern on the list appears to be protecting the green belt, with other measures like repealing the 2008 Climate Change Act, ending green levies, stopping new wind farm subsidies and scrapping European directives curtailing emissions from coal-fired power stations potentially increasing industrial pollution in the UK.
Ukip has also vowed to abolish the Department of Energy and Climate Change and incorporate unspecified "retained functions" into Defra.
In the wake of the debate around "English votes for English laws" following the Scottish independence referendum, Ukip has said it would "overcome the unfairness of MPs from devolved nations voting on English laws", without specifying how.
Its democratic policies would also give voters the ability to recall MPs and initiate national referenda.
A spokesperson for Labour said the list proved that Ukip is "more Tory than the Tories".
"A vote for UKIP is vote for NHS privatisation, charges to see your GP and more tax breaks for the wealthiest while everyone else pays more," she added.
The Conservatives hit back by saying that a vote for any other party would bring "chaos", calling Ukip's policies "barmy".
"All anyone needs to know is that in May there will be a clear choice: between a competent Conservative Government that has a strong economic plan to secure a better future for this country – and the chaos of Labour and the rest," she added.
"A vote for UKIP and this barmy set of policies would only let Labour in, meaning more spending, more borrowing and more debt than our children could ever hope to repay."
Join our new commenting forum
Join thought-provoking conversations, follow other Independent readers and see their replies