Ukip leader Paul Nuttall barricades himself in room and refuses to say if he will stand as MP
When he eventually emerged ten minutes later Mr Nuttall said the party's national executive committee would decide at the end of this whether or not he will stand as an MP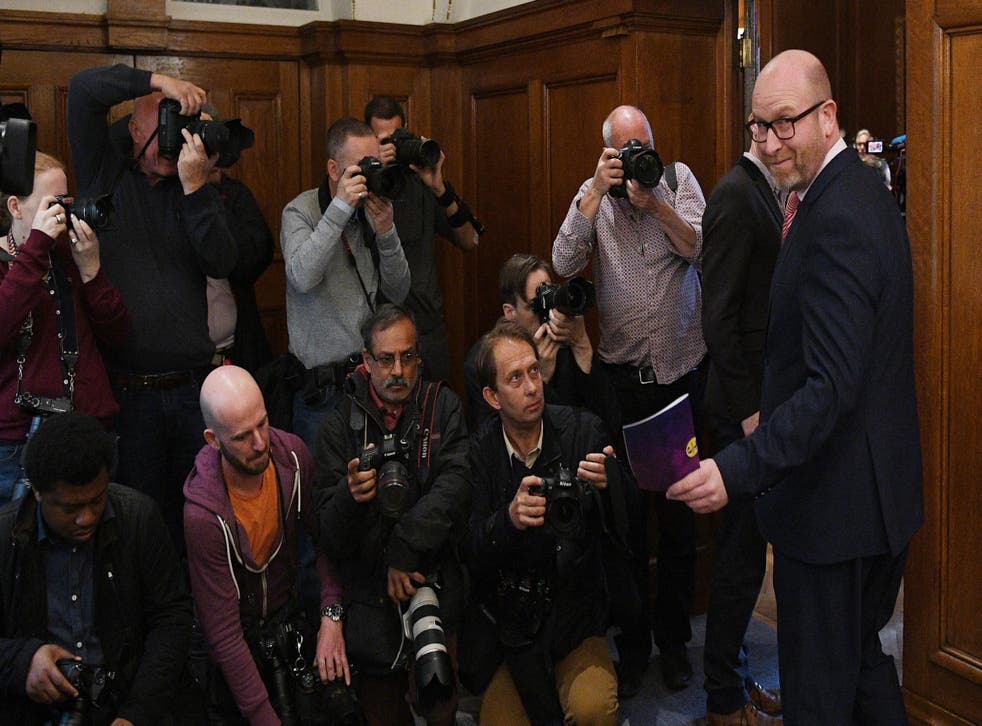 Ukip leader Paul Nuttall has barricaded himself in a room while refusing to answer whether he would stand as an MP in the next general election.
​​In scenes reminiscent of Ken Livingstone's failed attempt to escape inquisitive reporters by hiding in disabled toilets on the ground floor of the BBC studios last year, the Ukip leader took refuge in the Queen Mary room at the Marriot County Hall.
No one was allowed in to the room while the politician was in there although a bottle of water was smuggled in at one point.
It came during a news conference to announce new party policies to assembled journalists.
When he eventually emerged 10 minutes later Mr Nuttall, who failed in his attempt to become Stoke-on-Trent Central's MP earlier this year, said the party's national executive committee would decide at the end of this whether or not he will stand.
But before making a hasty approach via a black cab parked outside, he jokingly added that Ukip leaders "have done quite well outside Parliament" – an apparent reference to his predecessor Nigel Farage and his failed attempts to be elected as an MP.
It came as the party announced a string of policy ideas aimed almost entirely at Muslims, including a ban on the burka in public and a moratorium on the creation of new Islamic faith schools in Britain. Introducing the event in central London, Mr Nuttall said: "Today's message will be a message of positivity, it will not be about negativity.
"What we will say today is not designed to sow the seed of division. It is about promoting integration in British society," he added.
Join our new commenting forum
Join thought-provoking conversations, follow other Independent readers and see their replies