Ukip spy 'attempted to encourage abuse of Nigel Farage and criminal damage'
Activists against Ukip claimed that the spy was linked to Farage's security company after checking him out online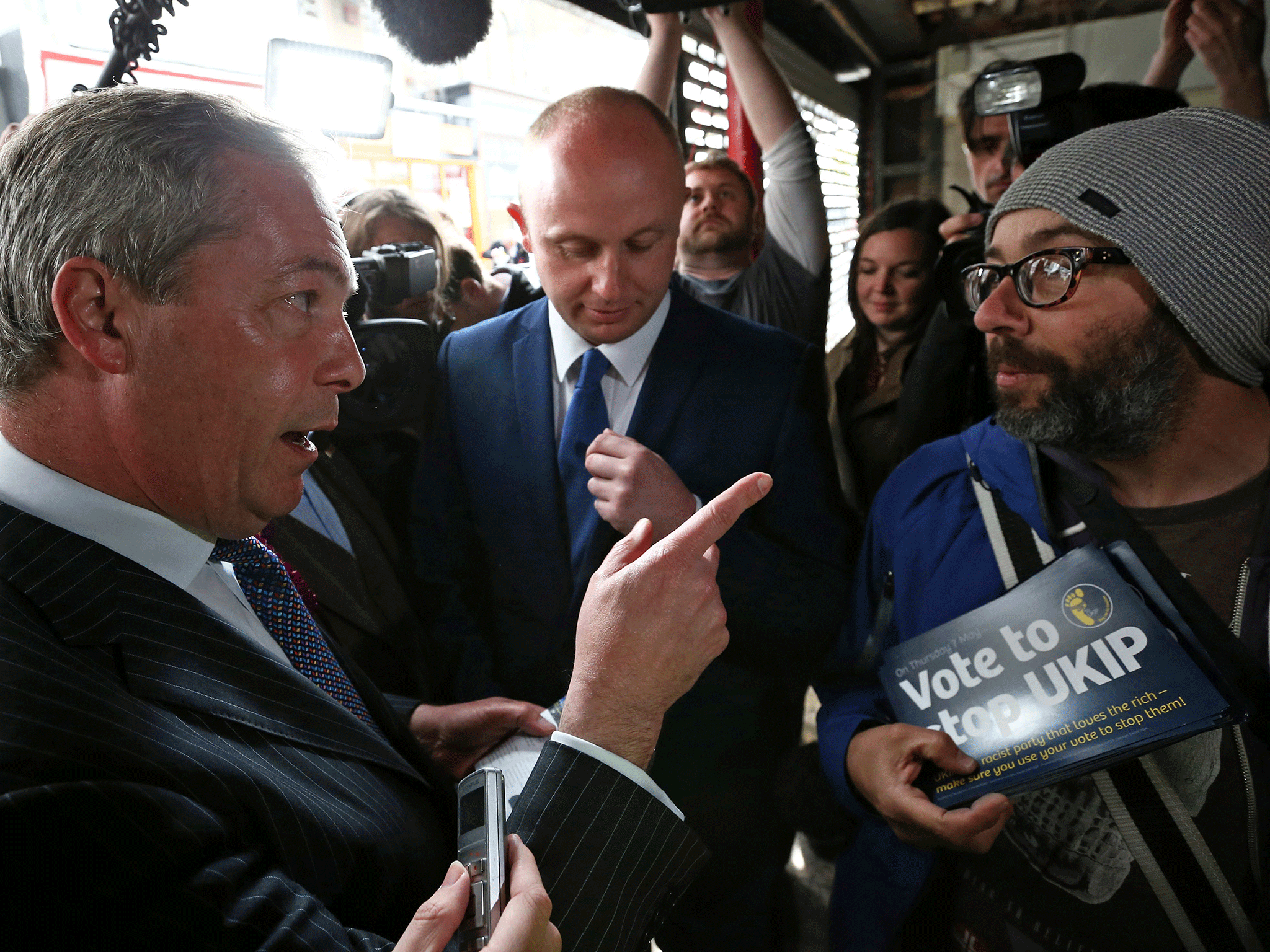 Ukip sent an insider into a protest group to gather information and encourage its members to abuse Nigel Farage, it has emerged.
The party acknowledged that it sent an informant into the group, Stand Up to Ukip, during the election campaign to obtain "information from the inside".
They said that the decision was taken after "a series of threatening attacks against Mr Farage in the run-up [to the general election]".
A party spokesman said: "In order to provide reasonable security it was of course necessary to have information from the inside.
"In order to do this it was important to gain the trust of activists, an approach used by a great many security operations tasked with protecting the safety and wellbeing of a targeted individual."
The man, who claimed to be called "Edward Johnson", was found out after Stand Up to Ukip spotted a photo of him posing for a photograph next to Nigel Farage on Facebook.
Speaking to the Guardian, the protesters said they were suspicious of Mr Johnson, who had claimed that he was a builder from Essex. They claim that text messages from Mr Johnson urged campaigners to help deface Ukip posters.
One text message read: "Alright mate I done a bit of defacing last night at the billboards only a bit as there was quite a lot of people about."
Another message referred to how the spy was supposed to have heckled Nigel Farage while he was out canvassing for the general election, asking protesters if "you wanna come down and give him some abuse?"
General election 2015: The worst gaffes and controversies

Show all 36
Internet searches for the mobile number used by "Edward Johnson" revealed that it was linked to John Hutchins, a man employed by Secura Associates who are tasked with Mr Farage's security. A Linkedin page for a man named Mr Hutchins lists his employment since January as the same security company.
Speaking to The Guardian, a spokesperson for Thanet Stand Up to Ukip, said: "We were sickened to see that this man who had come to our meetings, socialised with us, listened to our conversations seems all the time to have been a member of Nigel Farage's team.
"But he not only spied on us, he actually urged some of our members to commit criminal damage."
Join our new commenting forum
Join thought-provoking conversations, follow other Independent readers and see their replies