Benefit cut may leave disabled claimants unable to meet basic costs, MPs warn
Under Government plans, from April new ESA claimants judged to be capable of work in the future will receive £73.10 per week – the same as the Jobseeker's Allowance (JSA) – a reduction of £29.05 on the current rate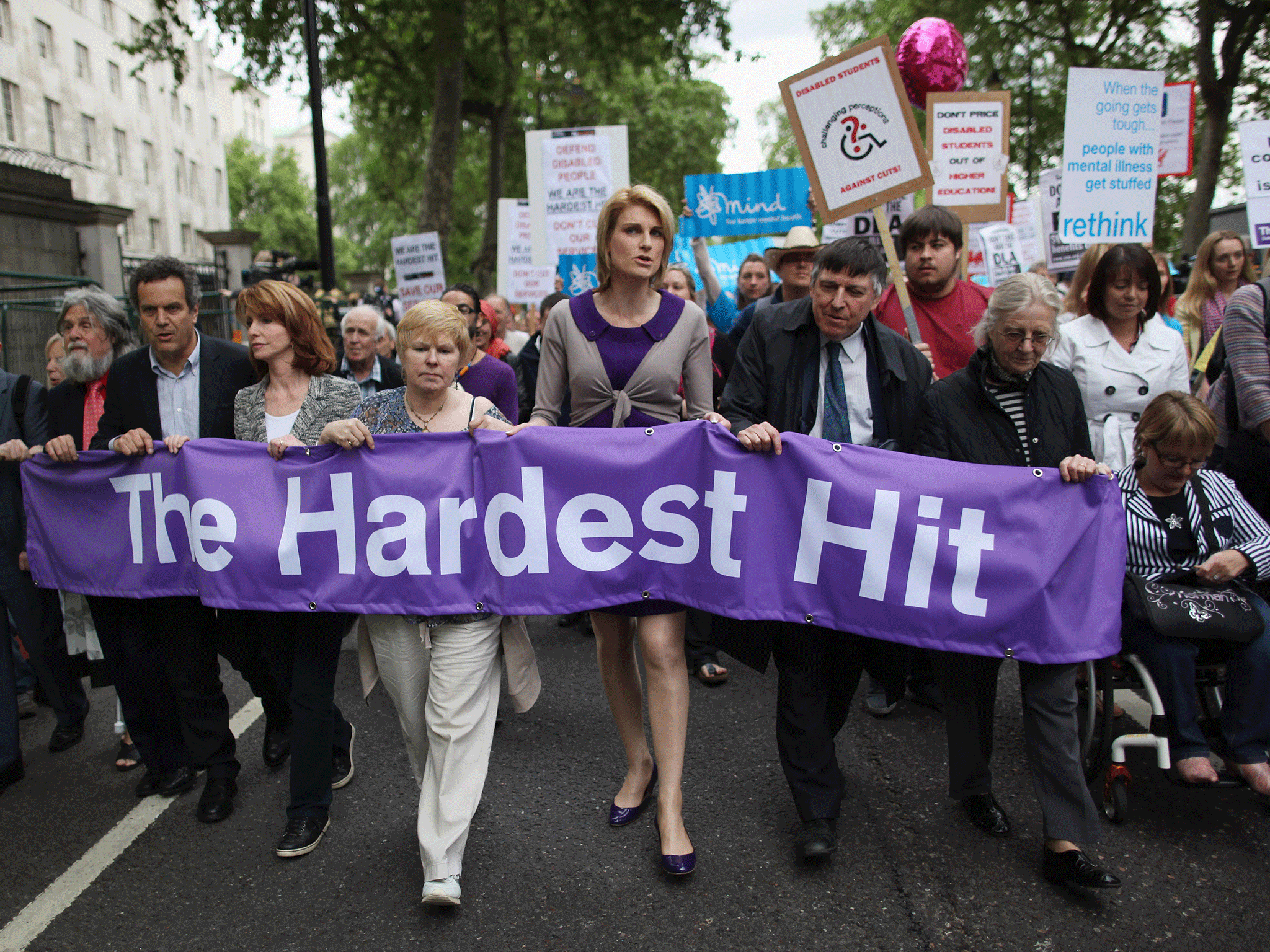 Government plans to cut unemployment benefit for new disabled claimants could leave some unable to meet essential living costs, MPs have warned.
The Commons Work and Pensions Committee said the evidence that reducing Employment and Support Allowance (ESA) would provide an incentive for the disabled to find work was "ambiguous at best".
While the Government's aim to halve the "disability employment gap" – the difference between the employment rates of the disabled and non-disabled – was laudable, it said ministers had failed to commit to a timeline for achieving it.
Under Government plans, from April new ESA claimants adjudged to be capable of work in the future will receive £73.10 per week – the same as the Jobseeker's Allowance (JSA) – a reduction of £29.05 on the current rate.
However, the committee said the measure – intended to save a total of £1bn by 2020-21 – could leave some with lower disposable incomes than JSA claimants as they often faced unavoidably higher living costs.
Disabled people protest for more rights
It was imperative, the committee said, that the Department for Work and Pensions (DWP) provided additional financial support for those claimants in the so-called work-related activity group (WRAG) who found they were unable to cover their essential living costs due to their condition.
"The Government expects the new, lower rate for the ESA-WRAG to enhance incentives to work. The evidence is, at best, ambiguous," it said.
"We heard substantial concerns about the possible impact of the new rate on disabled people's capacity to look for and move into work."
The report also noted, that at current employment levels, halving the "disability employment gap" would require an extra 1.2 million to 1.5 million disabled people to find work.
However, it cited one estimate by the Learning and Work Institute that on current rates of progress, it would take over 200 years to achieve.
7 ways the Tories have 'helped' disabled people

Show all 7
Committee chairman Frank Field said: "We expect the Government to respond to this report before the proposed new lower rate of ESA is due in April.
"If they intend to proceed with these cuts, we expect an explanation of how this will not be detrimental to its target of halving the disability employment gap, by making finding and keeping a job even more difficult for disabled people than it already is."
A DWP spokesman said: "Our welfare reforms are increasing the support and incentives for people to move into work, while keeping an important safety net in place for those who need it. In addition to ESA, we also offer support through Personal Independence Payments, to help with the extra costs associated with being disabled."
Liz Sayce, CEO of Disability Rights UK, which gave evidence to the select committee's inquiry, said: "The select committee is right to highlight the forthcoming cuts to Employment Support Allowance as wrong in principle and ineffective in practice.
"We're not aware of one single disability employment or benefits expert who thinks this particular cut will be an incentive for disabled people to get a job."
And Mark Atkinson, chief executive at disability charity Scope, said: "Today's report is yet another wake-up call to the Government that its cut to ESA is damaging to the everyday lives of many disabled people.
"We know that reducing disabled people's incomes won't incentivise them to find a job and won't help halve the disability employment gap. It will just make life harder."
PA
Join our new commenting forum
Join thought-provoking conversations, follow other Independent readers and see their replies