A Very British Coup, part two: New novel in pipeline as Jeremy Corbyn's rise inspires sequel
Exclusive: Chris Mullin says parallels between his fictional left-wing PM and the Labour leadership favourite are uncanny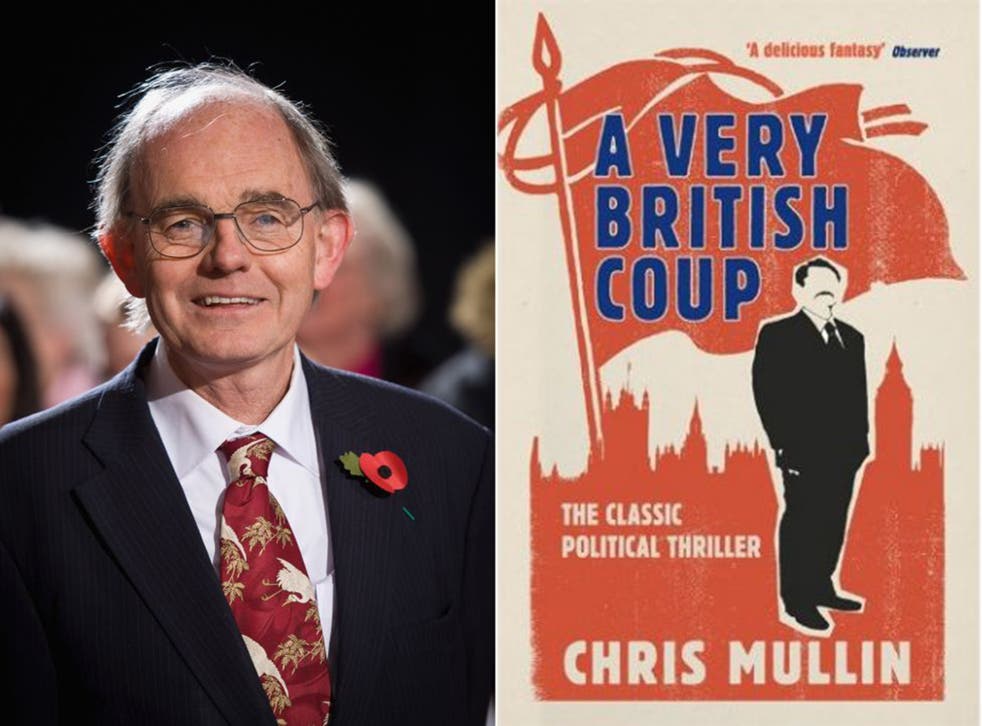 Against all odds, Labour has elected an unassuming left-wing leader who is surging towards power. Now he faces a conspiracy launched by the security services and a desperate British Establishment who will employ any means to discredit him.
Bookstores are ordering fresh copies of A Very British Coup, the prescient 1982 political thriller, written by Chris Mullin, the former Foreign Office minister, whose fantasy of a country falling under the sway of a Marxist leader is edging closer to reality following the rise of Jeremy Corbyn.
Now the ex-Labour MP has revealed he is planning a sequel to A Very British Coup, which may provide pointers to the shock leadership front-runner's ultimate fate.
Mullin believes the parallels between his novel, twice adapted as a television drama by Channel 4, and the shock emergence of his former colleague on the Labour benches as a national figure, are uncanny.
A Very British Coup introduces Harry Perkins, a former Sheffield steelworker who sweeps to power on a radical manifesto of nuclear disarmament, withdrawal from Nato, public control over the nation's finances, the break-up of all-powerful media monopolies and abolition of the House of Lords.
An alliance of media magnates, senior civil servants, the City, MI5 and the CIA conspire to bring down Perkins, who is faced with a mounting economic crisis as credit is denied and banks close their doors.
The novel remains in print 33 years on. Channel 4 followed its 1988 adaptation with a revised version in 2012, Secret State, starring Gabriel Byrne.
The next chapter is now under way. "I have plans for a sequel but it may be some time," Mullin reveals.
Mullin, who published a well-received trilogy of political diaries, believes Mr Corbyn's greatest threat lies close to home, if elected leader. "Jeremy's first problem will be that he will face a rebellion in the Parliamentary Labour Party," he said.
"A number of frontbenchers, including several of the defeated candidates, will refuse to serve under him. Some MPs may actively seek to undermine him as Lawrence Wainwright (treacherous Chancellor who collaborates with the security services) did in the novel."
Like Perkins, Mr Corbyn will face a hostile press. "The media will go bananas, of course," Mullin said. "There will be attempts to paint him as a Trot. I think that may already have started. Every bit of his past life will be raked through and every position he has ever taken will be thrown back under him. Former wives and girlfriends will be sought out. His sanity will be questioned."
"His recent interview with Channel Four News gave a taste of what to expect - he was accused of being a friend of Hamas and in turn accused the interviewer of behaving like a tabloid journalist. Actually MI6 have been pressing the Government to talk to Hamas for years."
Mullin began writing his novel in 1980, when it appeared that Tony Benn could seize control of the Labour party. He compares the press hostility towards Mr Corbyn to the treatment handed out to Benn, Ken Livingstone and campaigner Peter Tatchell during the Eighties.
However a Corbyn administration has a better chance of survival than Perkins' doomed enterprise. "The one big difference between the Eighties and now is that I don't think the security services would intervene. They have been cleaned up considerably in the last 20 years."
If Mr Corbyn were to follow Perkins and expel Britain's US bases, though, he could be undermined, suggests Mullin, whose original novel includes a sneering spy, involved in the conspiracy to destabilise the Perkins government, who dismisses "all those people who read The Independent."
In an era of trimmers, Mr Corbyn's authenticity may earn him grudging admiration from the sceptics. "Jeremy does have one great merit, which he shares with the late John Smith: he has held broadly consistent views all his life," Mullin said.
How do the policies stack up?
Fiction: Perkins
* End dependence on bankers and international finance
* Nationalise the commanding heights of British industry
* Withdraw from the Common Market
* Kick out US nuclear bases and withdraw from Nato
* Dissolve monopolies in the newspaper industry
* Abolish the House of Lords and public schools
* Open government up to the people
Truth: Corbyn
* An economy "which works for all, rejects austerity and places wealth and opportunity in the hands of the millions and not simply the millionaires".
* Nationalise the railways and essential utilities
* A reform agenda to "benefit Europeans across the continent. We cannot be content with the state of the EU".
* Scrap Trident and withdraw from Nato
* Replace the House of Lords with an elected chamber, end charitable status for fee-paying schools
Join our new commenting forum
Join thought-provoking conversations, follow other Independent readers and see their replies