As voters stay away, was this the secret policeman's ballot?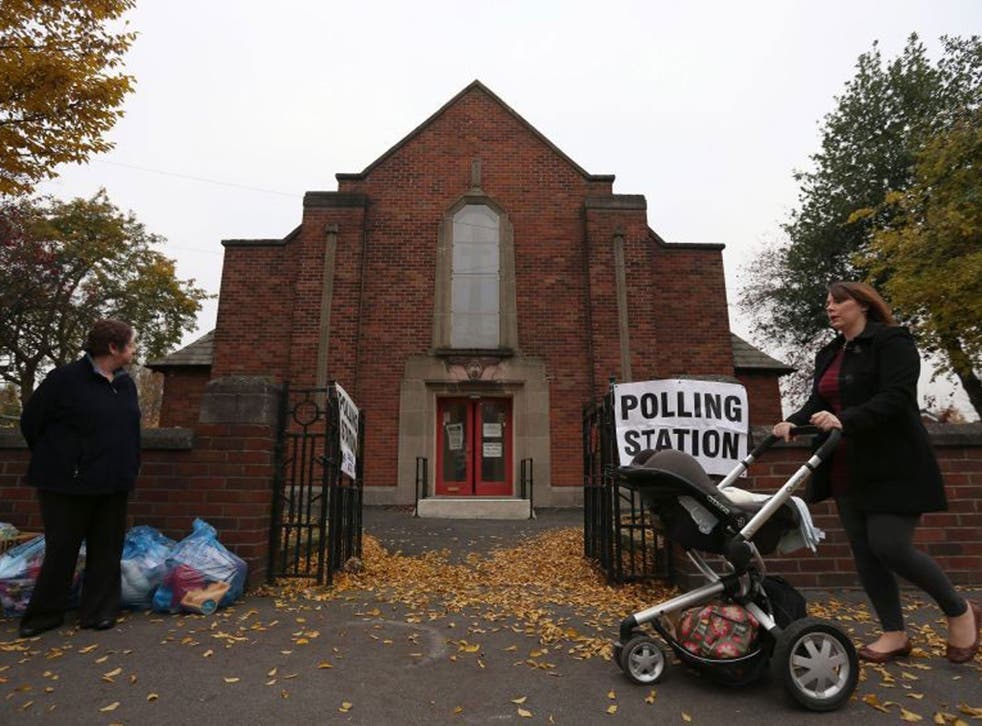 Voters barely darkened the doors of polling stations in many parts of England and Wales today as the Government's handling of the first elections to the post of police and crime commissioner was branded a "comedy of errors".
The battle for 41 Police and Crime Commissioner posts were greeted with widespread apathy, leading to predictions that turnout could prove to be the lowest ever recorded in a peacetime national election.
Meanwhile David Cameron is today braced for an embarrassing rebuff from the voters in the parliamentary by-election in Corby, Northants, where the Conservatives are defending a slim majority.
Labour is expected to achieve a comfortable victory in today's contest, which was forced by the resignation of Louise Mensch because of the pressures of family life.
The Electoral Reform Society (ERS) calculated that the turnout in the police commissioner elections could fall as low as 18.5 per cent, which would be seen as a blow to the democratic mandate of the victorious candidates, who will be announced this afternoon.
Anecdotal evidence across the country suggested the turnout could be even more modest.
It took more than two hours for the first ballot to be cast at one polling station in Leeds and nearly three hours at
Wolverhampton civic centre where the first arrival was cheered by officials. A voter in Exmouth, Devon, reported receiving a round of applause when she voted.
After six hours, just 11 people had voted at one location in Cumbria, 27 had turned up at a polling station in Manchester and 35 in the Riverside district of Cardiff.
By 5pm, just 70 out of 1,500 potential voters in one part of Norwich had exercised their democratic right.
Officials in Dorset claimed the final turnout could struggle to reach ten per cent, with similar predictions in Cambridgeshire where voting got off to a sluggish start.
The task of persuading the public to take part was not helped by rain and fog across much of the country today.
The contests took place in 41 police authority areas outside London, where Mayor Boris Johnson has oversight of the Metropolitan Police.
Labour candidates are expected to win control of most forces covering major urban areas including Greater Manchester, Merseyside and South Yorkshire. Their best-known standard-bearer, the former Deputy Prime
Minister Lord Prescott, stood in Humberside, where he faced a close contest with the Conservatives.
However, the Tories could emerge today with the most commissioners as they are tipped to win forces covering largely suburban and rural areas.
The victors, who will earn between £65,000 and £100,000 depending on the size of the forces they oversee, will gain the power to set budgets, determine policing priorities and hire and fire chief constables.
Supporters of the concept argue it will improve police accountability and make forces more responsive to local concerns.
The Home Secretary, Theresa May, predicts the commissioners will become the "voice of the people" and would be "visible, accessible and accountable".
Katie Ghose, the chief executive of the ERS, said: "This election has been a comedy of errors from start to finish. Polling stations are standing empty because voters knew next to nothing about the role, let alone the candidates they were expected to pick from.
"The Home Office has operated under the assumption that 'if you build it, they will come'. Democracy just doesn't work that way. There have been avoidable errors at every step and those responsible should be held to account."
Parliamentary by-elections also took place today in Manchester Central and Cardiff South & Penarth, which are both safe Labour seats. Those contests were triggered after their MPs decided to stand in today's police commissioner elections.
An election was also held to become Mayor of Bristol, with Labour expected to see off a strong challenge from an independent candidate.
Join our new commenting forum
Join thought-provoking conversations, follow other Independent readers and see their replies