Budget 2015: Watch Iain Duncan Smith perform the double fist pump that made him even more enemies
Work and Pensions Secretary could hardly control his emotion as George Osborne announced plans to introduce a compulsory living wage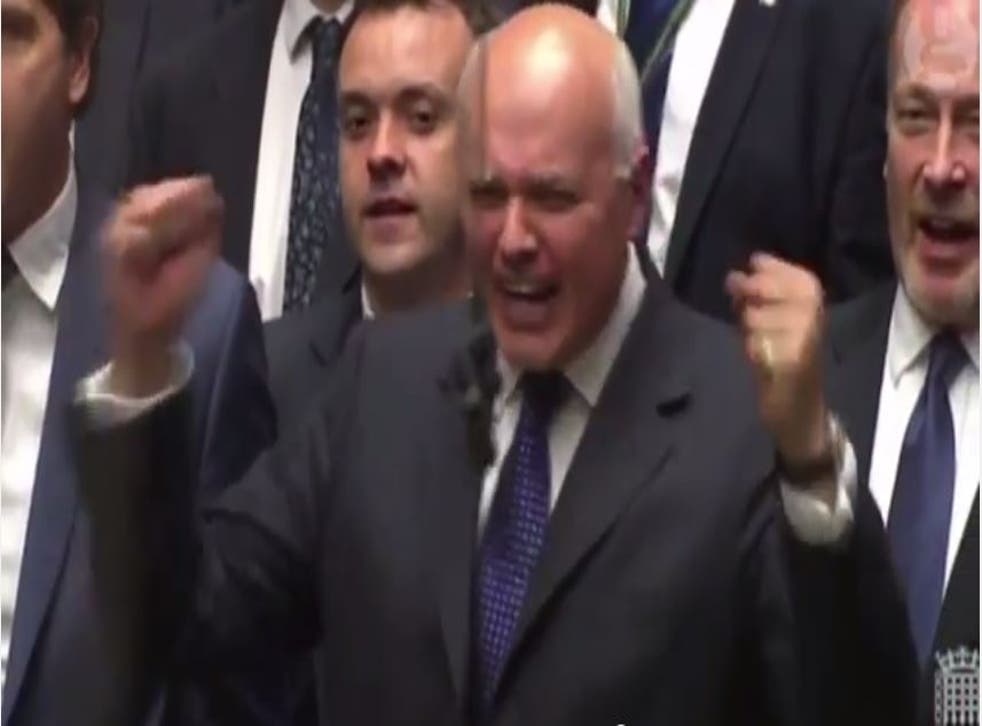 Iain Duncan Smith has managed to make even more enemies after performing a double fist pump during the Budget.
He could hardly control his emotion when Chancellor George Osborne announced plans to introduce a compulsory minimum wage of £9 an hour, a measure that distracts from Mr Duncan Smith's severe £12bn cuts to the welfare budget that will hit some of the lowest paid workers in the UK.
It was as if he was sitting watching his beloved Spurs play at White Harte Lane when he raised his fists in celebration and shouted "fantastic, get in" as Tory MPs erupted in a wall of noise loud enough to make comparisons to a football match even more relevant.
News of the national living wage, which will be introduced from next April at a rate of £7.20 an hour for people aged over 25, will grab the headlines but combine it with measures to cut the top-up pay for low income workers and it suggests the fist pumps are hiding the reality: the Tory claim to be the "party of working people" is more than a little misleading.
Take the example of a lone parent with two kids working 16 hours a week on the current national minimum wage. In 2016/2017 they would gain around £400 from the move to a £7.20 living wage but would lose double that amount - £800 - from the four-year freeze to working tax credits.
The fist pump is more revealing the more detail is taken into account and it certainly did not go down very well on Twitter:
What does five more years of the Tories mean for Britain?

Show all 8
Click here if you are having trouble viewing the calculator
Join our new commenting forum
Join thought-provoking conversations, follow other Independent readers and see their replies