Watch: TTIP vote in European Parliament descends into chaos after Ukip MEPs spark protest
Nigel Farage marches to the front of the Parliament in protest against a last-minute vote to suspend debate on controversial free trade agreement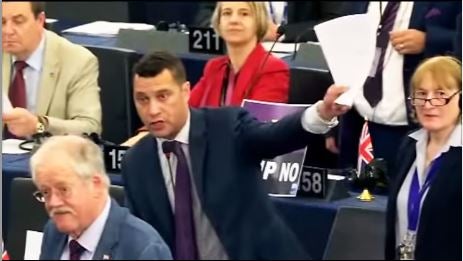 Ukip MEPs sparked a protest that sent the European Parliament into chaos today after a crucial vote and debate on the Transatlantic Trade and Investment Partnership (TTIP) was suspended.
Nigel Farage marched to the front of the room after MEPs narrowly voted in favour of a a last-minute delay in the latest debate on the free trade agreement with the United States. The Ukip leader claimed this was proof the EU was "running scared" of the strength of opposition to TTIP.
Meanwhile fellow MEPs from other parties who are also opposed to TTIP joined Ukip in standing, shouting, booing and clapping to show their dissatisfaction with proceedings. MEPs were due to set out their first formal position on TTIP since negotiations started two years ago.
Stephen Woolfe, Ukip's immigration and financial affair's spokesman, initiated the protest by reading out rules of procedure stating that if 40 MEPs stood up, they could halt the whole plenary session.
Many more than 40 stood up but the protest was rejected because the session had already closed.
TTIP, aimed at creating the world's biggest free trade zone between the United States and Europe, is opposed by parties on the right and left of the political spectrum.
Ukip gaffes and controversies
Show all 18
Some argue it risks undermining EU regulations, green opponents protest against the environmental affects of increased global trade, while others claim the real beneficiaries of TTIP were not consumers but large corporations. Ukip has also claimed it would lead to more privatisation in the NHS.
However the European Commission claims it will boost the size of the EU economy by around £94 billion and the US economy by £60 billion.
The European Parliament is not involved in the formal TTIP negotiations but it will be given a final veto over the final text.
Green party MEP Keith Taylor said: "The decision to postpone the votes and debate on TTIP stinks of political parties in the European Parliament running scared of the huge public opposition to TTIP.
"TTIP represents a monumental power grab by corporations and it must be stopped in its tracks."
Join our commenting forum
Join thought-provoking conversations, follow other Independent readers and see their replies