What's the Whig idea? Meet the man trying to revive a centuries-old political party
Can a political party founded in 1678 really make a comeback?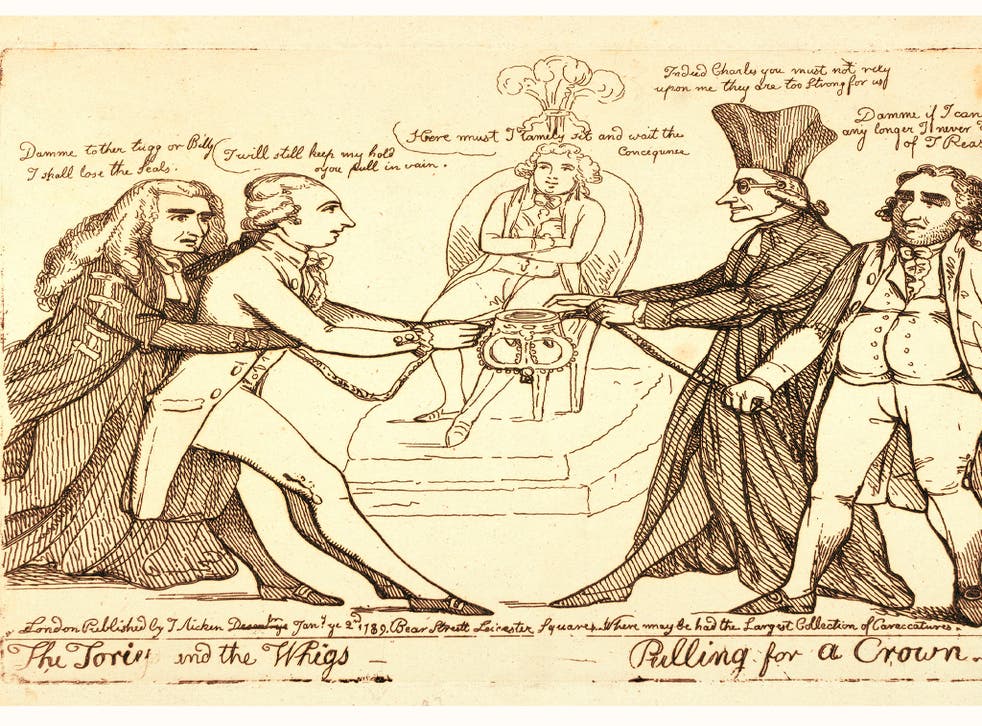 A new Facebook group with a growing following appears to have an exceptionally long history.
Under "life events", its homepage reads: "Founded: 1678". Almost three and a half centuries later, the Whig Party is enjoying an unlikely revival in the digital age thanks to the frustrations of a former army intelligence officer with a history A-level.
Waleed Ghani announced this week that he will run for election near his south London home after officially registering the Whig Party with the Electoral Commission. The business consultant, who grew up in Manchester, believes that the party of Walpole and Grey, which battled the Tories for decades, can fill a vacuum he sees in modern British politics.
"Most people probably don't even know who the Whigs were," Ghani, 31, admits. "The name has no resonance any more, but when people who are frustrated and not engaged with politics hear about the Whiggist tradition, it interests them. I see it as a different way of doing politics within a long-standing tradition of a party that was on the right side of history."
For those of you with only scant memory of GCSE textbooks, the Whigs dominated British politics with the Tories for almost two centuries before the Liberal Party emerged in the 1850s. They took on the power of religion and the monarchy and advanced reforming constitutional policies, most notably under Robert Walpole, who is considered to be our first Prime Minister.
Sympathetic students of this history, including Ghani, credit the Whigs with the abolition of slavery and the growth of suffrage (read on for a challenge to this view) among other liberal achievements, but why revive the name of a movement that is so old that Ghani finds half the people he talks to assume that he is talking about fake hair?
"I think there is something pleasing about a political revival," he says. "I think it partly explains why the Guy Fawkes mask became such a big symbol for the anarchists and Occupy movement. People liked the idea of a reaction to what is happening today that is also part of a longer narrative." The Whig Party website (whigs.uk) expands its values in the most general terms. Ghani and his core members, who number no more than a dozen (including his fiancée), believe in human rights, diversity, democracy and engagement with Europe. There are no policies, yet, and Ghani accepts that he will do well to keep his deposit in Vauxhall, a Labour stronghold.
"We're clearly not about forming a Government or even winning seats, but about raising the standard of political discourse," he says. He sees no hope in protest movements or a Russell Brand revolution, but only a gap in modern politics. On one side: Ukip and its right-dragging effect on a Conservative party he voted for in 2010. "Then you've got Labour experiencing an identity crisis and the Lib Dems totally discredited," he adds. "One would expect the Greens to seize the initiative, which is why I voted for them at the European elections, but they haven't."
Ghani traces his interest in the Whigs to his history A-level at Manchester Grammar School, from which he went to Oxford to study theology and philosophy. He is the son of a Tory-voting, pro-European, Pakistani-born businessman (he runs a vegetable oil packaging firm) and was a journalist before he went to Sandhurst.
"I went to a conservative school and then joined the army, which is a pretty conservative thing to do," he says. "I watched Thatcher's funeral procession. I am not anti-Conservative, I just think there is now this space in the centre that is a fertile ground that nobody is filling any more."
It's early days for the new Whigs, although Ghani says his social media accounts and appearance on the BBC's Today programme yesterday have created significant support. Critics, however, wonder about his reading of history and the Whigs' relevance today. Jesse Norman, the MP who for some represents the Tory Party's kinder face, last year published a biography of Edmund Burke, the 18th-century thinker and prominent Whig MP.
"There are people across all parties who would agree with much of what is written on his website," he says. "The real question is whether it can be something that has to be cashed out in policy." Norman suggests Ghani has overstated Whig triumphs. "It was the Conservatives who passed an awful lot of the pioneering social and industrial legislation of that era," he says, singling out Disraeli's 1867 Reform Act as one example.
Ghani is a smart, articulate guy with big ideas. He sells himself as a non-politician with a passionate belief in the political process. "Without that many votes, Ukip is completely changing political discourse and for some maddening reason nobody is standing up to it," he says. "For me the success will be if, come May, I and anyone else who wants to will have somebody to vote for who does – and who stands for a political tradition they can identify with."
Join our new commenting forum
Join thought-provoking conversations, follow other Independent readers and see their replies