Where are all the women Cameron? Prime Minister taunted over Tories' all-male front bench at PMQs
Ed Miliband taunts the PM over his all male front bench, saying 'a picture tells a thousand words'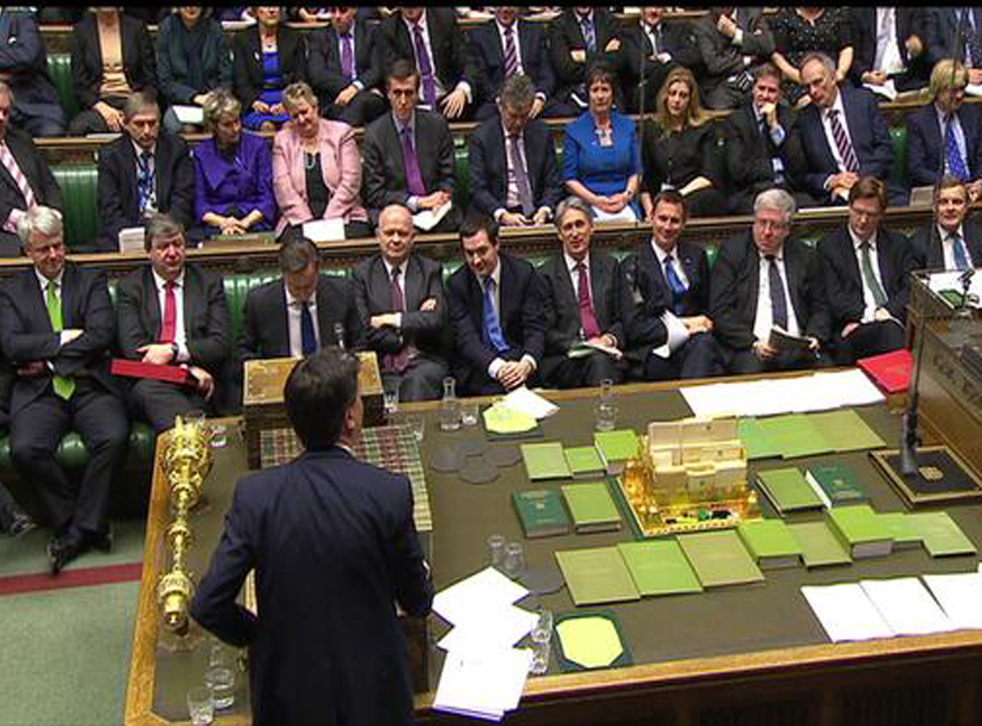 David Cameron has been accused of "failing women across the country" with a picture of the PM's all-male front bench being shared widely as an example of the Tories "problem with women."
Ed Miliband was quick to pounce upon Theresa May's absence from the front bench and turn it into a political opportunity.
The Labour leader told the chamber: "I do have to say a picture tells a thousand words... look at the all male front bench laid before us.
"You said you want to represent the whole country. I guess they didn't let women into the Bullingdon Club either, so there we go.
"You said a third of your ministers would be women, you are nowhere near meeting the target. Half the women you have appointed as ministers after the election have resigned or been sacked. And in your cabinet, there are as many men who went to Eton or Westminster as there are women.
"Do you think it is your fault the Conservative Party has a problem with women?"
Mr Cameron said: "Let me give you the figures. Of the full members of the Cabinet who are Conservatives, 24%, a quarter, are women. Not enough - I want to see that grow. Of the front bench ministers, of the Conservatives, around 20% are women.
"That is below what I want to achieve in 33%. We are making progress and we will make more progress."
Male jeering filled the chamber at Prime Minister's Questions as Cameron tried to counter Ed Miliband's accusations, using Thatcher's leadership as an example of the Tories' record on equality.
The PM added: "Let me make this point: this party is proud of the fact we had a woman prime minister.
"To be fair to the Labour Party they have had some interim leaders who are women, but they have this habit of replacing them with totally ineffective men."
Yet as Miliband pointed out, at least Thatcher won an election outright.
The lack of women in senior positions in government is increasingly an embarrassment for the PM. Even more damning for Cameron, one of the two female MPs who were visible behind him at PMQs on Wednesday has just been deselected citing "ungentlemanly behaviour". Anne McIntosh, MP for Thirsk and Malton MP said this had brought "great discredit to the Conservative Party" and added that her claims were being looked at in the "highest ranks" of her party.
Miliband's accusations that David Cameron runs his party "like an old boys network" comes after Conservative ministers were accused of carrying out a "cull" of women who head public bodies. This came amid a growing controversy over the sacking of the chair of Ofsted, the schools inspectorate Sally Morgan. Harriet Harman said it was "raining men" in the Conservative party. 
The Conservative party has 48 women MPs and 256 men, while Labour has 86 women and 169 men. The Lib Dems have just seven out of 57 MPs. The front bench was all men on Wednesday because Home Secretary Theresa May was missing from her usual front bench position. The Labour bench included senior figures such as shadow work and pensions secretary Rachel Reeves, shadow home secretary Yvette Cooper and shadow transport secretary Mary Creagh.
In pictures: politicians do the silliest things

Show all 23
Join our new commenting forum
Join thought-provoking conversations, follow other Independent readers and see their replies