Why are Tories having dinner tonight with son of Syrian 'war criminal'?
Member of pariah state's ruling family to foot bill at event that purports to support democracy in Middle East
Andy McSmith
Wednesday 07 September 2011 00:00 Comments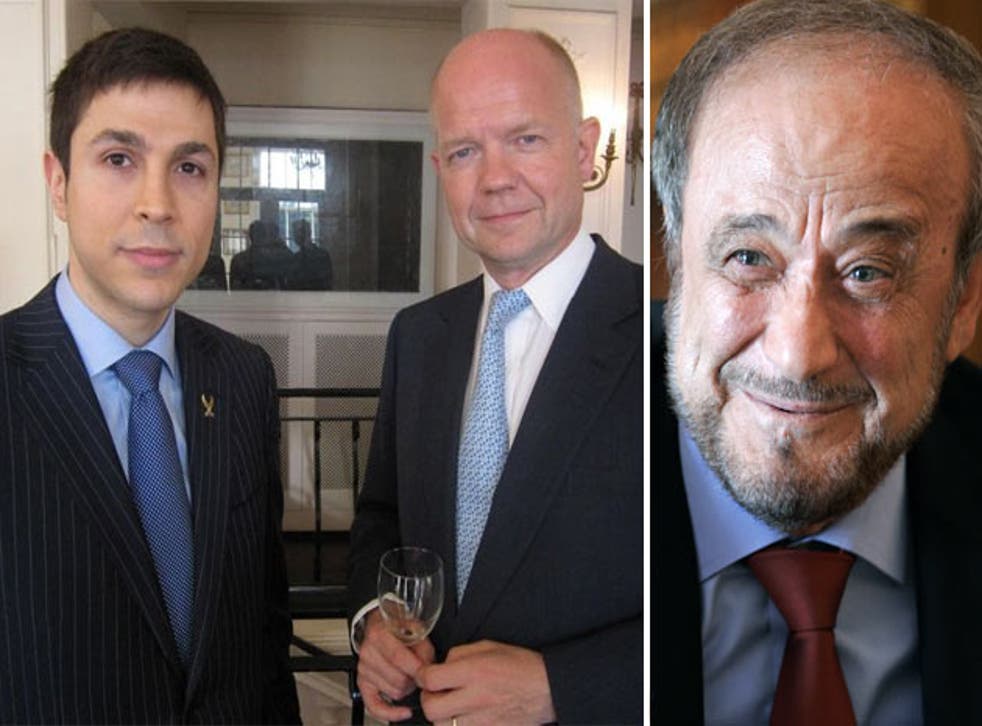 Sixty-five distinguished guests will sit down for a dinner tonight in Westminster paid for by a branch of a family that has ruled Syria for more than 40 years.
Ribal al-Assad, whose organisation, Iman Worldwide, has paid for the event, is a British citizen who left Syria when he was nine, but his father, Rifaat – once the country's vice president – is accused of being the perpetrator of one of the worst atrocities in the bloody history of the Middle East, when up to 20,000 people were killed by Syrian special forces in the Sunni-dominated town of Hama.
The question, then, is whether British politicians should avoid contact with the son because of his father. Chris Doyle, director of Council for the Advancement of Arab-British Understanding (CAABU), whose wife is Syrian, said: "The objection to Ribal is not that he is Rifaat's son, it is that he acts as an active apologist for his father. He called Rifaat a 'democrat' and claimed his father was innocent of the Hama massacre.
"The second objection is Rifaat's billions. Ribal benefits from these handsomely. Rifaat was extremely corrupt and Syrians believe that the money should be returned to Syria."
Ghassan Ibrahim, head of the London-based news service Global Arab network, who fled Syria in 2002, said: "It's an insult to Syrians who are suffering now to be engaging with such a controversial organisation. What is happening now is similar to what was done in the 1980s when Rifaat was in power."
Ribal al-Assad has good contacts in the Conservative Party. He met the Foreign Secretary, William Hague, in June. In July, Iman Worldwide funded a visit to Cairo by the Tory MP, Steven Baker, and the Tory MEP Syed Kamal, who spoke at a seminar on democracy. In August 2010, the organisation paid for the Tory MPs Daniel Kawczynski and Andrew Rosindell to take part in an international conference in Lebanon. It also gave £2,975 to the Conservative Support Club in Mr Rosindell's Romford seat. In July 2010, Iman hosted a dinner at which the guests were seven MPs and an MEP, all Tories, and three peers from each of the main parties.
Mr Baker said Iman's sponsorship allowed him to visit Cairo and speak "with no impediments" about the principles of a free society. He added: "I'm not prepared to obstruct progress because of a man's family name."
Mr Kawczynski complained that protests organised by CAABU were jeopardising his efforts to build an all party group on the Middle East and North Africa, in which he, the former Foreign Secretary, Jack Straw, and the Liberal Democrat peer David Steel would be co-chairmen. He said: "I'm conscious of the extraordinarily unprofessional way in which Chris Doyle has conducted his campaign and the intimidation he has put me under. CAABU managed to get hundreds of people to write, with libellous stuff about Ribal."
Although he was born into Syria's most powerful family, all of Ribal Assad's early memories are of harassment by the government. He is now a critic of the Damascus regime, and the driving force behind the London-based Iman Worldwide, whose declared aims are to promote democracy and end religious conflict in the Middle East.
It is a far cry from politics as practised by Syria's Baathist regime over the past 40 years. When Ribal's fearsome uncle, the late President Hafez al-Assad, felt threatened by Sunni Moslem insurgents in the early 1980s, his special forces went into a prison and killed hundreds of Sunnis suspected of links to the Muslim Brotherhood.
Two years later, in 1982, came the massacre of up to 20,000 people in Hama. The commander of the special forces who carried out both atrocities was Ribal al-Assad's father – though when Ribal was interviewed by Robert Fisk for The Independent last year, he claimed: "My father was not in Hama. He was in Damascus at the time."
Rifaat al-Assad has spent years in exile after losing out in a family feud. Many Syrians see him as a war criminal, but he has never been charged and has a £10.3 million house in Mayfair.
In July, the Lib Dem peer Jenny Tonge tabled a parliamentary question about his presence in London.
Register for free to continue reading
Registration is a free and easy way to support our truly independent journalism
By registering, you will also enjoy limited access to Premium articles, exclusive newsletters, commenting, and virtual events with our leading journalists
Already have an account? sign in
Join our new commenting forum
Join thought-provoking conversations, follow other Independent readers and see their replies