Yanis Varoufakis has a message for Jeremy Corbyn, Diane Abbott and John McDonnell about austerity
Former Greek finance minister warns Labour party their opponents will 'use fear as their main instrument'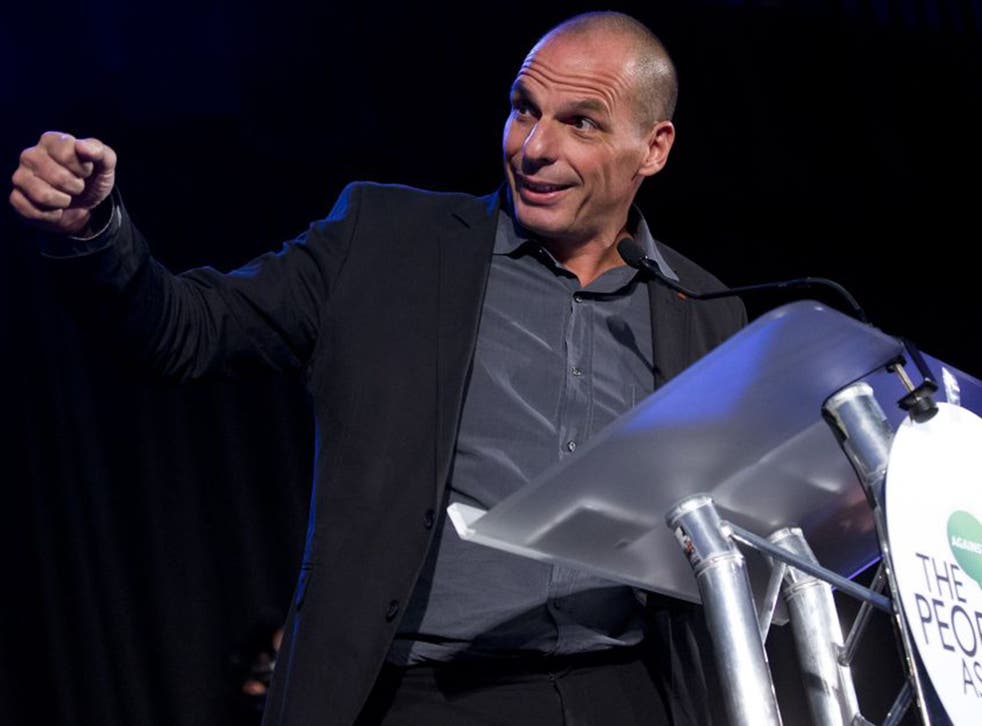 Yanis Varoufakis, the former finance minister of Greece, has appealed directly to Jeremy Corbyn, the new shadow Chancellor John McDonnell and the new shadow secretary for international development Diane Abbott at a meeting of the People's Assembly in London.
"Your opponents, Diane, Jeremy, John, are going to use fear as their main instrument. They will say to you that a Corbyn government will push up the pound. This is what the systemic media will tell people in their living rooms," said Varoufakis.
"Don't fear them. People are perfectly capable of sifting through this. The people can overcome fear if the leadership overcomes fear."
Diane Abbott arrived directly from the House of Commons at that moment, where she had been about to vote against trade union reforms. "I have to go back to vote against this trade union bill," she said. "But I hope the result of Corbyn's victory at the weekend gives us renewed hope to believe that we can take the fight against austerity off the street and into parliament." Moments later, she was escaped out a side door back to Westminster.
Varoufakis used the occasion to reveal that he knows the real reason that the Syriza party's proposed reforms were rejected by the ECB, the IMF and the other European creditors. He said that this wasn't about the need for austerity, describing the €8b rescue package they eventually secured as the opposite of austerity, or "prolificacy galore".
"During my time working in the eurozone I encountered combinations of irrationality and evil that it would be impossible to make up. These creditors were using this method of imposing debt on a country knowing that they would never get it back. Why?" Varoufakis asked the packed crowd.
"It was a demonstration to show the Spanish people what will befall them if they vote in a government that doesn't tow the line. It was brutal politics," he said.
Varoufakis resigned from his post as deputy finance minister in July, under pressure from party members and Greece's creditors, despite the results of a referendum in which the Greek people voted overwhelmingly against austerity.
Join our new commenting forum
Join thought-provoking conversations, follow other Independent readers and see their replies