Yvette Cooper: Our choice is years of Tory rule under Jeremy Corbyn – or a return to a Labour government
Exclusive: Ms Cooper urged Labour members to 'get serious' about the next general election rather than become 'a protest movement'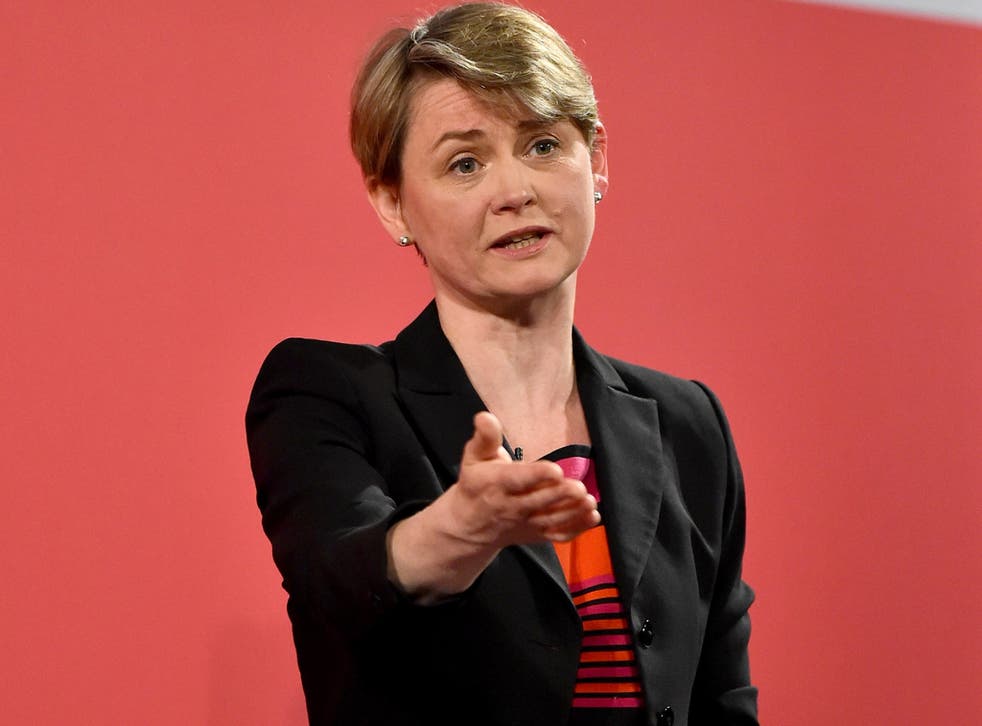 Yvette Cooper has issued a stark warning to Labour members that they have "a choice of two futures" – many years of Conservative rule if the left-winger Jeremy Corbyn wins the Labour leadership or a return to power if she gets the job.
In an interview with The Independent, Ms Cooper urged Labour members to "get serious" about the next general election rather than become "a protest movement" which "shouts from the sidelines" under Mr Corbyn. Her tough message puts her at odds with her leadership rival Andy Burnham, who said that Labour figures were wrong to predict "oblivion" for the party if Mr Corbyn wins.
Ms Cooper, the shadow Home Secretary, used the interview to call on Labour to address the "big issues facing the country" such as tackling climate change - on which she set out her blueprint - rather than look inwards.
She said: "I'm setting out a Labour alternative to the Tories in a host of areas because I want Labour to be able to change the world once again. But we can only change it if we win. If we make the wrong choice in this election, we will be condemning our world to a Tory future."
There are growing signs that Mr Corbyn is the front-runner in the race, with Ms Cooper and Andy Burnham locked in a close fight to get into the final round with him under the preferential voting system and Liz Kendall trailing in fourth place.
On Tuesday night, internal private polling conducted by Labour and seen by The Mirror, gave Mr Corbyn a 22-point lead over Ms Cooper.
This follows a YouGov poll last week that put Mr Corbyn on 43 per cent - ahead of Mr Burnham on 26 per cent.
Ms Cooper, the centrist candidate, believes she has the best chance of overtaking Mr Corbyn. Her campaign will soon ask Labour members to imagine a 2020 election battle between George Osborne and Labour's four possible leaders.
Asked to explain the remarkable Corbyn surge, Ms Cooper said: "Inevitably there is frustration and anger at the prospect of five more years of Tory government. It is really important we channel that anger into defeating the Tories. It is no use just shouting from the sidelines. It is no use being angry about the world. We have got to change the world.
"I don't think we want to go back to the 1980s and just be a protest movement….Today's four and five year-olds could have to spend their entire childhood under a Tory government if we are not determined and ready to win again.
"Of course there is a lot of soul searching across the party. The important thing is that we emerge stronger from this and pull together as a united party and we really get serious about winning the next election. Otherwise we are going to let people down."
On climate change, Ms Cooper said: "It is a serious threat to our world and to social progress and the Tories are taking us backwards. They don't believe in global leadership on climate change and their new minister [Amber Rudd, the Energy and Climate Change Secretary] has bought into conspiracy theories that action to stop climate change can be 'cover for anti-growth, anti-capitalist, proto-socialism'. This sort of nonsense will be the norm if Labour keeps losing elections and condemns future generations to a Tory future. David Cameron's 'hug-a-husky but scrap a wind farm' hypocrisy is setting us back years."
Ms Cooper's plan includes a wholesale review to ensure economic growth does not increase carbon emissions; encouraging local action to decarbonise in cities and towns; building more "ecotowns" and developing carbon capture and storage to create up to 30,000 jobs by 2030.
More immediately, Ms Cooper argues, Labour's "big challenge is to win back a lot of votes from people who voted Tory at the last election. That means we have to take the Tories on –including beating them on their own terms as well as setting out a strong alternative."
Is her husband Ed Balls, who lost his Morley and Outwood seat in the big shock of the May election, her special adviser or at least hitting the phones to whip up support for her? "No and No," is her answer. In a role reversal from his 2010 Labour leadership bid, Mr Balls is now busy looking after their three children. Ms Cooper is adamant that she is standing in her own right, not as someone else's husband.
With Tom Watson the hot favourite to win Labour's deputy leadership, Ms Cooper warned that a return to a male duo at the top would "turn the clock back at a time when we have done so much to broaden our appeal –with 40 per cent of our MPs now women – and want to keep championing women's equality in the future."
Ms Cooper took a hard line against Mr Osborne's call for Whitehall departments to draw up plans to cut their budgets by 40 per cent. "It is not about cutting the deficit. It is purely ideological."
In an important difference with Mr Burnham and Ms Kendall, she does not accept that Labour spent too much in office between 1997-2010. "The problem with Andy [Burnham] apologising for public spending is that it….falls into George Osborne's trap. We should not be apologising for investment in public services that has delivered for Britain," she said.
What rivals say about Jeremy Corbyn's surge
Andy Burnham: "The worse possible response to his impact is to resort to negativity and dire warnings of 'oblivion'. To do that is to mis-read the mood of the moment. What our members are telling us is that they are yearning for a different style of politics from Labour and a break with the bad habits of the past. They are sick of politicians speaking in soundbites, sticking to the script and looking like they don't believe a word they are saying."
Yvette Cooper: "Inevitably there is frustration and anger at the prospect of five more years of Tory government. It is really important we channel that anger into defeating the Tories. It is no use just shouting from the sidelines. It is no use being angry about the world. We have got to change the world."
Liz Kendall: Mr Corbyn is not ahead because he gives straight answers to simple questions. "I think that we have been through a huge trauma as a party in the defeat…It would be a disaster for us to go back to the failed policies of the past."
Join our new commenting forum
Join thought-provoking conversations, follow other Independent readers and see their replies