Scotland votes No: Union remains as nation rejects independence by clear margin
Alex Salmond fails to persuade enough voters that Scotland brave the risks of separation and go it alone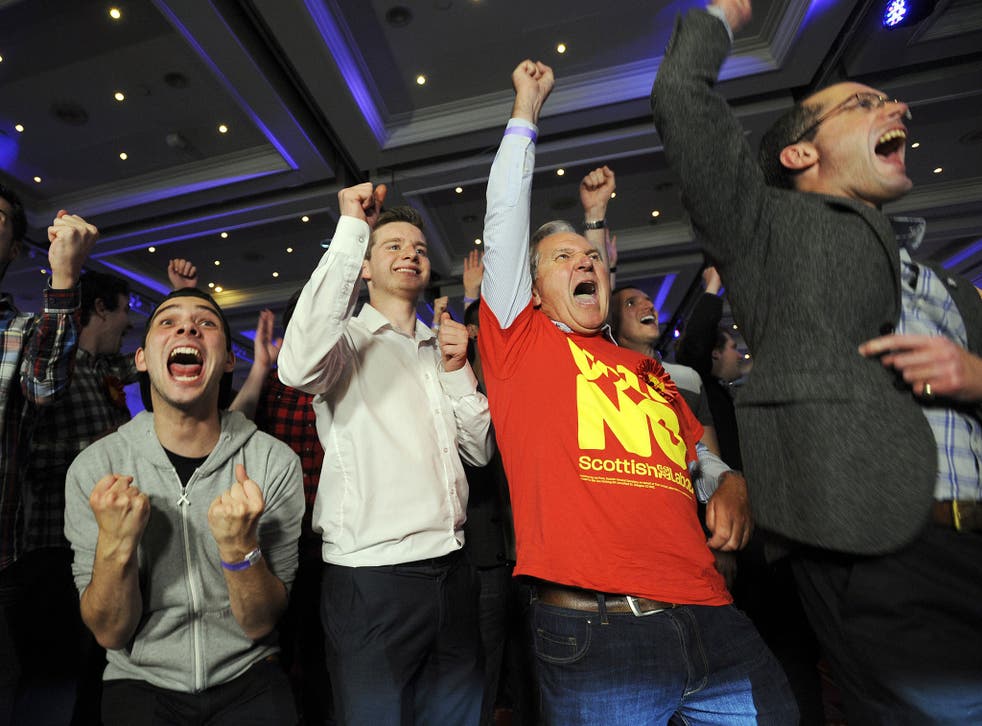 Scotland has said No to independence and preserved its 307-year-old union with England after a historic referendum which gripped voters and smashed electoral records.
From the Borders to the Highlands and Islands, almost four million Scots took to the polls as the nation delivered a decisive victory for the campaign to remain part of the United Kingdom, killing off the prospect of independence for a generation.
The result leaves David Cameron facing mounting pressure for constitutional change within England from politicians on all sides following the promise to grant more powers to Scotland if voters rejected independence. He is due to make an announcement later today.
On a night of high drama after more than two years of fierce and sometimes acrimonious campaigning, the nationalists led by Alex Salmond failed to persuade enough voters that Scotland brave the risks of separation and go it alone.
Scottish independence: Referendum results in pictures

Show all 15
At 6am with more than three quarters of the results declared, the No camp had built an unassailable eight-point lead over the rival Yes campaign. The nationalists repeatedly failed to capture their key targets amid signs that their reportedly high levels of support had ebbed away in the polling booth.
With 31 results declared, 27 areas had turned their backs on independence, including Aberdeen, Dumfries, the Borders, Perth and Kinross, Falkirk, Midlothian, Stirling, East Dunbartonshire and Renfrewshire.
Leading figures on both sides of the argument were agreed that the referendum battle marked a sea change in the country's political engagement.
"I don't think politics is ever going to be the same again. Politics is going to change," said Labour's Jim Murphy, the former Scottish Secretary and leading No campaigner.
Conceding defeat, Scotland's Deputy First Minister Nicola Sturgeon said she had given her "heart and soul" to the campaign for independence. But she added: "I think there are very, very strong messages for the political class in Scotland and messages we need to heed."
The Yes campaign also fell short in the traditional Labour heartland of Inverclyde, losing by just 86 votes.
Michael Gove, the Scottish-born Conservative Chief Whip, was the first to claim victory for the No side, saying: "It seems as though the electorate over the last few days has moved towards the 'No' side. It does look as though the United Kingdom will be safe."
The Chief Secretary to the Treasury Danny Alexander, one of the most senior Liberal Democrat ministers in the Government, added: "It does look like we have secured a No vote and that is clearly very welcome."
Around 85 per cent of Scots took part in the referendum, setting new records for turnout, with some areas reporting that virtually every member of the electorate had voted. But participation was lower in some of the Yes campaign's key target cities, including Glasgow where turnout was only 75 per cent.
Mr Cameron is expected to respond to Scotland's decision in a live televised address to the nation from 10 Downing Street following the declaration of the final results. The Queen is also expected to issue a written statement this afternoon regardless of the outcome of the referendum. Aides to Her Majesty were understood to be planning to gather at Balmoral, where she is currently staying, before briefing her this morning.
The pro-Union camp had seen its lead almost vanish over the last month, prompting the leaders of the three main Westminster parties to travel to Scotland and promise a rapid devolution of powers to Holyrood would take place following a No vote.
Coalition sources told The Independent that the mood of electors had changed in the final 48 hours before the referendum, because voters believed that the nationalists had left too many crucial questions about an independent Scotland unanswered.
The second result to drop was Orkney, with No votes outnumbering Yes by a margin of two to one. With a 83.61 per cent turnout, 67.2 per cent of some 35,386 voters decided against independence. Shetland also saw an easy victory, with 9,951 to 5,669 votes.
Inverclyde's result was more teasing, with an extremely close 50.08 per cent voting Yes, and 49.2 per cent voting No.
The first Yes vote came from Dundee – which SNP leader Alex Salmond dubbed the 'Yes City' – with 57.35 per cent of the vote. This was followed by a more comfortable Yes win in West Dunbartonshire – with 53.96 per cent.
But minutes later, Mid Lothian declared a strong No – with 33,972 votes versus 29,370.
The Yes campaign was momentarily boosted when it grasped an unsurprising win in Glasgow - Scotland's largest city - with 53.49 per cent of the vote.
The turnout was disappointing at 75 per cent, compared to the 80 per cent turnout enjoyed in most other counts. The average turnout was 86 per cent — a record high.
In his first public comment since the results started coming in, Mr Salmond tweeted: "Well done to Glasgow, our Commonwealth city, and to the people of Scotland for such incredible support."
With Edinburgh and other counts yet to be declared, Prime Minister David Cameron simply tweeted: "I've spoken to Alistair Darling - and congratulated him on a well-fought campaign."
Earlier, Ms Sturgeon remained positive while conceding defeat, and said the city's result shows there is massive demand for change in the nation.
She later told STV: "I think there are very, very strong messages for the political class in Scotland and messages we need to heed.
"If there is not a Yes vote tonight, I am deeply disappointed. As have thousands and thousands of others, I have given my heart and soul to this campaign but what has been amazing are the number of people who have never been involved in politics before, who have never campaigned as part of a political movement before, who have got involved.
"We must harness that, we must build on that. It's one aspect that leads me to say this country will never be the same.
"I'm disappointed if we don't come out of this evening with a Yes vote, I'm not trying to spin my way out of that... I'll be deeply disappointed personally as well as politically but I can't deny the fact I am also exhilarated by this campaign."
The above graphic shows the breakdown of Yes and No votes across Scotland (by John Bradley).
Join our new commenting forum
Join thought-provoking conversations, follow other Independent readers and see their replies