Scottish independence: The blame game begins in No camp even before the first vote is cast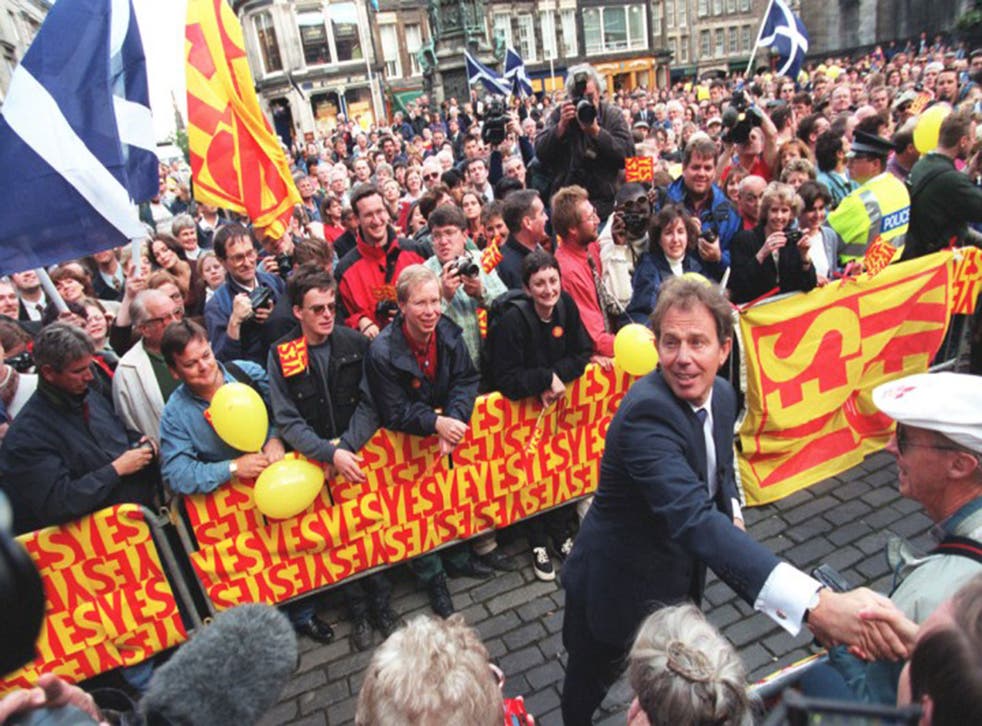 The blame game has begun, even before we know the result of Thursday's referendum. Even if the Scottish people vote against independence, the way the UK is run is going to change. So politicians of all hues are scrambling to get their excuses in first.
Some Labour figures summon the ghost of Margaret Thatcher, claiming she created fertile territory for the Scottish National Party by allowing Scotland's industries to die; imposing the poll tax a year earlier than in England and Wales and opposing devolution. But other parties claim it is Labour which has allowed the UK to reach the cliff edge of a break-up. Sir John Major, the former Conservative Prime Minister, last week pointed the finger of blame at Tony Blair, saying his Government left "a deadly legacy" by creating the Scottish Parliament in 1999. If Labour, which won 41 of the 59 Scottish seats in 2010, loses its Scottish MPs on independence day in 2016, "no one should weep for it" Sir John declared.
Mr Blair was no fan of devolution. But he inherited a firm pledge to set up the Edinburgh parliament from John Smith, his predecessor as Labour leader, who died in 1994. Mr Blair sometimes raised doubts.
"Do we really have to open this can of worms again?" he asked. But a powerful Scottish Labour lobby – including Donald Dewar, Gordon Brown and Lord Irvine – told him he must honour Mr Smith's memory by completing his mission. So did Mr Smith's widow Elizabeth, now a Labour peer.
"We have to do it," Mr Blair told close colleagues. But Labour made a series of miscalculations, epitomised in 1995 by George Robertson, the shadow Scottish Secretary, who predicted: "Devolution will kill nationalism stone dead."
To prevent one party – either the SNP or what he saw as (Old) Scottish Labour – winning an overall majority in the Edinburgh parliament, Mr Blair opted for a system of proportional representation. Labour duly governed in coalition with the Liberal Democrats from 1999 to 2007. Then, crucially, Mr Blair delayed his departure as Prime Minister until after the Scottish Parliament elections, even though he was unloved north of the border. In 2010, he admitted in his memoirs: "With a new leader we could have done better, and in particular it is possible with Gordon [Brown as PM] we would have won in Scotland." Instead, the SNP beat Labour by one seat in 2007 and formed a minority administration at Holyrood, a vital stepping stone to winning an overall majority in 2011 – and a mandate for tomorrow's referendum.
Belatedly, Mr Blair saw it coming. Prophetically, he remarked in his memoirs: "I knew once Alex Salmond got his feet under the table he could play off against the Westminster Government and embed himself. It would be far harder to remove him than to stop him in the first place."
Is David Cameron to blame for allowing Alex Salmond a referendum? The question is now asked – like many, with glorious hindsight. The Prime Minister knew Mr Salmond could call his own advisory public vote if he were denied a real one, which could fuel anti-English sentiment and give the independence bandwagon another push. With opinion polls suggesting that only about a third of Scots favoured independence, Mr Cameron judged that a straight choice between Yes and No would settle Scotland's future for a generation.
He resisted the SNP's call for the ballot paper to include a third option of "devo max" - more powers for Holyrood with Scotland remaining in the UK –which, he feared, could have been a bridge to independence in another referendum within years. On Monday, Mr Cameron tried to spread the blame to Labour and the Liberal Democrats, telling the BBC's Newsnight programme that the refusal to include a "devo max" question "wasn't just my view".
Cameron aides were jubilant when Mr Salmond backed down and accepted a straight Yes/No. Some SNP politicians now suggest the wily Mr Salmond lured the UK Government into taking its eye off the wording of the question and was less bothered about "devo max". The agreed question - "Should Scotland be an independent country?" - suited the SNP. If the question had been "should Scotland should remain in the UK?", the Yes/No roles would have been reversed.
The Better Together campaign, led by Alistair Darling, has been dogged by SNP and media criticism that it is too negative. Mr Darling makes no apology for asking searching questions about an independent Scotland. But one ally admitted: "Inevitably, being on the No side makes you look negative." Mr Salmond has been adept at turning legitimate questions – about the pound, jobs, prices — back into "threats, bullying and bluffs" by "the Westminster parties" in their "Project Fear".
Some Tory MPs blame George Osborne, the Chancellor, for this negative approach, saying his trump card of ruling out a currency union with an independent Scotland turned out to be nothing of the sort.
Better Together has been hampered by infighting and personal feuds between the Labour figures who dominate it. Its own internal blame game is now under way. For now it is mainly behind the scenes, but it is likely to become public after the result is known. Until late in the day, Mr Brown, Labour's most respected figure in Scotland, did his own thing rather than work with Better Together, which he judged badly run, lacking campaigning nous and too close to the Conservatives. "He loathes many of its leading lights – Alistair Darling, Douglas Alexander, Jim Murphy, John Reid," one Labour source admitted. "In the last two weeks, Gordon has come to the rescue. If Scotland votes No, he will get the credit."
In a separate blame game, Liberal Democrats blame Labour for failing to deliver its voters, claiming that Labour's normal election machine is underpowered because key trade unions such as Unite and Unison are sitting on their hands. Labour figures reply that the Lib Dems have nothing to crow about: by joining the Tories in coalition in 2010, they made it easier for Mr Salmond to tar all three main parties with the same "political establishment" brush.
However, Lib Dem and Tory figures claim that Ed Miliband has failed to get over his message in a country where his left of centre pitch and belief in radical economic reforms should enjoy wide appeal. "He is seen as ineffectual," one Tory claimed. "People don't believe he could deliver what he says."
Labour figures insist the buck stops with Mr Cameron. There is mounting evidence that Downing Street underestimated the prospect of a Yes vote until a poll put it ahead just 10 days ago, forcing the three main parties to rush out their devo max plan and take the status quo off the ballot paper.
Whitehall is determined to avoid the blame. Sources suggest that senior civil servants did their duty by sounding the alarm that the referendum could result in the break-up of the Union. Officials claim they ran into a brick wall: anything that raised the prospect of a Yes vote was blocked by their political masters, who decreed that all efforts must be put into securing a No vote. That is why – officially, at least - the Government claims it is not making any contingency plans for a Yes verdict. "The PM called the shots," said one senior civil servant.
The Cabinet Office dismissed as "simply not true" reports that Sir Jeremy Heywood, the Cabinet Secretary, pressed ministers to win over putative Yes voters rather than merely shore up No voters. Yet it is also claimed that in recent weeks, Mr Cameron and his male-dominated inner circle brushed aside warnings from female advisers that the negative No campaign was a turn-off for women voters.
Allies insist Mr Cameron, dubbed the "essay crisis PM", is good when his back is to the wall. Despite two powerful, emotional speeches in the past week, his power to influence votes is limited because the Tories are seen as "toxic" by many Scottish people.
"Scotland is Labour's heartland," said one Tory aide. "If it can't win over people in its own back yard, that's not our fault." If Scotland votes Yes, things can only get bitter.
Join our new commenting forum
Join thought-provoking conversations, follow other Independent readers and see their replies