Scottish independence: Bruised Better Together leader Alistair Darling stays on the stump
Former chancellor aiming to get stuttering No campaign back on track after shock weekend polling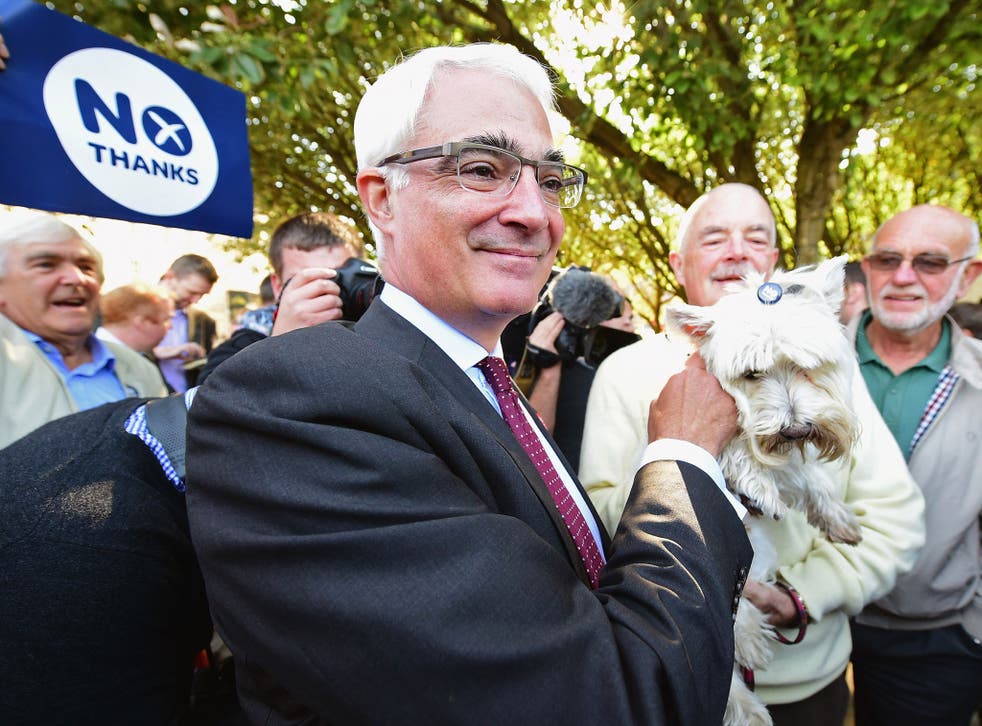 More than 150 years ago, Stockbridge Market in Edinburgh was a popular destination for local residents looking to get their hands on freshly butchered meat. Today, they had to make do with Alistair Darling.
The bruised leader of the Better Together campaign came to Stockbridge, now one of the city's most fashionable and affluent districts, with the aim of reassuring core supporters that the Union was not about to be consigned to history, a day after a poll gave the campaign for Scottish independence the lead for the first time.
Although he was in his campaign's heartland, the former chancellor looked like he expected a rough ride, nervously glancing about him as he pressed his way through the crowd of people half-heartedly holding up No Thanks placards.
Suddenly, a man thrust his face towards him – but it was a false alarm. "I just wanted to come to tell you that we think you're doing a great job," he said. "Thank you, it's always welcome to hear that," replied Mr Darling, looking visibly relieved.
"Alistair, can we get the message across that it's our United Kingdom and we're keeping it?" asked another supporter, channelling Alex Salmond's argument on why Scotland is entitled to keep the pound.
Dutifully picking his way through the throng of volunteers, photographers and reporters, Mr Darling was repeatedly asked if he was nervous, worried, panicking. "I'm very happy with the way the campaign is going," came the rather unconvincing reply.
"As people concentrate and look at the issues at stake over the next 10 days, I'm increasingly confident that we will win," he added. "It's always going to come down to the wire, every single vote counts, but the stakes are so high that I think people in Scotland are very focused on that – what it means for themselves and their families. We'll win."
But some Better Together supporters who turned out to see him were not so sure. Catherine Burns, a retired lawyer who has been volunteering with the campaign for a year, said she was "worried" about the result and that "the final push" would be essential. "I think Yes voters are just totally committed and have been for a very long time," she said, adding that the second televised debate – which Mr Darling is widely accepted to have lost to Mr Salmond – appears to have been a turning point.
Nigel Sharp, whose west highland terrier Angus is sporting a No badge in his collar, was also critical of the campaign. "I think they might have been more up front early on about the devolution of more powers. I think there's an underlying majority for No, but it's a question of getting the vote out," he said, adding that the poll giving the Yes campaign the lead should act as a "wake up call".
Other Better Together events have attracted small contingents of Yes supporters eager to make sure their voice is heard. Not so today, when the only interruption came from a passing woman: "Give up the ghost," she cried in Mr Darling's general direction. Not even the news that the Duke and Duchess of Cambridge were expecting their second child, announced shortly before Mr Darling made his entrance, could lift the mood of the group.
Another No supporter, Callum Laidlaw, said his campaign should try to appeal "more to the heart and less to the head". "The No campaign has been very head-focused, very economic-focused. Maybe people want a bit more emotion. It needs to be people speaking passionately about the Union, and I think people are finally doing that. That's something that perhaps we've learnt from the Yes campaign," he said.
"I think there's been complacency among No supporters. When you're so far ahead for so long, people think that they don't need to get out there and show support. But I think that's changing now and we're going to have an exciting 10 days. People who have been more reticent are now out on the streets."
Join our new commenting forum
Join thought-provoking conversations, follow other Independent readers and see their replies