Scottish independence: Nigel Farage accuses Alex Salmond of provoking 'anti-English sentiment'
The Ukip leader spoke following allegations of bullying and intimidation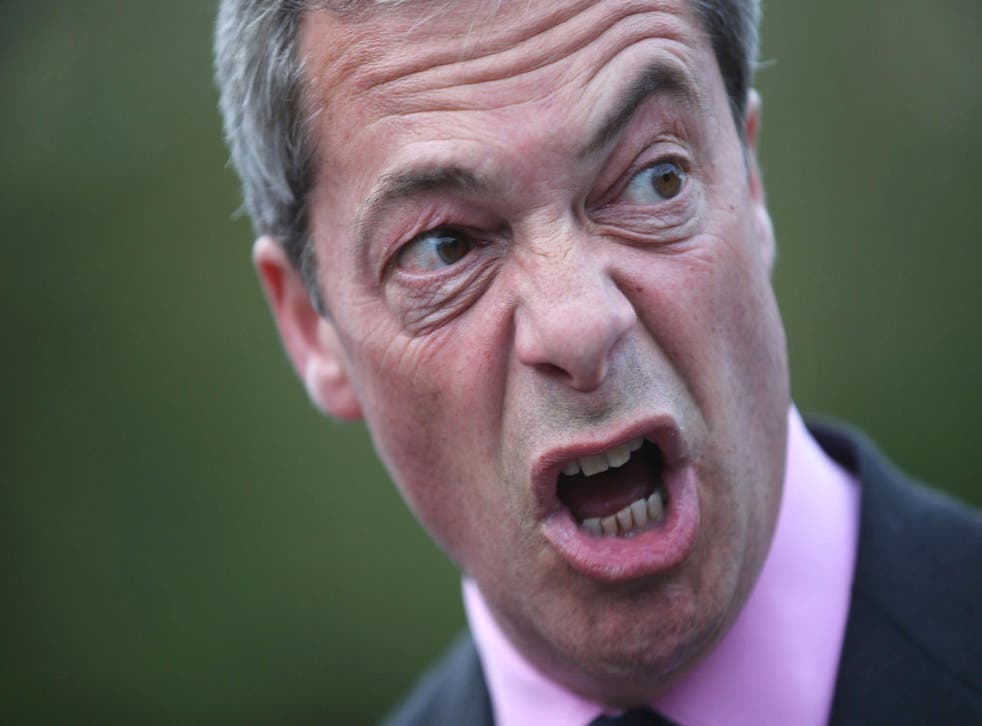 Nigel Farage has accused Alex Salmond of "fuelling vitriol" among Yes campaigners that is causing "growing anti-English sentiment".
His remarks came after Ed Miliband said there was a "nasty side" to the debate after being forced to cut a walkabout in Edinburgh short as he was heckled and surrounded by angry activists.
"Salmond has fuelled such vitriol amongst Yes campaigners that we are now seeing intimidation and a growing anti-English sentiment," he wrote on Twitter.
"We are also seeing the sort of abhorrent behaviour that could lead to rioting. It's a sorry situation when politics plunges to these depths.
"It is surely Alex Salmond's job to publicly demand calm and law abiding behaviour to ensure a free and fair referendum tomorrow."
It is not the first time the Ukip leader has made the accusation and he is also critical of the First Minister's plans to leave the UK but join the EU, saying his party's supporters also felt Westminster was out of touch but Brussels was "even more remote".
He received a mixed reception in Glasgow last week, although it was better than a previous visit when he was forced to flee from angry protesters, and was booed by Ukip opponents outside the venue.
Reports of clashes between Yes and No campaigners and politicians' claims of bullying, intimidation and abuse have created concern about possible unrest after tomorrow's vote.
Brian Docherty, the chairman of the Scottish Police Federation, told The Independent on Monday that officers were continually monitoring the situation and were prepared to respond to anything that develops.
But he has since appealed for a halt to "baseless speculation of the potential for disorder" and called the referendum debate "overwhelmingly good natured".
"Any neutral observer could be led to believe Scotland is on the verge of societal disintegration yet nothing could be further from the truth," he said.
"Scotland's citizens are overwhelmingly law abiding and tolerant and it is preposterous to imply that by placing a cross in a box, our citizens will suddenly abandon the personal virtues and values held dear to them all."
Mr Docherty said "a minority of mindless idiots" were not representative of any groups and the success of most campaigners should not be sullied by the actions of a few.
"Police officers must be kept free from the distractions of rhetoric better suited to the playground that the political stump," he added.
In pictures: Politicians scramble for Scotland

Show all 6
"If crime has been committed it will be investigated and dealt with appropriately but quite simply police officers have better things to do than officiate in spats on social media."
George Galloway was allegedly told he was going to "face a bullet" while speaking in Glasgow and Danny Alexander was heckled at the same event by a Yes campaigner who was eventually dragged away shouting "we will be free".
Nick Clegg also hit out at "nasty" campaigning in his LBC radio show on Wednesday morning, saying colleagues had recounted "some pretty nasty incidents and some pretty extraordinary things said".
Mr Salmond's office has not yet responded to requests for a comment.
Join our new commenting forum
Join thought-provoking conversations, follow other Independent readers and see their replies