Scottish independence: Polling station graffiti sparks accusations of voter intimidation during referendum vote
Police Scotland confirm reports of vandalism at Dumbarton polling booth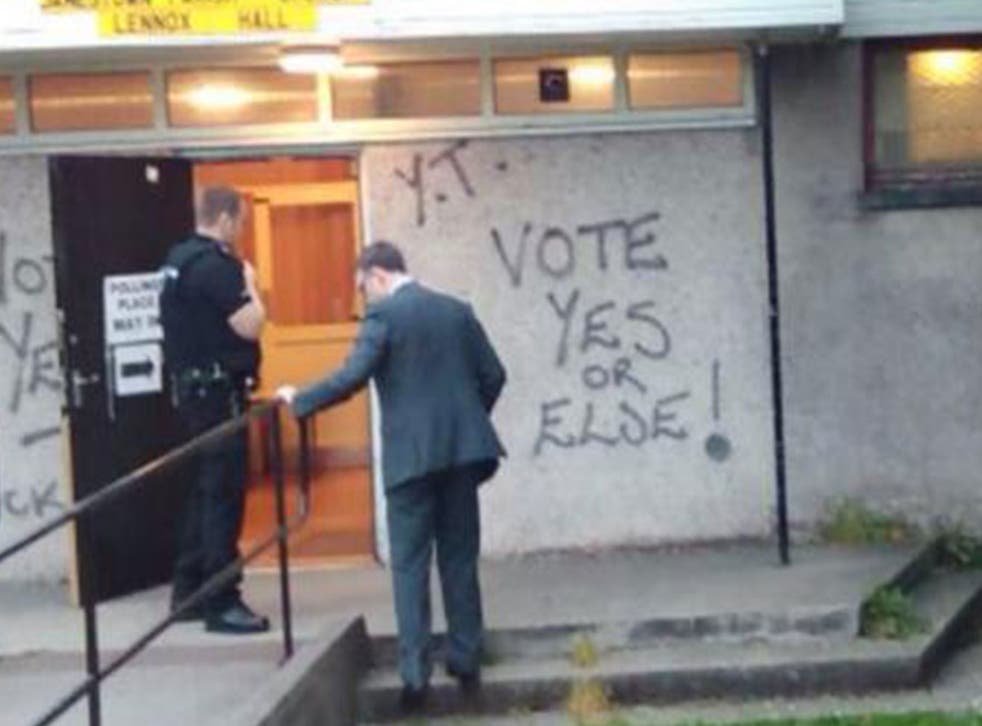 There are growing fears that a No vote in today's referendum will not be quietly accepted by supporters of independence after it emerged pro-union billboards have been vandalised with paint and a polling station was sprayed with graffiti warning: "Vote Yes – or else".
In Dumbarton, where Gordon Brown and the local MSP Jackie Baillie spoke earlier this week, a polling station in the town was vandalised with a threatening "or else" message to No voters.
Ms Baillie posted a picture of the graffiti at Jamestown Parish church in Alexandria on Twitter.
During the campaign rally in nearby Clydebank attended by the former prime minister, he spoke of "unacceptable abuse" that had been levelled against No voters who have been branded "unpatriotic".
Fears of demonstrations that would question the result were voiced by supporters outside the Glasgow HQ of BBC Scotland last weekend. Among the thousands of protesters were supporters from the Radical Independence movement who claimed that the BBC and the main Westminster parties were planning to "steal this result from us."
Scottish independence: What will happen to key British institutions?

Show all 7
In Clydebank, one Yes supporter, aged 44, was arrested by police after allegedly assaulting a man he believed would be voting No. He is due to appear at Dumbarton Sheriff Court tomorrow morning – when the final result is expected to have been announced.
A police spokesperson said: "Police Scotland can confirm that a 44-year-old man has been arrested in connection with an alleged assault outside a polling station in Faifley Road in Clydebank at 8.30am this morning."
With a rush this evening after people have returned from their jobs, police are believed to planning to increase their numbers further.
Ms Baillie who posted the picture from Alexandria said it was "absolutely disgusting intimidation by Yes".
One RIC organiser said his organisation and others couldn't be held responsible "for what would happen if there is a No vote. Will there be trouble? I hope not – but there are no guarantees."
Police Scotland have said they have no contingency plans to combat potential street demonstrations and made formal assurances that no trouble or intimidation was forecast. Despite this, thousands of officers have been given high-profile roles outside many polling stations.
In Glasgow an elderly man who is registered blind and who usually carried a white walking stick is reported to have been punched in the face by a Yes supporter. The incident yesterday is said to have occurred when the man was handing out pro-union leaflets in the city's George Square.
Business leaders and organisations representing Scotland's commercial sector have also reported threats and intimidation over the last weeks after 133 business executives signed a pro-union petition last month.
Labour leader Ed Miliband last night pulled out of appearing at two events over fears they would be disrupted by Scottish nationalists.
Earlier this week, Mr Miliband was forced to abandon a visit to an Edinburgh shopping centre after he was surrounded by Yes supporters, who jostled him and branded him a "f***ing liar'. Security officers guarding Mr Miliband had to step in to escort him to safety.