Scottish independence: The Queen breaks silence on referendum debate – as think tank warns of £14bn black hole if Scotland votes Yes
The race is so close it has prompted non-Scots to show their support for the Union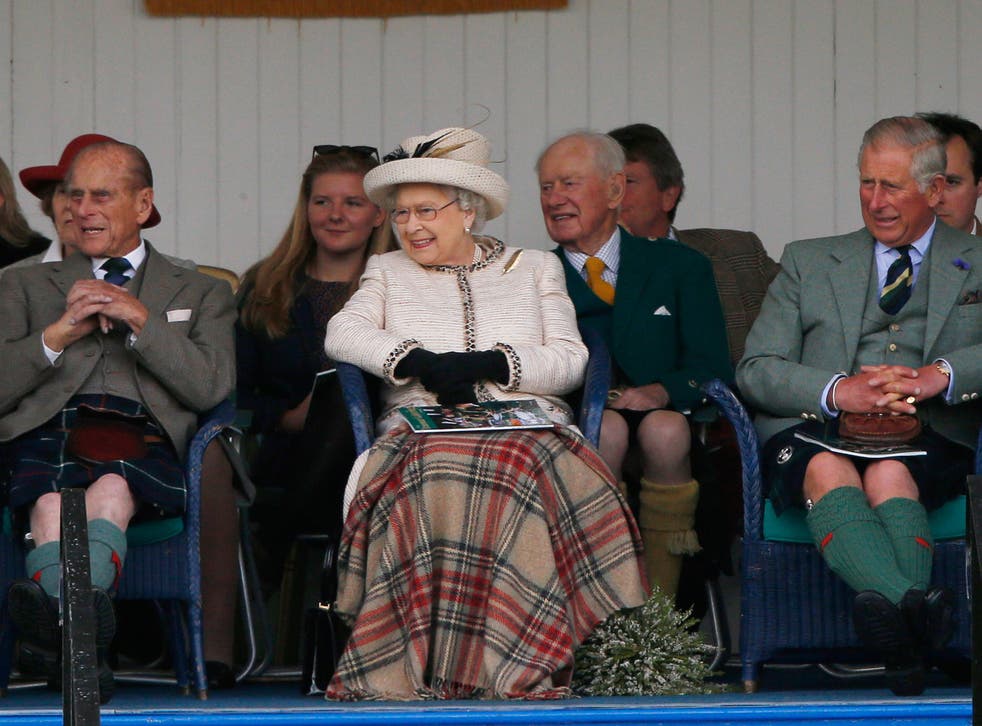 The Queen finally broke her silence on the issue of Scottish independence yesterday, telling a member of the public that she hoped "people will think very carefully about the future" when they headed to the polls later this week.
The monarch's words – which were interpreted by some as offering encouragement to Unionists without leaving her open to accusations of political meddling – came as the long campaign entered its final week, with tensions high and tempers increasingly frayed.
Her interjection into the debate came as the debate over the economic case for independence continues to rage. A report published on Monday by a leading think-tank suggests that the Yes campaign has underestimated the financial risks of separation, which it said lay in oil, finance and pensions.
The Centre for Policy Studies predicted that a mixture of falling North Sea oil revenues, the departure of a large proportion of the financial services sector and the rising cost of public sector pensions would leave Scotland with £13.8 billion less in 2015/16 than official estimates suggest.
But a spokesman for Scottish Finance Secretary John Swinney said the report was "stuffed full of basic factual errors" and pointed out that the think-tank had been co-founded by Margaret Thatcher. "The only part of this report that is accurate is the importance of Scotland's oil to the strength of the pound – which is exactly why the UK Government will agree to a currency union with Scotland," he added. "This simply underlines Scotland's economic strength."
In Glasgow, thousands of angry Yes supporters waving saltires mounted a protest outside the BBC's Scottish headquarters, accusing it of being biased in favour of retaining the Union.
Alistair Darling, the leader of the Better Together campaign, said he had been shocked by the aggressive behaviour of some nationalists, which he claimed had been "orchestrated" and "centrally controlled".
David Cameron will be hoping to avoid a hostile reception when he returns to Scotland today in a last gasp-attempt to persuade Scots to preserve the Union.
Scottish Independence: For and against

Show all 24
The Queen made her comments while in conversation with a churchgoer outside Crathie Kirk in Aberdeenshire, where the Royal Family worship while they are in residence at nearby Balmoral Castle.
Royal sources said she had given a "spontaneous" response to a question she was asked after the Sunday service, adding that "the words speak for themselves". It is understood that reporters were invited to listen to the Queen's exchanges with the public, which she usually prefers to keep private. Buckingham Palace said it did not comment on "private conversations" held by the monarch.
"The Queen has made it very clear that the referendum is a matter for the people of Scotland," a spokeswoman added.
Yes Scotland said Her Majesty was "echoing the message" it was sending voters to "think very carefully about this one opportunity that Scotland will have on Thursday to choose our future", while a Better Together source merely said she had been "very clear that she doesn't want to comment" on a democratic decision.
Scotland's First Minister, Alex Salmond, said on Sunday that the referendum was "a once in a generation opportunity", confirming that in the event of a No vote he would not seek to hold another one for 20 years. Asked on the BBC's Andrew Marr Show about aggressive behaviour by some Yes supporters, he said there had been "idiots" on both sides of the campaign, but that they were a "tiny, tiny wee percentage".
However, appearing on the same programme, Mr Darling said he had been "menaced" while on the campaign trail.
"I've never seen anything like this before. Normally people can stand on street stalls and the different parties will smile at each other and you can get on and talk to the electorate. This isn't happening. I was at something yesterday where I was being shouted down simply for being there," he said.
The No campaign appears to be holding onto its narrow lead, according to a series of opinion polls published over the weekend. Excluding undecided voters, a survey by Opinium for the Observer had it leading by 53 per cent to 47 per cent, while a Survation poll commissioned by Better Together put the gap at 54 per cent to 46 per cent. An ICM poll for the Sunday Telegraph put the Yes camp in front by 54 per cent to 46 per cent, although it had a smaller than usual sample size.
The race is so close that it has prompted non-Scots to show their support for the Union. A mass rally will be held on Monday night in Trafalgar Square. A mass rally will be held on Monday night in Trafalgar Square, while David Beckham has also added his voice to those hoping that Scotland does not decide to leave. In an open letter to voters, the former England captain said: "My sincere hope is that you will vote to renew our historic bond which has been such a success over the centuries and the envy of the entire world."
* More than half of people living in England, Wales and Northern Ireland do not want Scotland to become an independent country, according to a poll. The One Poll survey of 5,000 adults in the UK for Good Morning Britain found that 53 per cent of respondents outside Scotland did not want the country to leave, compared to 21 per cent who did want the country to go it alone.
Join our new commenting forum
Join thought-provoking conversations, follow other Independent readers and see their replies