Scottish independence referendum results: David Cameron pledges plans for 'English votes for English laws' by January
Move could mean that even if Labour win the next election in future they may not have a majority of English MPs to enact the plans in their manifesto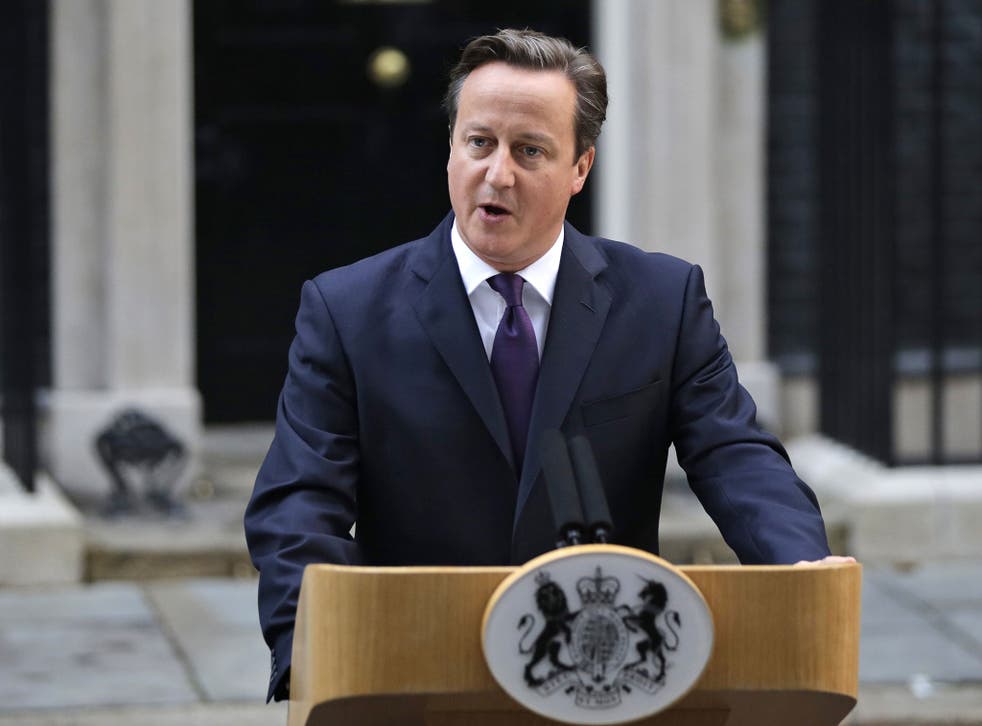 David Cameron today gave himself less than a year to solve the biggest constitutional quagmire in a century: How can a devolved United Kingdom be fairly governed?
In a remarkable statement in wake of this morning's referendum result Mr Cameron said the question of "English votes for English laws" now required a "decisive answer" and promised a detailed plan by January.
He announced that in future English MPs should vote "separately" on issues of tax, spending and welfare – areas of power that are due to be devolved to Holyrood.
This could mean that even if Labour win the next election in future they may not have a majority of English MPs to enact the plans in their manifesto.
Mr Cameron said the plans to introduce this new system would take place "in tandem with, and at the same pace as, the settlement for Scotland".
That means draft legislation on new powers of legislation for both Scotland and England will be published in January – although it will not be until after the election that MPs vote of the proposal.
As a result any proposed new constitutional settlement will because a pivitol issue at the next General Election.
For obvious political reasons Labour will find it very difficult to sign up for the plan as it stands.
However Mr Cameron may be hoping that any Labour reluctance to embrace 'English votes for English laws" could be punished by English voters at the ballot box in May.
This quagmire presents Ed Miliband with perhaps his biggest challenge since becoming leader.
Nigel Farage said Scottish MPs should immediately give up their right to debate or vote on devolved English issues in Westminster.
"I think Cameron and Miliband were so lacklustre in the early part of this referendum campaign that they panicked and they made a series of promises on behalf of the English.
"So, it's quite interesting to see Mr Cameron today on the steps of Downing Street relieved that he didn't manage to lose the union but now panicked by the English question.
"This this stuff is complicated, getting this right matters as it will be for many, many decades to come and I really do think now we absolutely need to have a constitutional convention to talk about how we create a fair, federal United Kingdom."
Speaking from Downing Street after this morning's result was announced, the Prime Minister said he was "delighted" the people of Scotland had "kept our four nations together".
"The people of Scotland have spoken and it is a clear result," he said.
"As I said during the campaign it would have broken my heart to see our United Kingdom come to an end.
"And I know that sentiment was shared by people not just across our country but around the world because of what we have achieved together in the past and what we can do together in the future."
Scottish independence: Referendum results in pictures

Show all 15
"It is time for our United Kingdom to come together and to move forward," said the PM. "A vital part of that will be a balanced settlement fair to people in Scotland and importantly to everyone in England, Wales and Northern Ireland as well."
Lord Smith of Kelvin, who chaired the Commonwealth Games in Glasgow, will oversee the devolution process in Scotland.
Mr Cameron said it was "right" to have allowed the referendum on independence promised by Alex Salmond's Scottish National Party (SNP) when it was elected in 2011.
"We could have tried to block that, we could have put it off...but it is right to take and not to duck the important decisions," he said.
"It was right...to give the Scottish people the right to have their say."
It follows that other countries in the UK should also gain a "new and fair settlement".
He paid tribute to both campaigns and said he "heard" the Yes side's arguments.
"To those in Scotland sceptical of the constitutional promises made, let me say this: we will ensure that those commitments are honoured in full."
"I accept that verdict of the people and I call on all of Scotland to follow suit in accepting the democratic verdict of the people of Scotland."
Join our new commenting forum
Join thought-provoking conversations, follow other Independent readers and see their replies