T in the Park 2015: Video shows festival goer getting bottled in the face
Organisers have also been criticised for a poorly run festival that saw many waiting for hours to leave the site after the event came to an end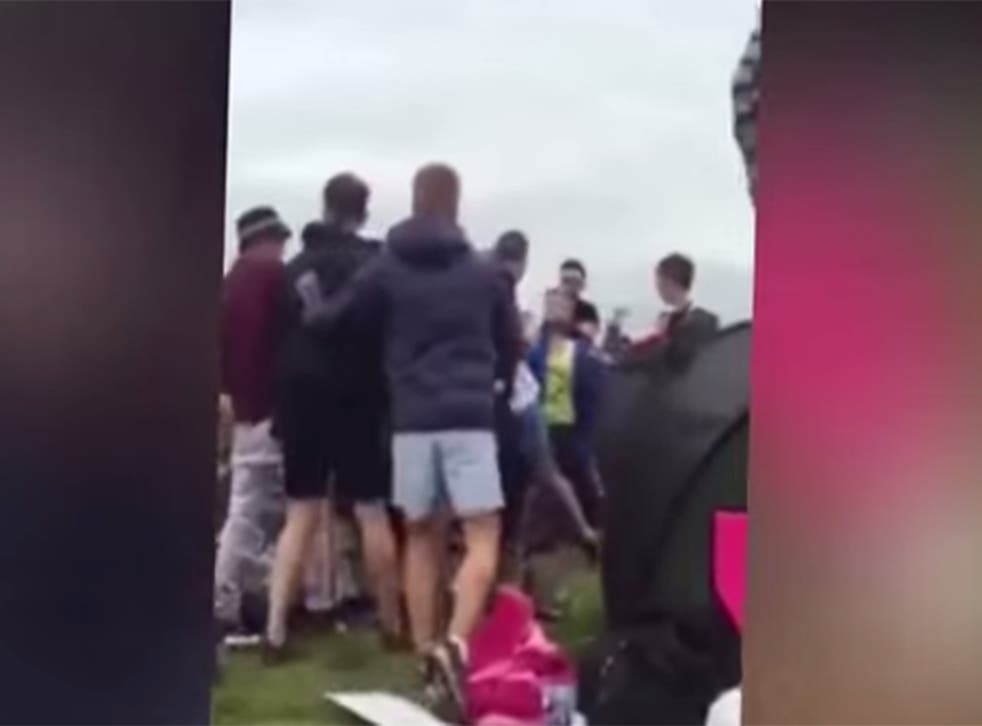 Police in Scotland are investigating a video showing a man having a bottle smashed over his head by another camper at the Scottish festival, T in the Park.
The short video clip, which was posted to the Facebook page "Being oot yer nut at T in the Park", shows a man in a black jumper walking towards a tent before being held back by a few men.
As he is dragged slightly back, a man in a blue jacket can be seen crouching on the grass and leaning to pick up an object.
He rises up and swings at the man in the black jumper, and a loud smash can be heard. The boy who he has hit with the glass bottle staggers back and wipes his face as he retreats and the video ends.
Many were to quick to voice their disgust at the video on Facebook, with one person stating that it was her brother's friend who was attacked and it was shocking to see so many men gang up against one guy. Others said that it was this kind of behaviour that ruined the festival for others and gave T in the Park a bad name. "This is the folk that ruined T in the Park and why I'll never be back," read one comment.
The video has been viewed over 600,000 times on Facebook to date.
A statement from Police Scotland read: "We have been made aware of a video showing an assault that is believed to have happened in a campsite at T In The Park.
"Officers are making enquiries into the incident and are appealing for anyone with information that could assist the enquiry to come forward urgently."
Police are also investigating the death of a 36-year-old man who was reportedly found deceased in the toilets at the Strathallan Castle festival site in Perthshire.
Colin Rodger, event manager for T in the Park, said he was "extremely saddened" by the discovery and that the festival organisers' thoughts are with the family at this time.
The death is currently being treated as "unexplained" and the festival is assisting police and emergency services with their inquiries.
Join our new commenting forum
Join thought-provoking conversations, follow other Independent readers and see their replies