TalkTalk cyber attack: What not to do if you think you might affected, and how to stay safe
Don't panic, and be cautious
Andrew Griffin
Friday 23 October 2015 15:16 Comments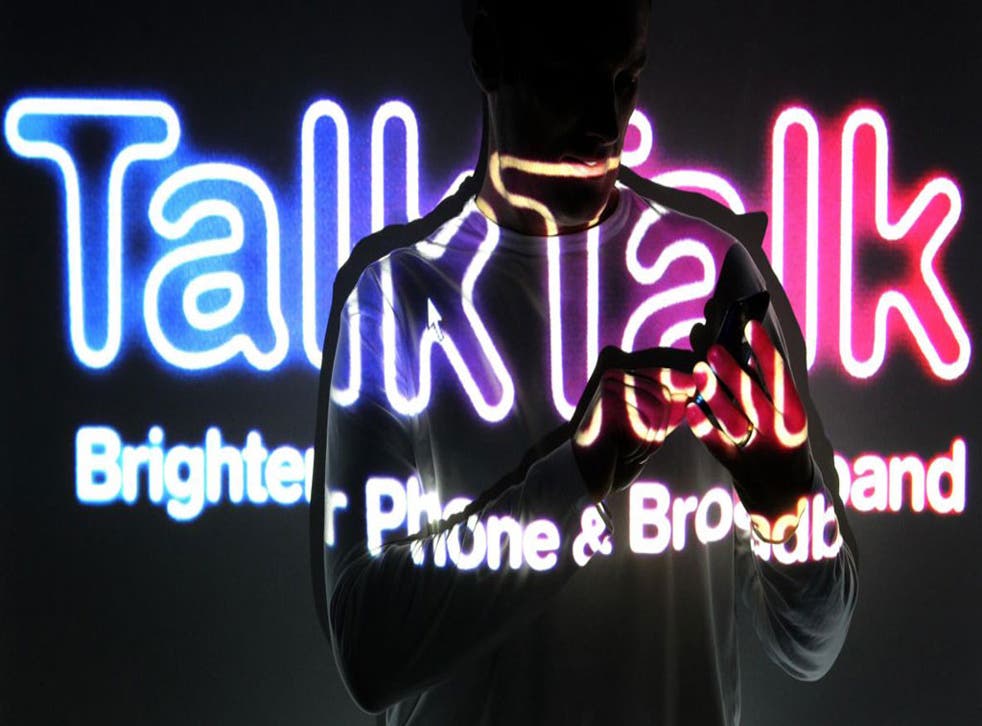 Millions of people might have been affected by a huge cyber attack on TalkTalk that has seen hackers apparently steal user data. Personal details including bank account and credit card details might have been lost.
Here's what to do if you think you might have been affected — and what to avoid.
What not to do
Panic
Scammers know that anyone who might be a customer will be worried. Panicking can lead you into being overly anxious, and potentially falling victim to further problems. Try and stay calm — it's unlikely that anything very damaging is going to happen.
Don't give your information away over the phone
One of the ways that scammers will exploit this information is to try and get more details. It's likely that people will be receiving phone calls from people claiming to be from TalkTalk, for instance, and using the fact that people are worrying to get information out of them.
Just make sure that you never give away any information that's sensitive and that anyone claiming to be helping you should know already. If you're speaking with TalkTalk, let them confirm that you're speaking to the right person — rather than giving any information under the guise of security checks.
Make sure that you're not going on the wrong TalkTalk website
TalkTalk is issuing information from its website. But that website has been under attack — and many more have sprung up that look like it.
Make sure that you're always accessing TalkTalk.co.uk and that you didn't get there from somewhere suspect.
Make sure emails are from the right people
Likewise, email scammers are likely to pretend that they're from TalkTalk. And it's easy to spoof emails, so there's very little you can do to in order to make sure you're not being tricked.
Instead, just be sure never to send any confidential information over email — which no genuine message should ask you to do, anyway. Always click through to a website and check it is legitimate — and ring TalkTalk if you're not sure.
What to do
Check your credit reports
TalkTalk has said that it will be sorting out "a year's free credit monitoring for all of our customers", and that it will be getting in contact "in due course". But until then TalkTalk recommends using Call Credit, Experian and Equifax, the three main credit agencies — some of which will give you free trials.
Those services will let you see whether people have been using your identity to take out credit, among other things.
TalkTalk customers hacked
Keep an eye on your bank account
The most immediate way that you might see any problems is if money starts moving out of your bank account unexpectedly. Watch out for small payments as well as big ones — scammers will often make little payments to well-known companies so that they don't get flagged up.
As soon as you notice anything untoward, get in touch with your bank.
Change your passwords
If your TalkTalk password is the same as the one you use for anything else, change it.
Wait for information from the real TalkTalk
TalkTalk has said that it will get in touch with all of its affected customers. So wait until they are in touch and take advantage of any services they offer — and be sure that it's legitimate.
Have you been affected by the TalkTalk cyber attack? Email us at talktalk@independent.co.uk or tweet us @Independent to tell us your story
Register for free to continue reading
Registration is a free and easy way to support our truly independent journalism
By registering, you will also enjoy limited access to Premium articles, exclusive newsletters, commenting, and virtual events with our leading journalists
Already have an account? sign in
Join our new commenting forum
Join thought-provoking conversations, follow other Independent readers and see their replies