The word of the year? 'Squeezed middle' says Oxford Dictionary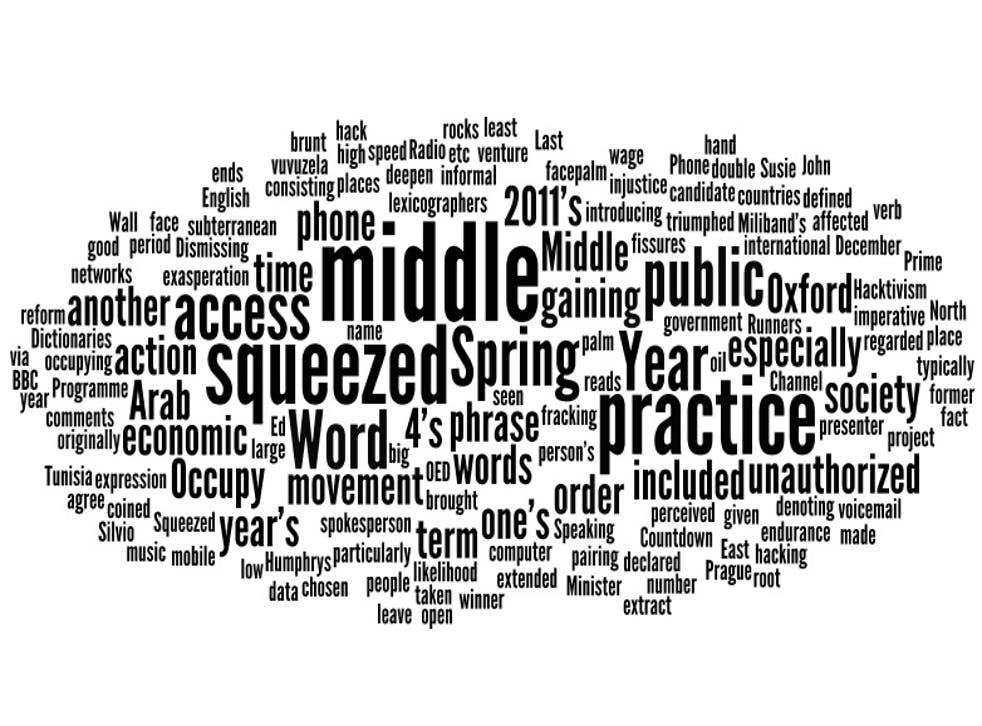 Compilers of the Oxford English Dictionary have declared 2011's Word of the Year to be "squeezed middle".
Dismissing for a moment the troubling fact that lexicographers have chosen a phrase rather than a single word for this year's winner, it is surprising that "squeezed middle" was deemed more appropriate than "Arab Spring".
The term was originally coined by Ed Miliband when speaking to BBC Radio 4's Today Programme presenter John Humphrys.
The full OED definition reads: "Squeezed Middle: the section of society regarded as particularly affected by inflation, wage freezes and cuts in public spending during a time of economic difficulty, consisting principally of those on low or middle incomes".
Last year another pairing of words, "big society", triumphed over contenders such as "vuvuzela" and "double dip".
Speaking about Miliband's term for those seen as bearing the brunt of government tax burdens while having the least with which to relieve it, Susie Dent, spokesperson for Oxford Dictionaries and language expert on Channel 4's Countdown, said: "The speed with which squeezed middle has taken root, and the likelihood of its endurance while anxieties deepen, made it a good candidate for Word of the Year."
Runners up for this year's title included:
Arab Spring: a series of anti-government uprisings in various countries in North Africa and the Middle East, beginning in Tunisia in December 2010. [After Prague Spring, denoting the 1968 reform movement in Czechoslovakia.]
Hacktivism: the action or practice of gaining unauthorized access to computer files or networks in order to further social or political ends. [A blend of hack and activism]
Occupy: the name given to an international movement protesting against perceived economic injustice by occupying buildings or public places and staying there for an extended period of time.[From the imperative form of the verb occupy, as in the phrase Occupy Wall Street.]
Phone hacking: the action or practice of gaining unauthorized access to data stored in another person's phone, especially in order to access their voicemail.
Sodcasting: (informal) the practice of playing music through the loudspeaker of a mobile phone while in a public place. [After podcasting]
Other words on the longlist included "bungabunga", as used in the context of former Italian Prime Minister Silvio Berlusconi's infamous parties; "crowdfunding", defined as the practice of funding a project or venture by raising many small amounts of money from a large number of people, typically via the Internet; "facepalm" (a gesture in which the palm of one's hand is brought to one's face as an expression of dismay, exasperation, embarrassment, etc.); and "fracking" (the forcing open of fissures in subterranean rocks by introducing liquid at high pressure, especially to extract oil or gas).
Do you agree with "squeezed middle" as 2011's Word of the Year? Please leave comments and suggestions below.
Join our new commenting forum
Join thought-provoking conversations, follow other Independent readers and see their replies