Three arrested in London Living Wage protest in Oxford Street for cleaners working at John Lewis
The protesters chanted and held up banners next to the John Lewis café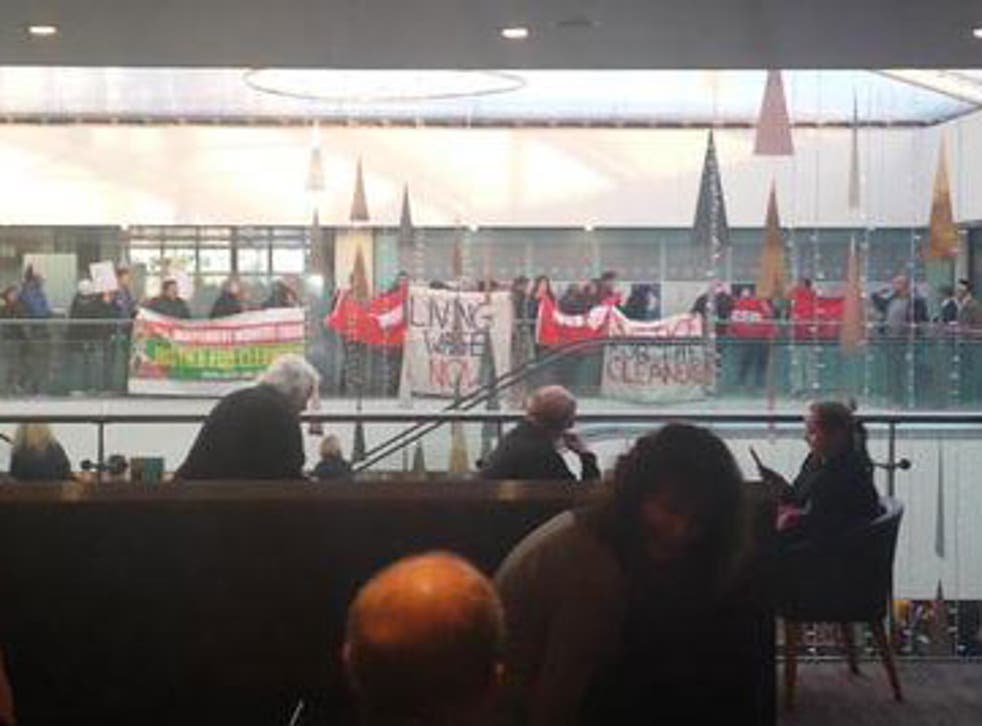 Three people were arrested yesterday for allegedly assaulting a police officer amid a protest for the London Living Wage in John Lewis' flagship branch on busy Oxford Street.
Demonstrators, partly from the Independent Workers Union of Great Britain, marched into the store and pitched themselves in the main hall next to the café to campaign against cleaners being paid less than the recommended minimum London wage of £9.15 per hour.
Cleaners working for the high street chain are paid a wage around that of the national minimum wage - at £6.50 an hour - as they are contracted in through an external agency and not included in the John Lewis Partnership scheme, which gives employees yearly bonuses in relation to company performance.
Last year, John Lewis employees received a pay boost of 17 per cent from a £200 million bonus pot. Campaigners are claiming that cleaners' wages would be brought in-line with the London Living Wage if they were included in the scheme.
Protesters waved banners around and some blew horns while they rode the escalators. One of the people arrested was seen being held down by police officers on a different floor to the congregation of campaigners and it is not confirmed if he was definitely part of the demonstration that ended at 3.15pm.
A spokeswoman for the John Lewis Partnership told the MailOnline: "In relation to cleaning, with a few historical exceptions, the majority of cleaners who work in our branches are, as with almost every organisation, contractors.
"Most work for more than one employer, often on the same day. Like all retailers, we work with many different contractors of various kinds throughout our supply chain. We could not operate effectively if all our contractors were partners."
In 2012, John Lewis undertook a review to consider whether to take cleaners back in-house and in November that year they ruled that the cleaners were not to be made Partners again, the Living Wage Foundation reported.
One of the cleaners, who wished to remain anonymous, was reported by the campaigning organisation to have said that the decision was "a real blow" in the run-up to Christmas when they were expected to work extra hours to keep the store tidy during the busiest shopping time of the year.
Those who were present in the central London branch during the protest, or had heard of the news, expressed their views on Twitter.
John Lewis' spokesperson had added: "We take our responsibilities to all our suppliers and contractors very seriously. We expect them to uphold good employment standards. However, we don't believe it's right for us to insist our suppliers or managing agents adopt pay policies that are different to our own."
A Met police spokeswoman said: "We were called to John Lewis Oxford street at 2.33pm to reports of a protest inside the store.
"We arrested three people on suspicion of assaulting a police officer and they have been bailed pending further enquiries."