Tower of London poppies: Artist claims people are 'breaking into the lorries' to steal flowers
Paul Cummins, creator of the installation, added: 'It is disrespectful to the people who died'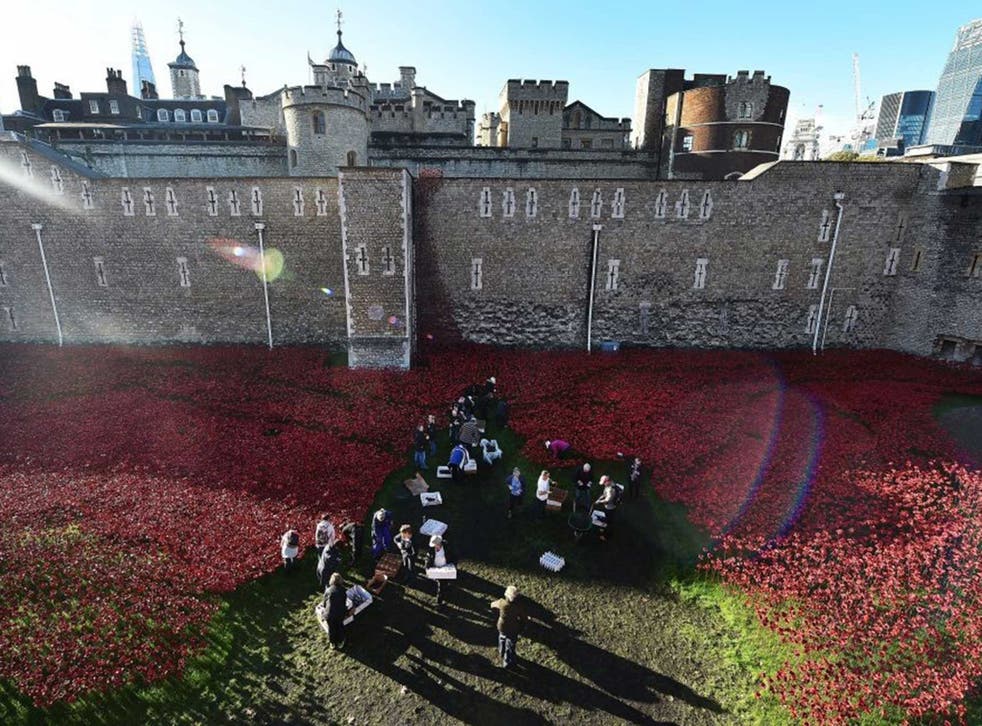 The careful removal of all 888,426 poppies from the Tower of London moat has been marked by a spate of attempted thefts, according to the artist of the installation.
Paul Cummins, who created Blood Swept Lands and Seas of Red with Tom Piper, claims that the removal of the poppies – each of which represents a Commonwealth soldier who died in the First World War – has been plagued by people attempting to break into the lorries containing the flowers.
The artist told the BBC that people had been attempting to take the poppies since they were first installed.
"When they were taken out of the moat, people were breaking into the lorries to try and get them," the Derbyshire-based artist said. "they have been trying to do this ever since we put them in."
"I am not happy," he said. "It is disrespectful to the people who bought them and made them and to the people they represent."
The poppies have been sold to individuals around the country, with the money going to six charities that support the Armed Forces.
"So people want them but we are not making any more, because I thought it would be disrespectful to the people who died. There are hundreds of thousands of people who want them," Mr Cummins added.
In pictures: 'Blood Swept Lands and Seas of Red' poppy installation in London

Show all 19
A spokesperson for the Metropolitan Police said to The Independent that they had no record of any attempted thefts, but added that as the artist was unclear where the alleged attempted thefts had taken place it was difficult for them to investigate.
Demand for the flowers has been huge, amid some fears that people may attempt to sell the flowers on for more than they were originally purchased. ebay has confirmed that it will not allow any Tower of London poppies to be sold through its site.
The last ceramic flower is scheduled to be removed on 28 November. Nearly 1,000 volunteers have been painstakingly removing 75,000 poppies since 12 November, leaving behind an evocative sea of mud surrounding the Tower of London.
Each flower will be removed, cleaned, and then posted with volunteers hopeful everyone who purchased a flower for £25 will receive theirs by Christmas.
The artist added that his installation had got "slightly political" after the flowers captured the imagination of the public and calls for an extension were supported by London Mayor Boris Johnson.
Join our new commenting forum
Join thought-provoking conversations, follow other Independent readers and see their replies