UK weather: Month's rain to fall in one day with gale force winds expected across the south of England, forecasters warn
Comes after a protracted period of sun and warmer conditions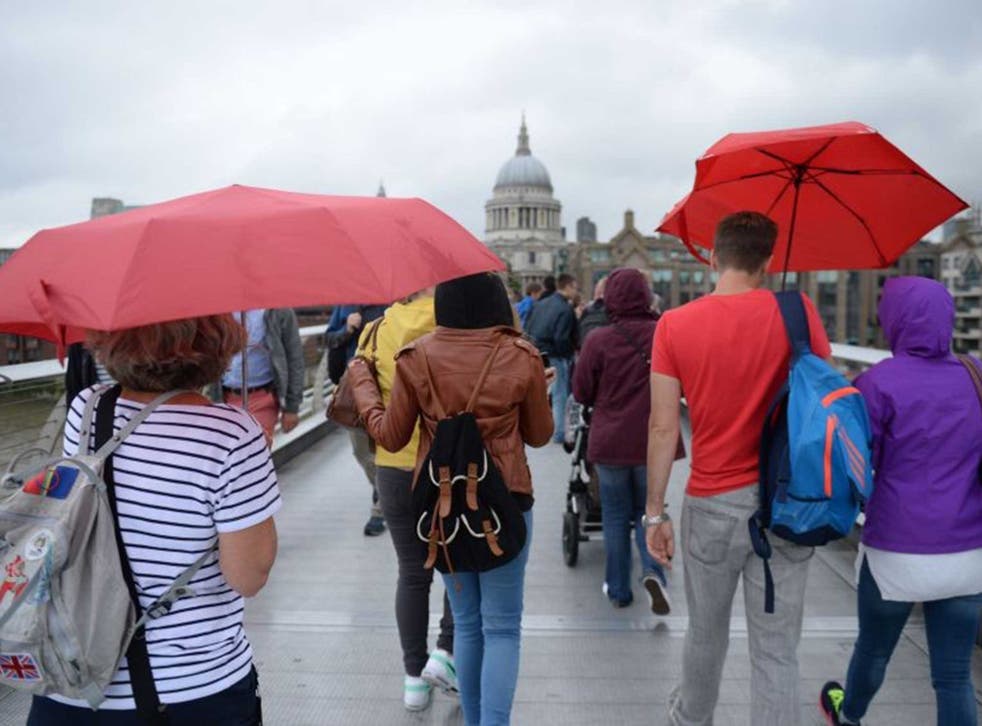 Forecasters have warned that that a month's worth of rain could fall on Friday in England.
Spelling an end to the warm and sunny weather enjoyed by the south of England in recent weeks, the Met Office has issued a yellow warning for the region on Friday and Saturday.
Meteorologists say London and the surrounding counties could see as much as 2.36 inches of rain and gale force winds.
The Met Office chief forecaster has warned that there is potential for "some disruption," especially as winds are forecast to reach 40mph inland and up to 50mph along the south eastern coast.
MeteoGroup weather forecaster Billy Payne said Londoners and those in the south east should expect "intense" rain this evening.
"It's not very often we do see rainfall amounts like that in the space of 24 hours," he told ITV.
The change is blamed on a low pressure system built up over the Atlantic and which is now moving across the UK – but Scotland and the north of England are expected to be spared the worst of the weather.
In a neat reverse, while southern regions shiver in colder temperatures and high winds, Scotland is forecast to enjoy a warmer and sunnier spell.
By Sunday the bad weather looks to have cleared up, with more settled conditions across the UK.
Join our new commenting forum
Join thought-provoking conversations, follow other Independent readers and see their replies