Unseen photographs capture the devastating and emotional aftermath of the 1996 IRA bomb in Manchester city centre
A cache of archived images have been released by the Greater Manchester Fire Service on the 18th anniversary of the Arndale blast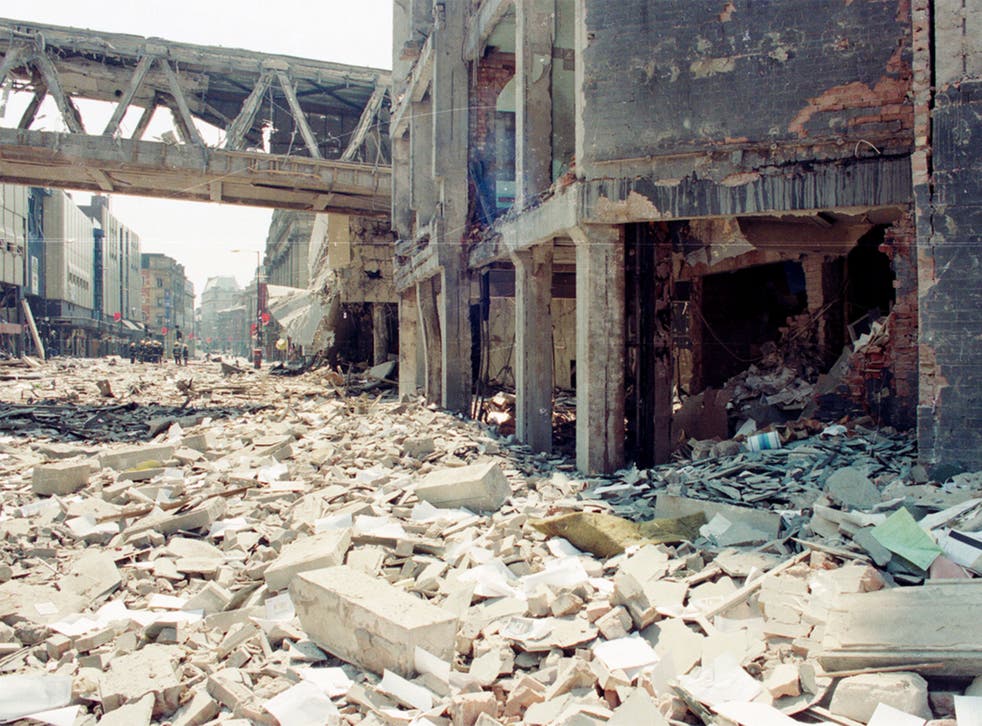 Harrowing and emotive photographs capturing the aftermath of the 1996 IRA bomb in Manchester have been released for the first time.
The archived images show the shocking extent of the destruction caused by the bomb, which devastated the city centre and showered shoppers with masonry and glass.
The powerful shots, taken by Greater Manchester Fire Service officers, show groups of grief-wracked emergency workers sifting through the rubble in the hours after the blast.
The devastated remains of a holiday shop, a shoe store and a nearby restaurant are also pictured. It is believed that a third of the city's shops were affected by the blast, which threw rubble half a mile from its epicentre.
The images were archived in the Salford headquarters of Manchester's fire service, but they are being released today – 15 June – to mark the 18th anniversary of the bombing.
In the hours after the explosion, shocked officers embarked on the grim task of searching for casualties, at first mistaking shop-window mannequins for bodies.
Aftermath of the 1996 IRA bombing in Manchester

Show all 19
The 3,3000lb device was the largest bomb to explode on mainland Britain. Miraculously, no one was killed – although 212 were injured by falling debris.
The explosive was hidden in a lorry parked on Corporation Street, outside Marks & Spencer and the Arndale shopping centre, in Manchester's city centre.
It detonated at 11.20am, on 15 June 1996, nearly two hours after Granada TV studios received a call claiming that there was a bomb at the corner of Corporation Street and Cannon Street.
The caller, who had an Irish accent, relayed an IRA codeword so that police would know the threat was genuine.
Special officers used to control football crowds were drafted in to carry out a mammoth evacuation of up to 80,000 shoppers and workers in Manchester.
By 11.10am, ten minutes before the bomb detonated, a cordon had been established about a quarter of a mile from the bomb.
But the sheer force of the blast meant that rubble was strewn half a mile from the blast site, showering some evacuated shoppers with masonry.
On 20 June 1996, the IRA claimed responsibility for the bombing, which has caused £1.1 billion worth of damage as of today, and stated that it "sincerely regretted" causing injury to civilians
The men responsible for the blast have still not been found – and in 2006, Greater Manchester Police admitted there was no realistic chance of prosecuting those responsible.
The 69 images were uploaded to the fire service's Flickr account.
Watch the video of the blast, captured by a Greater Manchester police helicopter, below:
Join our new commenting forum
Join thought-provoking conversations, follow other Independent readers and see their replies