Women on British infantry front line would be a 'politically-correct mistake', military figures say
Former army officers have described the move as 'counter productive'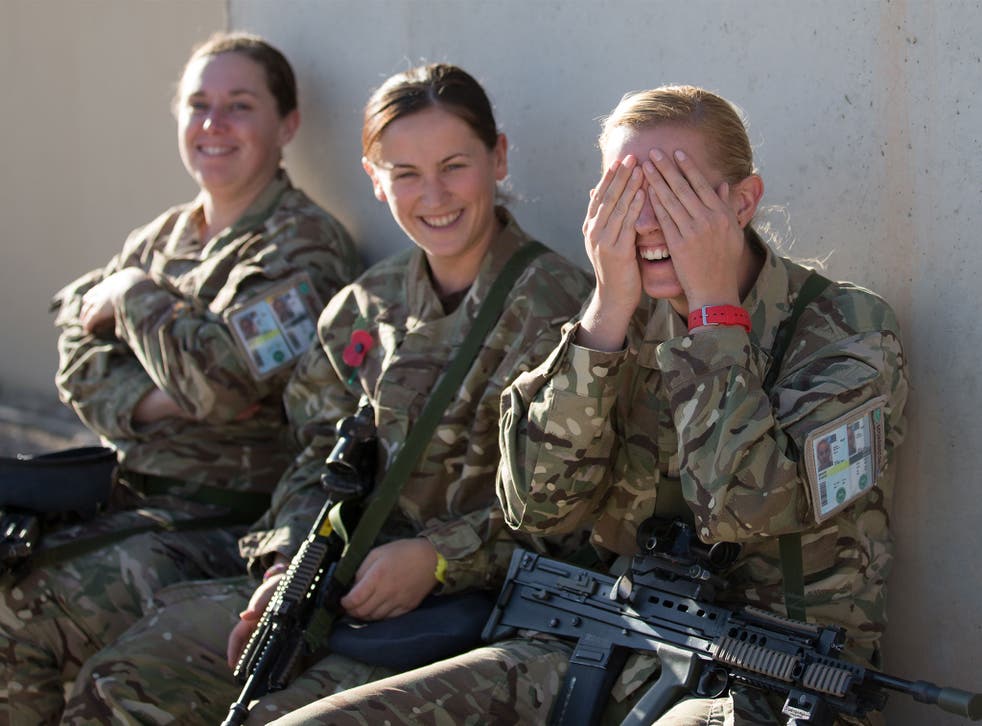 British military figures – including a former Desert Rats commander and a former army officer – have condemned the move to allow women to fight on the front line as a 'politically-correct mistake'.
Major General Patrick Cordingley, a former commander of the 7th Armoured Brigade, known as the "Desert Rats", told the Daily Mail: "There is a political imperative. However, I think that it is a mistake from the armed forces.
"I can understand why politically it is a good thing to be seen to be doing - on the other hand, the practicalities of women in the infantry and armoured corps are considerable and should not be overlooked."
Former army officer Ashley Merry said the move, which would affect very few women, described it as "counter-productive".
She said: "Women are already on the front line doing a very real job very effectively.
"I don't welcome this news that they are going to be considered for combat roles in the infantry, because in reality there's very few posts that are not open to women and women have moved so far in the armed forces."
She added: "I don't see why we are having to go this extra step because for the numbers involved I think it's really counter-productive when there are more important things that the Ministry of Defence and commanders should be concentrating on.
"At the moment we are living in such dangerous times. This is not the time to be experimenting with something new to be politically correct. If it's not broken, why try and fix it?"
Meanwhile, Colonel Mike Dewar – a military historian who served in Cyprus, Borneo and Northern Ireland – told BBC Radio Scotland's Good Morning Scotland programme: "Upper body strength in 99.9% of women does make it virtually impossible for them to pass the stringent physical tests which the infantry require."
Colonel Richard Kemp, a former commander in Afghanistan, has previously said women lack the "killer instinct" necessary to fight in close combat.
He said: "Inclusion of women in the infantry is certain to result in a lowering of physical standards despite the inevitable denials that this will happen.
"This would damage the fighting capabilities of the armed forces. It would be harmful to the cohesion of the army because of the nature of the role."
But some experts claimed that women have actually improved fighting capacity where they have been allowed to fight on the front line.
Dr Christine Cheng, a lecturer in war studies at King's College London, told the BBC: "If you are talking about the effectiveness of the ability to fight on the ground, women can actually enhance that rather than take away from it.
"There are numerous concerns about the physical requirements and there are concerns about the cohesiveness of the unit.
"But I think both of those concerns can be overcome and other places in the world have done it and they have done it with great success.
"So if we look at other places in the world, like Canada, Australia and New Zealand, where women have been serving in these combat roles, their ability to fight has improved and I think that's good for the army."
Alison Baskerville, a war photographer who served with the RAF in Iraq and Afghanistan and a reservist photographer with the British Army, said the move would be a "step forward" for the British infantry.
She said: "It really doesn't become about gender when people get into their roles.
"When they're in a firefight, if the platoon commander is screaming at them, whether they are a man or a woman, the soldiers will react."
Additional reporting by PA
Join our new commenting forum
Join thought-provoking conversations, follow other Independent readers and see their replies