Unfortunate BBC moustache for Nigel Farage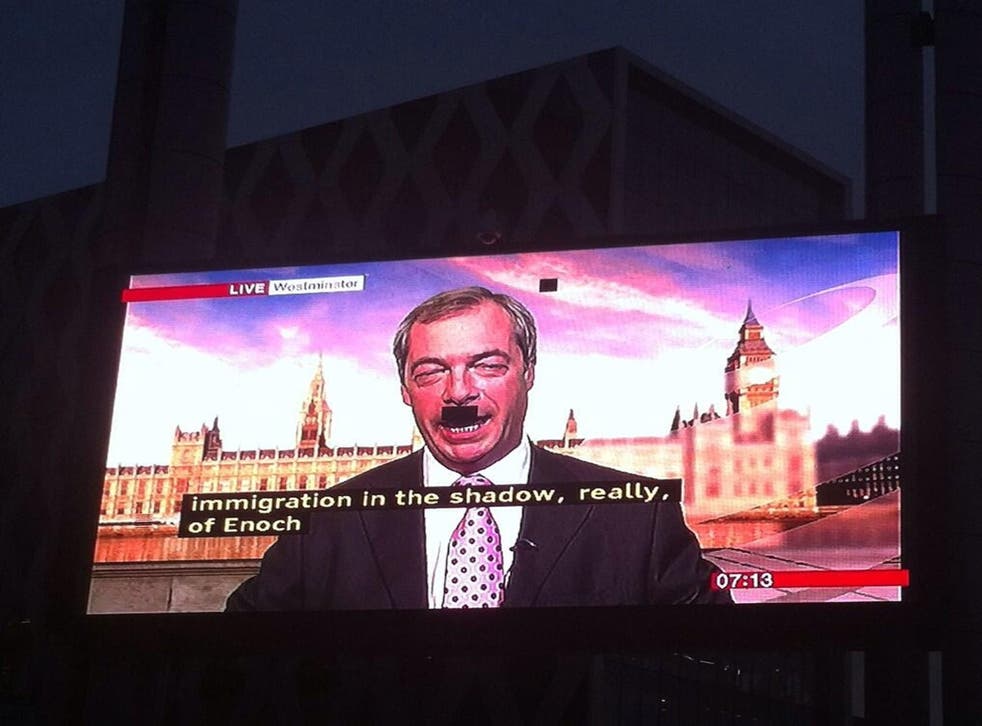 A pixelation error on the BBC's big screen at Media City in Salford meant Nigel Farage appeared to have grown Hitler-style moustache when speaking to BBC Breakfast on Friday morning.
In an unfortunate incident similar to a Father Ted episode where a perfectly square piece of dirt gave the Irish priest a moustache, the Ukip leader was left talking about an immigration crackdown with a large black pixel over his upper lip.
He had been talking to the broadcaster about Enoch Powell following revelations that teachers saw him as a 'racist' and a 'fascist' at school.
The Ukip leader was forced to deny that he sang Hitler youth songs at school, after a teacher alleged that, at a Combined Cadet Force camp organised by Dulwich college, Mr Farage and others had marched through a Sussex village "shouting Hitler-youth songs".
The picture was originally tweeted by BBC TV Sportscaster Olly Foster, before he deleted the post saying: "Apologies for my previous tweet. An error of judgement on my behalf."
The BBC said in a statement "The big screen is owned by MediaCity UK, not the BBC. The fault has been reported to them and they are working to rectify it as soon as possible."
Join our new commenting forum
Join thought-provoking conversations, follow other Independent readers and see their replies