Giant squid seen as an 'omen' by Japanese fisherman
The two longest tentacles of one of the creatures caught in the town of Iwami were missing, meaning it could have spanned eight metres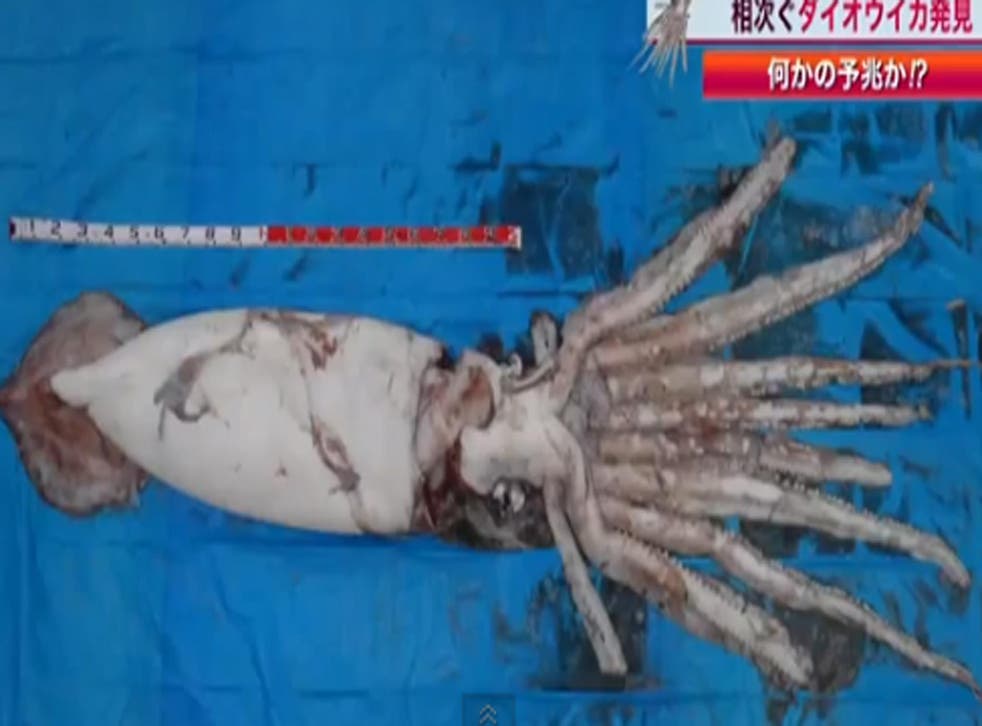 An increase in the number of giant squid being caught along the Sea of Japan coast is leading puzzled fishermen to fear their presence may be some kind of 'omen' - although experts think the invertebrate are simply a bit cold.
A giant squid was taken to the Himi fishing port in Toyama Prefecture on 4 January, and another was discovered in a net off Sado Island in Niigata Prefecture on 8 January, according to The Japan Times.
Three squid were taken to Sado and Himi that measured between three and four metres long, the newspaper has reported.
The two longest tentacles of one of the creatures caught in the town of Iwami in Tottori Prefechure were missing, meaning it could have spanned eight metres prior to its capture.
Several of the creatures have been ensnared in fishing nets. Earlier this month a local fisherman caught a four-metre giant squid off the coast of Sadogashima Island.
"When I hauled up the net, the squid slowly came floating up," Shigenori Goto told local media at the time. "This is the first time I've seen such a large squid."
He told The Japan Times yesterday: "I had seen no giant squid before in my 15-year fishing career. I wonder whether it may be some kind of omen."
Giant squid have been known to grow up to 43ft in size. And while the male variety may only reach 150kg, scientists estimate that the female gender can weigh as much as 275kg.
Squid usually live 600 meters below the water's surface where temperatures are 6 to 10 degrees, according to Tsunemi Kubodera, the collection director at the National Museum of Nature and Science.
Squid can survive 200 metres below sea level as temperatures are around 7C in January. However, they fell to about 4 degrees this year.
Mr Kubodera speculated that the giant squid have been rising closer to the surface looking for warmer water, but find themselves being swept closer to the shore and into the fisherman's nets.
Join our new commenting forum
Join thought-provoking conversations, follow other Independent readers and see their replies