Grumpy Cat: How a Reddit and YouTube star earned its owners $100m in two years
The business behind the world's most successful pet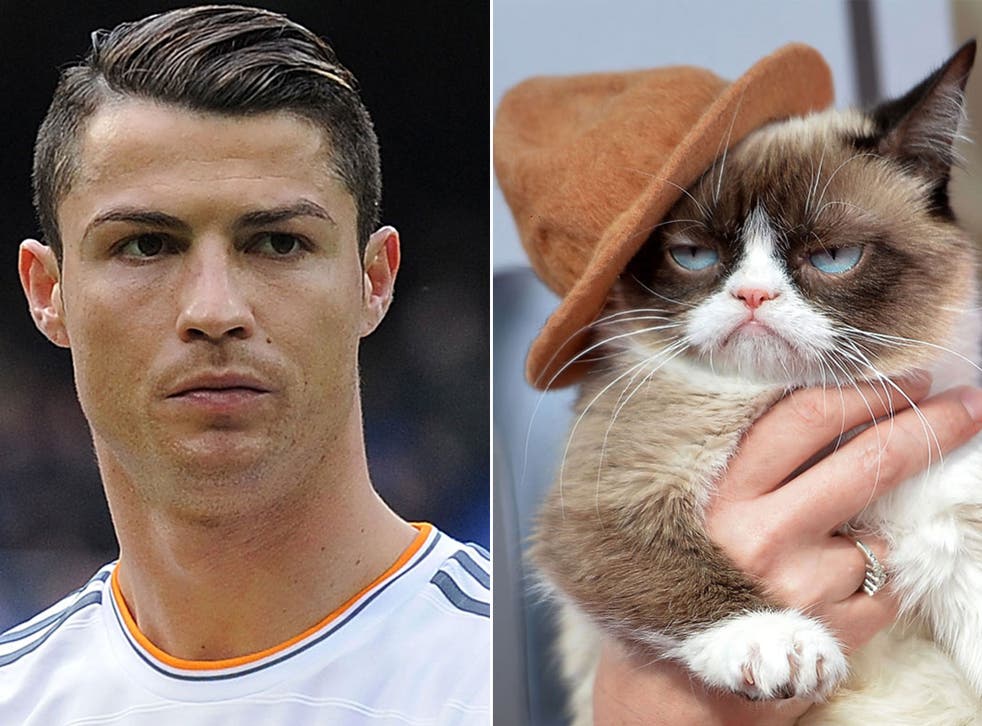 Grumpy Cat is two-and-a-half years old, cost her owners nothing - and yet earns more in a year than Cristiano Ronaldo.
Real name "Tardar Cat" – but now answering to "Grumpy" – the distinctively peeved pet has earned 28-year-old Tabatha Bundesen and her Arizona family a reported $100 million (£64 million).
It is now generally accepted that a photo posted to Reddit, Twitter or Facebook can launch an internet sensation. What is more remarkable, though, is the way Grumpy has been carefully transformed into a miserable-looking money-making machine.
Her earnings from merchandise, advertising and other revenues beat the estimated £27.1 million earned this year by Ronaldo. Forbes put Gwyneth Paltrow's income for 2013 at just over £12 million.
Grumpy's owner told the Express: "What she's achieved in such a short time is unimaginable and absolutely mind-blowing.
"I was able to quit my job as a waitress within days of her first appearance on social media and the phone simply hasn't stopped ringing since."
The business of making Grumpy a millionaire is complex, and as such she has an agent. Ben Lashes, a self-proclaimed "meme manager", has translated the public's thirst for videos of animals doing daft things into cold hard cash. His clients also include Keyboard Cat and Nyan Cat, as well as non-felines from Doge to Ridiculously Photogenic Guy.
One year after her YouTube debut – which has received more than 16 million views since it was posted in September 2012 – Grumpy won her first traditional endorsement deal, being named the official "spokescat" for a Friskies brand of cat food.
Nestle Purina PetCare has not disclosed the terms of the deal, but her first duties included appearing to receive a "lifetime achievement award" at a high-profile event in New York.
Meanwhile, the Grumpy Cat merchandise store is an extraordinarily comprehensive online outlet. Featuring almost 140 products, it is split up into departments including "electronics", "clothing" and "home & pets".
There's also a line of "premium coffee drinks" called "Grumppuccino", which has been launched this year and is available at more than 100 stores across the US.
And Grumpy's much-vaunted first movie has now had its first showings on the US TV channel Lifetime.
Produced by Lionsgate and titled "Grumpy Cat's Worst Christmas Ever", it tells the story of a young girl who adopts the animal and discovers the two can communicate with each other. It might not have received particularly good reviews – but with a DVD due to go on sale on 16 December priced at more than $12, Grumpy is unlikely to mind.
Grumpy's media empire is unprecedented in scale and success – but she's not the first cat to find online fame.
Lil Bub, a cat whose various congenital health problems have left her with the evergreen appearance of a wide-eyed kitten, was the subject of an award-winning Vice documentary about the very subject of famous cats.
In many ways, Lil Bub has a more compelling background story to that of Grumpy. Found by her now-owner Mike Bridavsky in 2011 in a rural tool shed in Indiana, she was the runt of a litter of feral cats.
Bub's health issues meant she had to be bottle fed for longer than the average cat and required constant visits to the vet. She has an extra toe on each foot and requires medication for her joints.
Lil Bub has her own merchandise store online. But her public appearances have been more humble, and in many ways it seems she has not been pushed as hard as Grumpy Cat in the search for success. On the Lil Bub website it is claimed that a portion of all merchandise sales goes to rescue cat charities – donations which have raised "close to $200,000" since 2012.
In a sense, the world of internet memes has democratised the outstanding cat market. Previously the reserve of breeders with a lot of time and money on their hands to rear and preen their animals to perfection, now any cat owner with a smartphone and a bright idea can find relative feline fame.
Grumpy Cat turns 2

Show all 5
But there is an inevitable downside to the business that has grown up around these distinctive cats. Earlier this year, the RSPCA reported that 70 per cent of abandoned cats are now black, or black and white, because "they don't look as good in selfies". It may seem that cat-owners are all a whisker away from a potential fortune – but every business opportunity will have its victims.
Join our new commenting forum
Join thought-provoking conversations, follow other Independent readers and see their replies