Incredible GoPro video shows lamb chop falling to Earth
But the team who launched the chop into space had to endure a 5-month-long wild goose chase to retrieve the unexpectedly stunning footage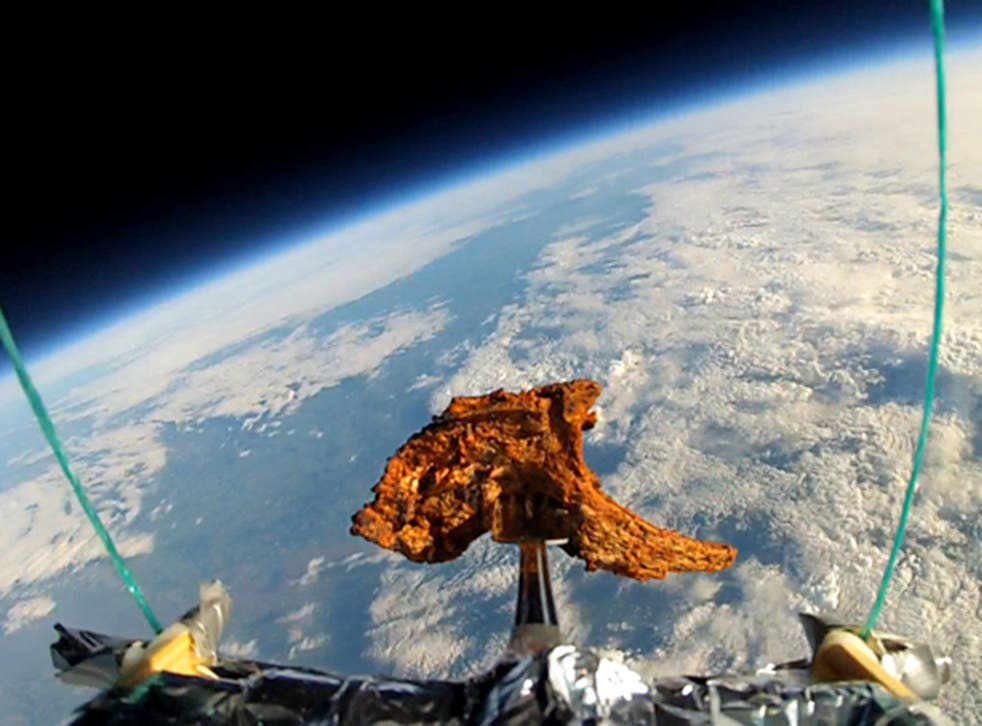 When a marketing team strapped a GoPro onto a tandoori lamb chop and launched it into space, they did not expect the hunk of meat to disappear for five months, only to return carrying reams of stunning footage showing its ascent into space.
Before daybreak on 14 June this summer, novelist Nikesh Shukla and his two friends inflated a 2-metre wide weather balloon and attached the kitted-up tandoori chop, and launched it 31km into the stratosphere.
The balloon rose at 325 metres per minute for 95 minutes before bursting somewhere over Hungerford, West Berkshire. GPS contact was lost shortly afterwards.
The team had hoped that the GPS would re-connect, but the freezing temperatures of near space scrambled the device and it did not survive the flight. Shukla, who was using the stunt to promote his novel Meatspace, and his friends feared they would never retrieve the lamb chop or the footage from the GoPro.
But a month later, a farm worker who only identified himself as Adam contacted flight organiser Nick Hearne after he discovered the chop and the camera as he harvested land in Manston, Dorset - some 82 miles form the launch site.
However, the group's hopes were once again dashed when Adam arranged to meet them at locations in Dorchester, Bridgend and Weston-super-mare - but stood them up every time, using different phone numbers and excuses each time.
With help from the Avon and Somerset Police, Adam got back into contact with the group in early November and organised a meeting with a different farm worker, whom he called Will.
The group were stunned to find the 100 minutes of footage which the GoPro had filmed, showing the lamb chop make its ascent through the clouds above Earth.
Join our new commenting forum
Join thought-provoking conversations, follow other Independent readers and see their replies