Women's rights in Scotland 'under threat' by Conservative Government's decision to devolve abortion laws
Scottish parliamentarians warn that devolving decision-making over abortion could reopen debate and could  'undermine women's rights to safe, legal abortion'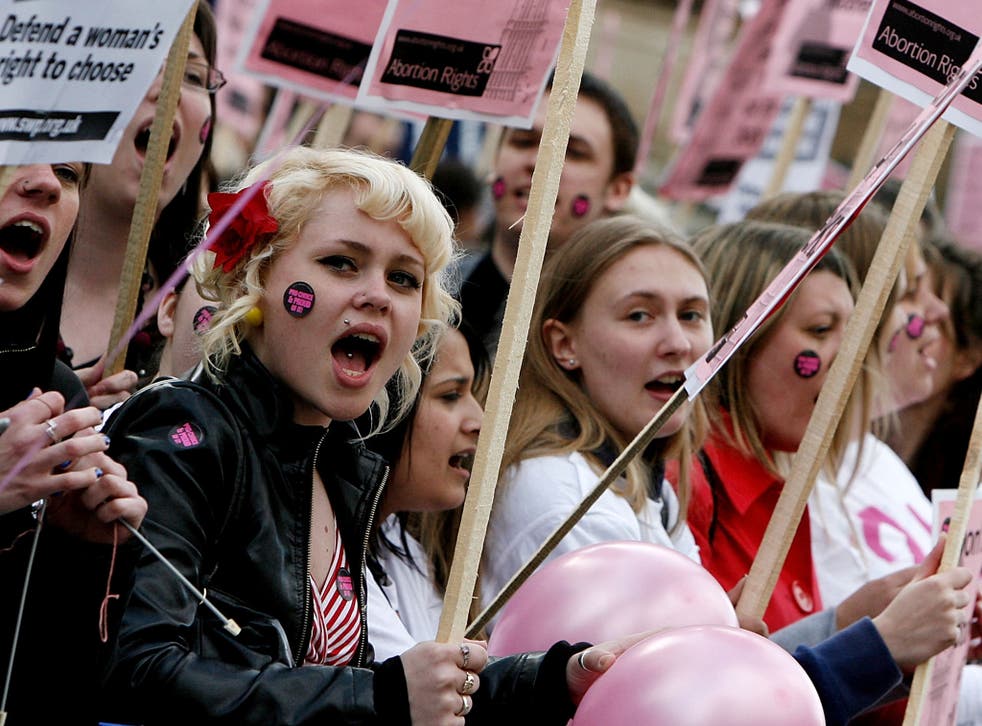 Women in Scotland face the possibility of having their right to abortion undermined by the Conservative government's decision to hand law-making on the issue to Edinburgh, Scottish parliamentarians have warned.
Scottish Secretary David Mundell said there was no "convincing constitutional reason" why decisions on the law governing abortion should not be handed to MSPs through the Scotland Bill, which is currently working its way through Westminster.
However Green MSP Patrick Harvie warned that devolving the issue risked reopening a debate on abortion that has been largely settled since legislation in 1967, when abortion was made legal in the first 24 weeks of a woman's pregnancy in usual circumstances.
It could lead to religious groups trying to "undermine women's rights to safe, legal abortion", he said as MSPs prepare to debate the new powers at Holyrood.
Mr Harvie has tabled a motion urging the Scottish Parliament to recognise the "fundamental importance of women's sexual and reproductive rights" and calls on his colleagues to "defend those rights against any attempt to undermine women's access to safe and legal abortion in Scotland".
But a row over how Scotland uses the new powers over abortion is brewing, with SNP MP John Mason insisting that babies have rights as well as women.
In a rival motion he calls for the "fundamental rights of babies to be protected both before and after birth".
He said the abortion law needed to be "looked at" because science had "moved on "incredibly [since the 24-week limit was introduced nearly 50 years ago] and they're doing remarkable things like keeping babies alive at a very young age", adding: "Even people who support abortion as such have a question over the 24-week limit."
However he was warned by Mr Harvie that any attempts to restrict abortion in Scotland would be strongly resisted.
UK news in pictures

Show all 50
"There have been regular failed attempts at Westminster to undermine women's right to safe, legal abortion. Maybe similar attempts will be made at Holyrood but I'm confident they will fail here too," the Green MSP for Glasgow said.
"We shouldn't be afraid of the debate. We should make it clear that the whole of the NHS is devolved and abortion is a normal part of health service provision in almost every developed country in the world.
"I believe the large majority of MSPs will vote to oppose any attacks on women's right to choose."
The current UK law says an abortion must only be conducted in a hospital or specialist licenced clinic and the 24-week rule covers England, Scotland and Wales but not Northern Ireland, where abortion is illegal except in certain cases.
Nicola Sturgeon has insisted there is no need to change the existing abortion laws in Scotland.
Clare Murphy, from the British Pregnancy Advice Service, said MSPs should use the devolution of abortion laws to update the current rules but in a way that gave more freedom to patients, saying it was "anachronistic" that women can still be jailed if they go through with an abortion without permission from two doctors.
"In 2015, a woman who ends a pregnancy without the permission of two doctors can be imprisoned for life – Scotland has the chance to consign this anachronistic and insulting penalty to the history books. It is high time that abortion was regulated like other healthcare procedures," she said.
"It should not be subject to additional legal barriers which both delay treatment and stigmatise the one in three women who will need to end a pregnancy in their lifetime.
"Abortion is the only medical procedure in which two doctors must give legal permission before a patient can be treated.
"Women are perfectly capable of making these decisions for themselves and do not need politicians or doctors to tell them what is right for them and their families."
Join our new commenting forum
Join thought-provoking conversations, follow other Independent readers and see their replies