59 years late - but Mau Mau accept an almost apology
Elderly survivors of brutal colonial torture express satisfaction with Hague's statement of regret – and sorrow at its cause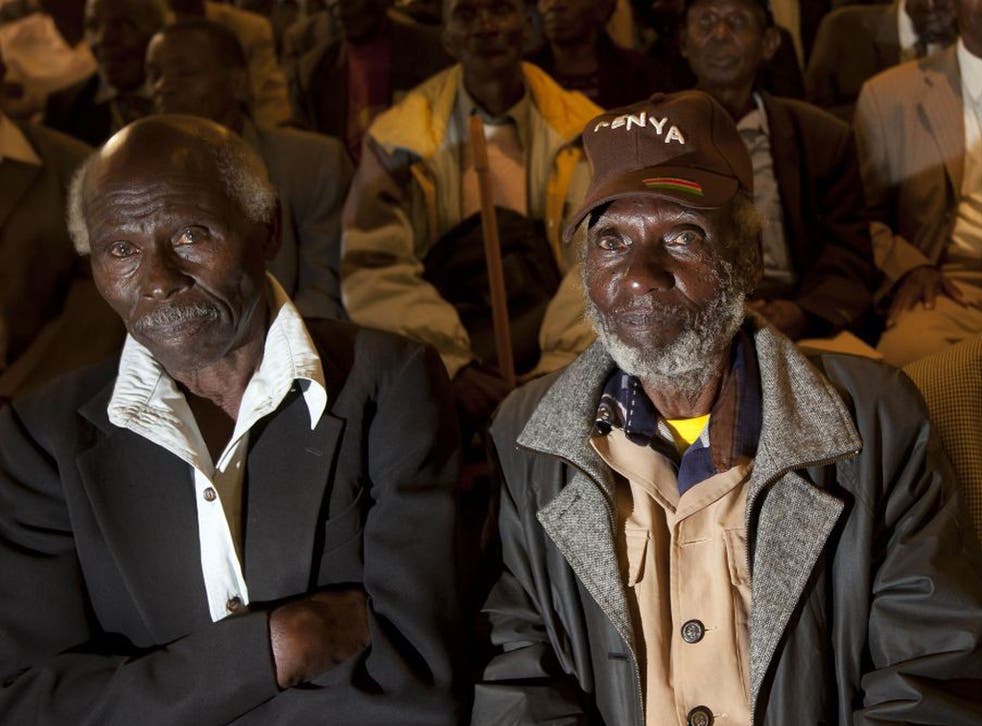 Fifty-nine years after he was tortured in a concentration camp run by British colonial authorities in Kenya, Wamutwe Ngau received a statement of "regret" and the promise of a cheque for £2,658 yesterday.
The 82-year-old is one of 5,228 veterans of the Mau Mau uprising against British rule who will share £13.9m in an out-of-court settlement with the British government, which will also pay £6m to the law firm Leigh Day, which represented the victims, and fund the construction of a memorial to victims of colonial-era torture in Kenya.
The statement from the British Foreign Secretary William Hague was relayed to about 100 of the octogenarians at a hotel in the Kenyan capital, Nairobi. Mr Ngau remembered how he had been beaten with rifle butts and had his testicles crushed with a pair of pliers during his three-year internment. His left leg is largely numb and he lifted a worn-out shirt to reveal the scar from a bullet hole on his hip.
His greatest pain, he said, was that he was unable to have children.
"A man without children is worthless, but in my culture if someone says sorry you have to accept it," he said. "It's what we have been waiting for."
Like many of the veterans who travelled to Nairobi from the old battlegrounds in the forests of central Kenya, he said the apology was worth more than the "little money" which they said would not alleviate the poverty in which most of them live.
The Mau Mau, which took up arms against the colonisers in 1952, was the first resistance movement of its kind in the British empire. It was violently put down with as many as 90,000 Kenyans tortured, maimed or executed.
The statement from Mr Hague in the House of Commons came after a four-year legal battle in which the Government tried and failed to argue that it was not responsible for the actions of the colonial administration. That stance was rejected by the High Court in 2011 when it ruled that four Kenyan torture victims had a case arguable in law.
The Foreign and Commonwealth Office then claimed that there were "irredeemable difficulties" in retrieving documents and witnesses from the period. This argument was thrown out last October and the way cleared for a trial. In the process reams of archive documents that emerged helped to prove the scope of abuse of thousands of Kenyans interned in camps during the emergency period.
Yesterday's admission of "torture and ill-treatment" should correct the view the British empire was more benign than those of other European powers, said Professor Caroline Elkins, the author of Imperial Reckoning: The Untold Story of Britain's Gulag in Kenya. An expert witness during the legal battle, she pored through "absolutely horrific" testimony of violence meted out to Kenyans by British colonial officers. "People were beaten to death, raped, sodomised with foreign objects, and in some cases tied to the back of Land Rovers and dragged to their deaths."
All this was done with the "full knowledge" of the colonial office in London.
"These crimes were committed by British colonial officials and have gone unrecognised and unpunished for decades," said Daniel Leader, a partner at Leigh Day.
There is mounting concern the relatively modest compensation could be diverted from claimants. Since Leigh Day's legal effort first began 10 years ago, numerous rival organisations claiming to represent the Mau Mau veterans have sprung up.
Bryan Cox QC from another British outfit, Tandem Law, said that his firm has signed up more than 8,000 Kenyan veterans and the "matter was far from over". A Kenyan group calling itself Mau Mau Harambee Jamhuri Ya Kenya that claims to have 3,427 members has refused to recognise yesterday's settlement.
Mr Hague, who did not offer an apology to the Kenyan victims in his statement following legal advice, insisted the payment did not mean the UK accepted liability for the mistreatment of detainees and did not set a precedent for future cases.
The Foreign Secretary said: "We will continue to exercise our own rights to defend claims brought against the Government and we do not believe that this settlement establishes a precedent in relation to any other former British colonial administration."
Join our new commenting forum
Join thought-provoking conversations, follow other Independent readers and see their replies