Air France bomb scare: Kenya says explosive device found in toilets of plane taking 473 people from Mauritius to Paris
Two suspects held by Kenyan authorities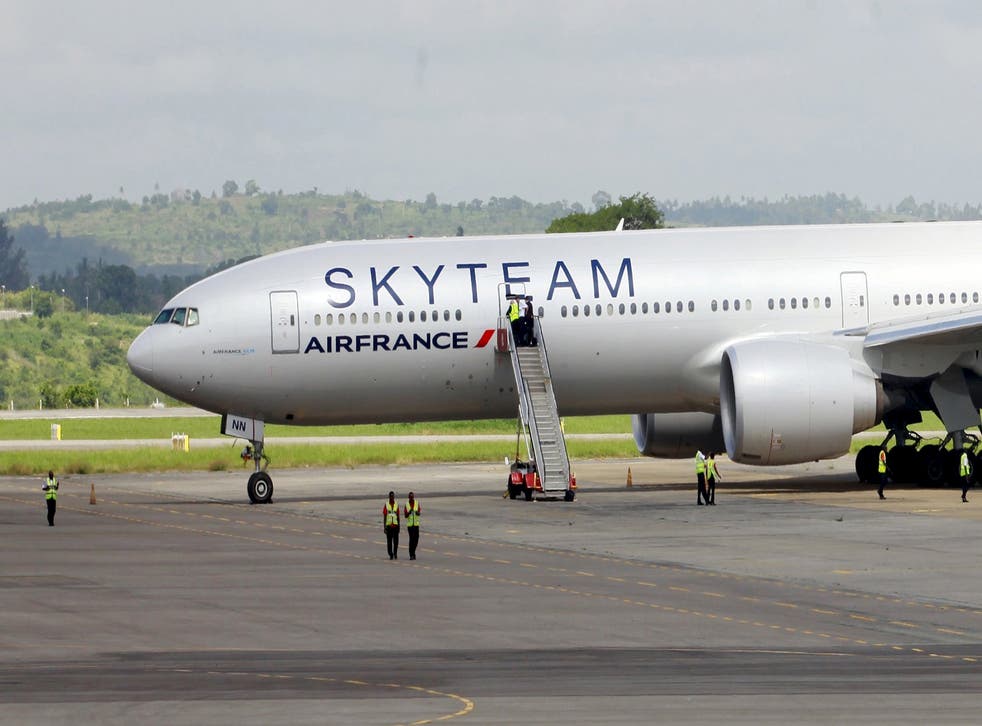 A suspicious device found in the toilet of an Air France flight to Paris is a bomb, Kenyan authorities have said.
Two suspects from flight 463 - which was carrying 472 people - are being questioned by Kenyan security forces after the Paris-bound flight from Mauritius was forced to make an emergency landing in Mombasa at 12.37am when a suspicious looking package was discovered in the toilet.
A statement was posted online by Kenya Airports Authority under the headning "Kenyan Security foil a bombing attempt on Air France".
The statement said: "Kenyan bomb experts discover a bomb inside Air France at Moi International Airport, Mombasa. The explosive was carried away to a safe place outside the airport.
"Bomb experts from the Kenya Navy took the bomb away to safety. The Kenyan security is zeroing in on two passengers who appear suspicious.
"The Mombasa Security team and Airport security in Mombasa have also secured the Airport and all critical facilities around.
"The bomb has been taken to safe destination for detonation in the morning."
All 459 passengers and 13 crew were escorted safely off the aircraft, while the bomb was taken by the Kenyan navy to be detonated safely away from the airport.
Kenyan bomb experts have been examining the device since the plane landed, while passengers have been taken to nearby hotels. The security services have cordoned off the airport and flights have been suspended.
Air France flight 'bomb scare'
An edited statement was issued later by Kenya Airports Authority that omitted any mention of a bomb.
"We confirm of an emergency landing by Air France's flight from Mauritius at Moi Int'l Airport this morning after reports of a suspicious object was found on board," it said.
Air France emergency landing in pictures

Show all 9
"The object has successfully been retrieved from the Paris bound flight. Scheduled flights to Mombasa were disrupted this morning due to the incident.
"Normal airport operations have resumed at Moi International Airport. Investigations are underway by the National Security Agents on the ground and Air France."
Nobody has yet claimed responsibility for the suspicious device.
Join our new commenting forum
Join thought-provoking conversations, follow other Independent readers and see their replies