Alex Monson: Inquest into aristocrat's death in Kenyan police custody begins
Family claim Monson's death in 2012 was caused by a blow to the head
Catrina Stewart
Monday 27 April 2015 20:17 Comments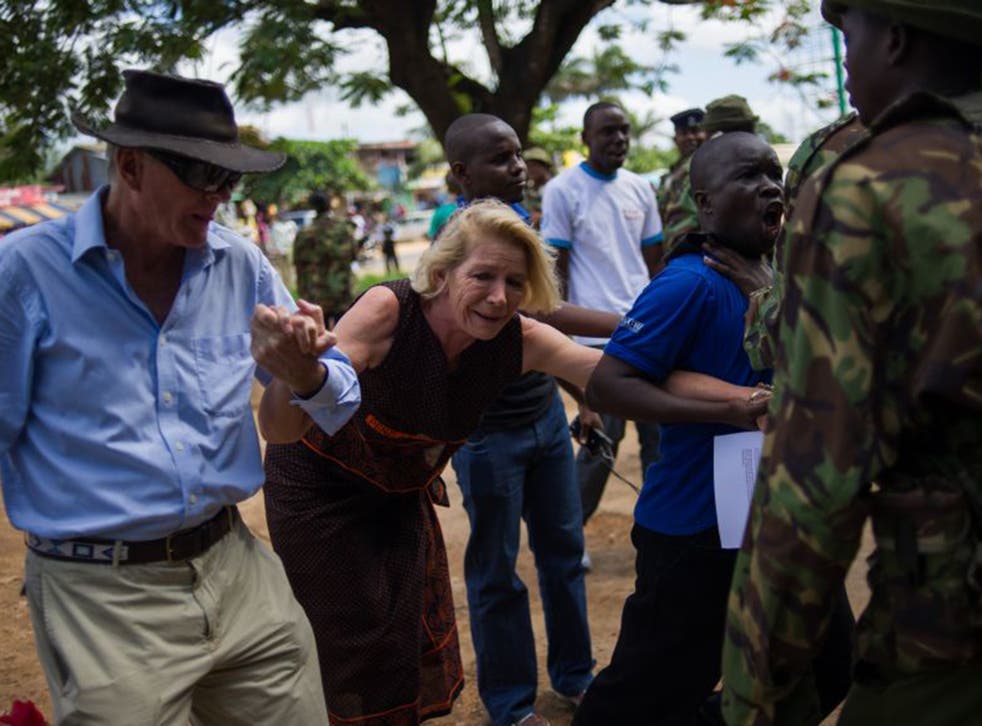 As Alexander Monson lay dying in a Kenyan police station three years ago after an alleged beating in custody, police officers ignored him, neither bothering to help him nor seek medical assistance, a family friend told a long-awaited inquest.
When Mr Monson's friend arrived at the police station to secure the release of the son of the 12th Baron Monson of Burton, he was laid out and unresponsive, his breath coming out in heavy rasps. At the friend's insistence, Mr Monson was taken to hospital where he later died, handcuffed, his mother by his side.
"He was clearly extremely unwell, the officers were doing absolutely nothing about it," Iain Daniels, a British lawyer advising Mr Monson's father told The Independent as the inquest opened in Mombasa. "We have police officers standing about as he lay in the most appalling condition from, we were to later find out, a blow to the head."
Mr Monson was out with friends on 18 May, 2012, when police arrested him along with a friend on suspicion of smoking cannabis at a bar in Diani, a popular resort on the Kenyan coast where his mother, who is divorced from his father, ran a string of holiday cottages.
When friends saw him was the following morning, he was already unconscious. Pathology reports indicate that he died from a blow to the head, and his family believes he was beaten by police officers who they allege tried to cover up the crime. To date, authorities in Kenya have charged nobody with Mr Monson's death.
The police have denied any involvement in his death, and say he died of a drugs overdose, a finding backed up by the Independent Policing Oversight Authority, a body set up with UK funding four years ago to investigate cases of suspected police brutality.
The inquest began with an account from Hilary Monson, who had last seen her son the previous day. She described how she found him unconscious and close to death in hospital, his hands still shackled to the bed. It was only when doctors tried to resuscitate him just before he died that he was briefly untied.
Some of 27 April's proceedings were due to focus on whether Mr Monson took drugs – his family has not denied that he took drugs – but Mr Daniels described the issue as "wholly irrelevant" given that he died from "blunt trauma to the head that caused his brain to swell". Other bruises are consistent with violent assault. An initial urine test came back negative for narcotics, he said.
Mr Daniels also dismissed suggestions that he received the blow accidentally, as none of those questioned about the events that night had witnessed him taking a fall, Mr Daniels said. "If there is no evidence of accidental injury, you are left with assault," he added.
In pictures: Kenya Garissa University shooting

Show all 10
The inquest, initially set for February, was postponed after the Monson family only found out a short time before it was to take place. Lawyers called for a delay to give them time to read through the reams of evidence.
That approach was, suggested Mr Daniels, typical of the process so far. He claims the police have refused to grant requests to see key documents, such as the police log book that would show whether Mr Monson had left his cell that night. Lawyers have also not been given copies of police statements from the official investigation. "It is significantly less than ideal to start a case without all the documents," he said.
More than 50 witnesses are scheduled to appear at the inquest, among them police witnesses, and the family believes the process could take weeks, if not months.
The magistrate retains the final say on whether to recommend a prosecution or not.
Lord Monson, who has pushed hard for this inquest, is hopeful that it will lead to murder charges. "I think it's the best hope we have of getting justice," he said. "It's [also] to shine light into what happened in that station on that night. What's sad about this is that it's not exceptional… it happens the entire time to Kenyan citizenry."
Register for free to continue reading
Registration is a free and easy way to support our truly independent journalism
By registering, you will also enjoy limited access to Premium articles, exclusive newsletters, commenting, and virtual events with our leading journalists
Already have an account? sign in
Join our new commenting forum
Join thought-provoking conversations, follow other Independent readers and see their replies