Apostasy woman Meriam Ibrahim: US ambassador summoned by Sudan government after Christian convert detained trying to flee country
Meriam was released from death row, but detained at airport the following day trying to fly to the US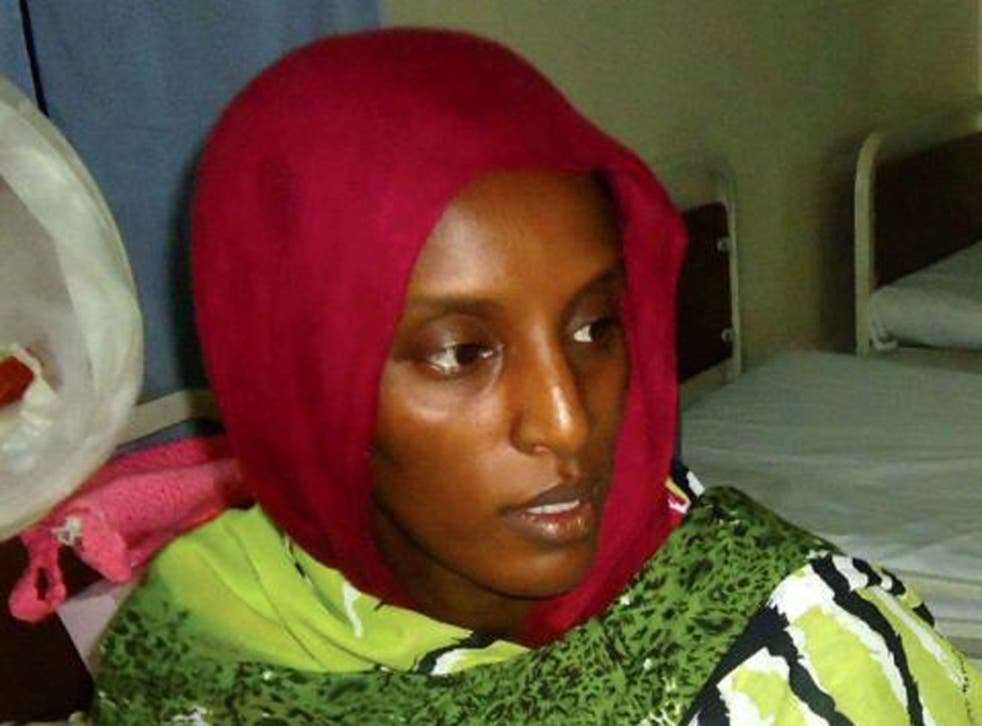 The US and South Sudanese ambassadors have been summoned to Khartoum by Sudan over the rearrest of a Christian convert accused of apostasy trying to flee the country after being released from death row.
Mariam Yahya Ibrahim was freed on Monday after an appeals court cancelled the death sentence imposed for having converted from Islam to marry her Christian husband, after the government came under what it called unprecedented international pressure.
But she was detained again on Tuesday for trying to use documents issued by the embassy of South Sudan to fly out of Khartoum with her American-South Sudanese husband and their two children - deepening the diplomatic wrangle over her case.
Sudan does not recognise her as a South Sudanese citizen because, despite lifting her sentence, it does not recognise her marriage to a Christian, something not allowed under the Islamic laws applied in Sudan, where most people are Sunni Muslims.
South Sudan, with a majority Christian population, became independent from Sudan after a public vote in 2011 that ended years of civil war between the two states.
"The airport passport police arrested Abrar after she presented emergency travel documents issued by the South Sudanese embassy and carrying an American visa," Sudan's National Intelligence and Security Services' media department said on Facebook, referring to Ibrahim by her Muslim name.
"The Sudanese authorities considered (the action) a criminal violation, and the Foreign Ministry summoned the American and South Sudanese ambassadors."
Her lawyer, Mohaned Mostafa, told Reuters Ibrahim was charged with forging the travel papers. Forging a document is punishable by up to five years in prison.
On Wednesday, she was still being held at a Khartoum police station where she had spent the night with her family, who refused to go without her, Mostafa said.
Her case triggered an international outcry and was closely monitored by Washington and London, which last month summoned the Sudanese charge d'affaires to protest against Ibrahim's initial death sentence and urge Sudan to uphold its international obligations on freedom of religion or belief.
In Washington, the State Department said embassy staff had been in touch with Ibrahim on Wednesday and taken her things she needed. The Sudanese "have said they will keep them (the family) safe and we are absolutely going to make sure they do", spokeswoman Marie Harf said.
She said the U.S. envoy met Sudanese Foreign Ministry officials at their request. She said he told them the family needed to be able "to depart as swiftly as possible from Sudan and that we are happy to help in anyway we can".
She declined to discuss details of Ibrahim's travel documents.
South Sudan's presidential spokesman said Ibrahim's American husband was a South Sudanese citizen and that was the reason that his family's travel documents were issued from the South Sudan embassy in Khartoum.
The United States has imposed economic sanctions on Sudan since 1997 over alleged human rights violations. It intensified sanctions in 2006 over Khartoum's actions in its conflict with rebels in the western region of Darfur.
Reuters
Join our new commenting forum
Join thought-provoking conversations, follow other Independent readers and see their replies