Birthplace of Arab Spring in turmoil as angry Tunisians stage massive sit-in over lack of development
A former boom town has ground to a halt as grievances over underemployment, pollution and poor infrastructure come to the fore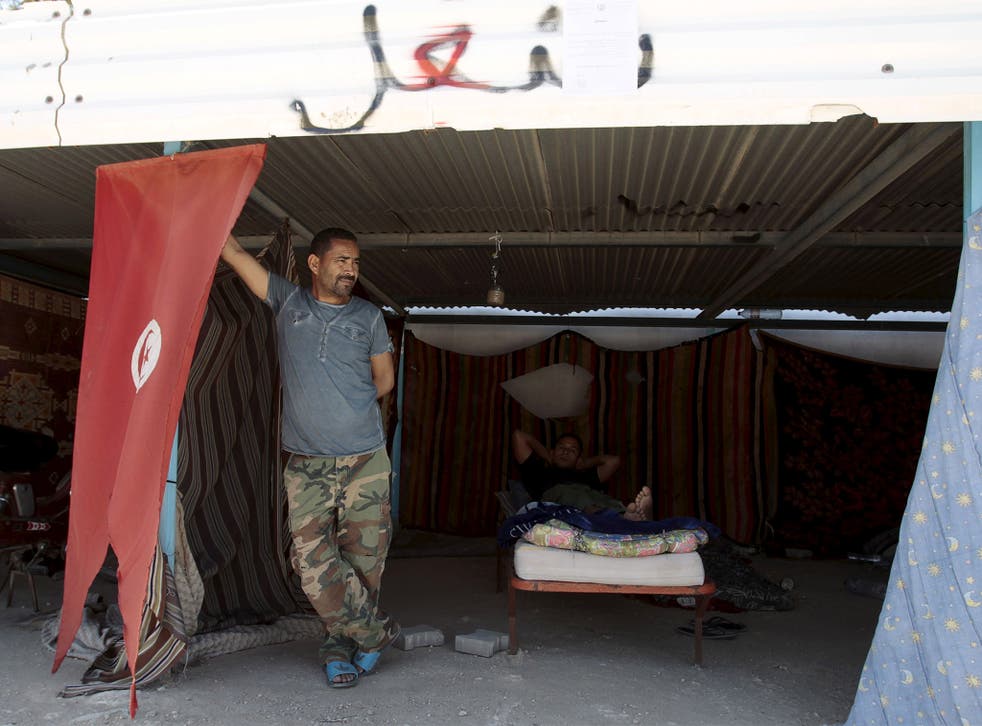 Métlaoui was once a boom town, a destination for the tens of thousands of workers from across North Africa who flocked to central Tunisia to work in the French-run phosphate mines in the early 20th century.
These days, the mines, still alive, are dominated by scrap piles of rusting machinery. The streets are unpaved. There are no public parks or sports fields, and even trees are scarce.
Mekki Laknech and his colleagues have shown up for work at the phosphate washing plant, but it's another fruitless day. There is no phosphate for them to wash. Tunisia's phosphate industry has once again ground to a halt since the local jobless population began a sit-in early last month.
The stoppage has serious implications. The phosphate sector accounted for 7.5 per cent of the GDP in 2011, down from nearly 60 per cent prior to 2009. The brutally repressed 2008 uprising in this region, fuelled by unemployment and underdevelopment, was the biggest challenge to the former President Zine el-Abidine Ben Ali's rule, helping to sow the seeds for the 2011 uprising that toppled his regime and kick-started the Arab Spring.
Yet even after the revolution, the government has been unable to offer any real solution to the grievances of people here, which are largely focused on underemployment, but also pollution and poor infrastructure. The country's economic situation has continued to decline.
For Mr Laknech, the sit-in is largely an irritation.
"The police haven't done enough," he says. He wonders why it is so easy for protesters to bring a halt in the entire industry. And he wonders why managers and politicians are doing so little to try to resolve the latest crisis.
Analysts say the problems are the fruits of decades of neglect and a lack of visionary management.
When global phosphate prices hit an all-time high of $240 (£156) a ton eight years ago, the profit disappeared into state coffers, instead of being used to develop new mines. Meanwhile, other global players such as Morocco and Saudi Arabia were investing heavily in the most modern technology.
As a result, Tunisia, once the third-largest phosphate exporter, has slipped to ninth place in the past decade.
The government response has largely failed to address the wider problems. In 2008, it created the Environmental Company for Planting and Gardening, a subsidiary of the state-owned Gafsa Phosphate Company (CPG by its French acronym), to offer more jobs. So far, 7,500 have been employed in its three branches. They receive monthly salaries, but a lack of management means there is no work for them to do.
Chokri Rouissi, general manager of the Gafsa branch of the Environmental Company, defended the project, saying it was still in its early stages, and that it had helped defuse tensions.
"It's true, as people often say, that it's paying salaries to people who don't do anything. But if we look at the wider context, neither is anyone else working," he says, with a laugh.
Since the 2008 uprising in the mining basin, every new round of recruitment by the CPG has triggered protests by those who are left without jobs. Mohamed Naser, 34, has spent the past six weeks in a tent positioned under a conveyer belt that in normal times transports phosphate down to the washing plant. He says the sit-in was triggered when CPG named its new intake of employees for 2014.
The people participating in the sit-in are suspicious of the selection criteria. "They gave the jobs to rich people, not the poor," he says.
There is no management present on the Métlaoui phosphate mining site, and the nearby CPG office is likewise abandoned. Employees say they disappeared several weeks ago when the sit-in began. Even the CPG headquarters in Gafsa City have been shut down. The CPG has left it to the government to sort out the problem.
On 15 May, the Prime Minister Habib Essid announced a series of initiatives to address local grievances, including accelerating the construction of a motorway from Tunis to Gafsa, reinvigorating urban planning and building new infrastructure in the region. He also ordered an audit of CPG and a review of its recruitment practices.
Yet his promises once again fell short of expectations in towns like Métlaoui, where people lost faith in the political class decades ago. His demand that production begin immediately went unheeded, triggering further anger. Last Wednesday, local unions in Métlaoui, and the neighbouring towns of Om Lrayes, Mdhila and Redeyef called a general strike that included all public-sector workers.
But on Monday the message came from one of their own: the leftist politician Adene Hajji, once imprisoned for his role at the forefront of the 2008 mining uprising, told those blockading the phosphate industry that their "stubbornness is destroying Tunisia".
"Without security, Gafsa will not be revived. There won't be either work or development, and we will return to the law of the jungle," the political prisoner-turned-MP said in a speech in Redeyef.
Rafaa Necib, a chief engineer at CPG and director of Mdhila's Mining Sector, rejects claims that the company's management has been too passive.
"If they are blocking people from going to their offices, how are they supposed to work?" he said. He also denied the allegations of ongoing corrupt employment practices.
Underdevelopment and disillusionment also have serious security implications. With so little legal employment, as much as 40 per cent of Tunisians are thought to be working in the underground economy. Many are involved in cross-border smuggling into Algeria and Libya, from where they make the journey across sea to Europe.
Tunisia has also been the largest contributor to militant fighting groups in Libya, Syria and Iraq. Two of the gunmen behind the massacre of 22 people at Tunisia's Bardo Museum in March this year were Tunisians who had travelled to Libya for training.
Hinda Gouaobia, 36, is unemployed despite her master's degree in business management. She has been taking part in a sit-in in Gafsa City for 14 months and says the difficulties finding work are pushing some young people to extremism.
"Why does terrorism exist in Tunisia?" she said. "When someone is hungry and neglected, it breeds aggression."
Join our new commenting forum
Join thought-provoking conversations, follow other Independent readers and see their replies